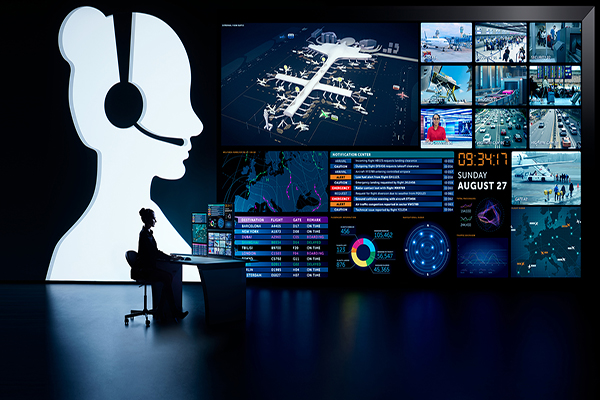 Barco India, a global leader in visualization and collaboration technology, has unveiled its groundbreaking control room software platform, Barco CTRL. This innovative solution is poised to revolutionize control rooms across diverse industries such as healthcare, enterprise, and entertainment. By simplifying workflows, deployment, and serviceability while prioritizing security, Barco CTRL empowers professionals to streamline operations, access critical information securely from anywhere, and scale their control rooms to meet evolving needs.
Simplicity and Scalability
At the core of Barco CTRL lies simplicity and scalability. The software boasts a user-friendly guided configuration process, making setup a breeze. Its intuitive and customizable user interface provides operators with a situational overview tailored to their preferences, ensuring efficient decision-making. This versatility extends to both video walls and operator desks, allowing organizations to optimize control room areas.
Barco CTRL can easily expand its capabilities by adding encoders and decoders, potentially transforming into a global system that caters to complex control room setups. This adaptability is a game-changer for businesses seeking to enhance their control room infrastructure.
Integration and Compatibility
Barco CTRL seamlessly integrates with third-party video management systems through APIs, making it an ideal choice for organizations with existing setups. This compatibility ensures a smooth transition to the Barco ecosystem without the need for extensive overhauls, saving time and resources.
Security at the Forefront
In today's interconnected world, cybersecurity is paramount, especially in control rooms where sensitive data is handled. Barco CTRL adopts a 'Security by Design' approach, implementing best practices such as 'Zero Trust' and 'Shift Left' to safeguard against potential threats. It creates a secure environment where users can connect to sources securely from any location, confident that their data remains protected.
To mitigate downtime, Barco CTRL offers redundancy options for critical components, ensuring uninterrupted operation even in the face of hardware failures or network issues. This commitment to security and reliability sets a new standard in the control room software industry.
Real-World Application: GAIL's Success Story
One shining example of Barco Control Room Solutions' impact is the National Gas Management Center (NGMC) at GAIL, which has been benefiting from Barco solutions since 2003. Seeking a holistic network operation monitoring solution, GAIL turned to Barco due to their exceptional service delivery standards and quality assurance.
The deployment of the Barco OverView OLF-721 LED-lit rear projection video wall has significantly reduced the workforce required at GAIL. This not only cuts operational costs but also enhances efficiency by nearly 80%. The ability to diagnose and resolve issues from a single workstation supplied by Barco simplifies and centralizes the process, minimizing infrastructure and support requirements.
Global Expansion and Market Trends
As control rooms become increasingly integral to various industries, the global demand for advanced solutions like Barco CTRL continues to grow. In July 2023, the Delhi government established 16 control rooms across the national capital to monitor Yamuna water levels continuously, highlighting the critical role of control rooms in addressing pressing challenges.
The Asia-Pacific (APAC) region is anticipated to experience the highest Compound Annual Growth Rate (CAGR) in the security control room market between 2020 and 2030. Emerging economies like China and India are witnessing unprecedented expansion in this sector, emphasizing the need for cutting-edge solutions like Barco CTRL to meet the demands of modern control room environments.
Conclusion
In an era where efficiency, security, and scalability are paramount, Barco CTRL emerges as a game-changing solution for control rooms across industries. Its emphasis on simplicity, adaptability, and cybersecurity positions it at the forefront of the market. Real-world success stories, such as GAIL's experience, underline the tangible benefits that Barco CTRL brings to organizations.
As control rooms play an increasingly pivotal role in addressing complex challenges, the need for innovative software like Barco CTRL will only continue to grow. With its commitment to enhancing control room operations while maintaining the highest security standards, Barco India sets a new standard in the world of control room technology.