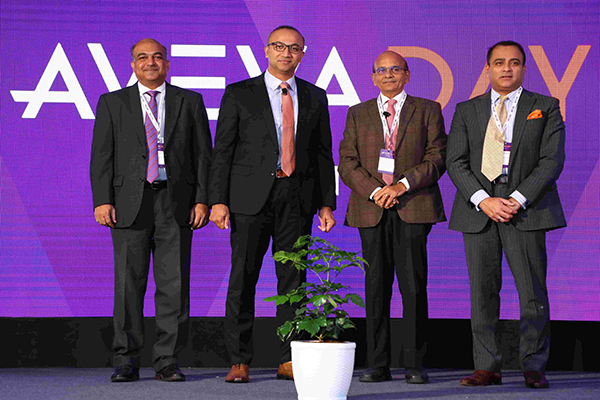 AVEVA, a global leader in industrial software, driving digital transformation and sustainability, recently concluded AVEVA Day India which was held in Mumbai and Delhi. AVEVA Day India showcased how AVEVA's software solutions enable a unified platform capable of supporting industrial organizations by integrating the end-to-end supply chain and connecting industrial information from edge to cloud. 
The events brought together more than 500 attendees across different industries, regional customers and partners who are using AVEVA's solutions to accelerate their digital transformation journey. AVEVA Day India focused on sharing deep insights into the advantages of the connected industrial economy, key industry issues and how AVEVA solutions can provide the right support to meet real-world challenges.
The keynote address was delivered by Emon Zaman, Senior Vice President, Head of Asia Pacific, AVEVA, who said: "AVEVA is a strong advocate for sharing data with customers and partners to break down silos and drive greater value for its consumers. We are focused on enabling industrial teams to innovate faster, drive sustainability, and unlock new opportunities, all while saving time and resources."
"AVEVA's footprint extends across the globe, with its solutions trusted by over 20,000 customers. Remarkably, two-thirds of these customers reside outside the Asia-Pacific region, underlining the immense potential for AVEVA in this vibrant part of the world. AVEVA's past was growth from the west; AVEVA's future is in the east."
The event highlighted a fireside chat between Marc Ramsay, Vice President, Sales at AVEVA and Deepak Sharma, Zone President of Greater India and CEO, Schneider Electric where they discussed the future of the industrial landscape and the technologies that are driving industries towards a more interlinked, efficient, and sustainable future.
Ajit Kulkarni, Vice President APAC, AVEVA said: "The industrial ecosystem is becoming more interconnected and complex. To manage this complexity organizations must access the right data, analyse and derive meaningful insights to make informed decisions. AVEVA's solutions enable organizations to harness the data, unify data silos and deepen collaboration to optimize the value chain and drive revenue."
"Our enhanced product portfolio embedded with Generative AI, Machine Learning, and SaaS, focuses on encouraging our customers and partners to collaborate efficiently and make their operations safe, agile and sustainable."
A panel discussion led by industry experts from the pharmaceutical, power, refining and manufacturing sectors was moderated by Emon Zaman, where they shared deep insights on the significance of autonomous and sustainable operations in their businesses.
AVEVA demo pods onsite offered exclusive demonstrations of the entire AVEVA portfolio, and attendees got a first-hand experience of AVEVA's Digital Twin technology that helps organizations achieve superior performance in carbon neutrality, Value Chain Optimization products, Asset Performance Management solutions and more.