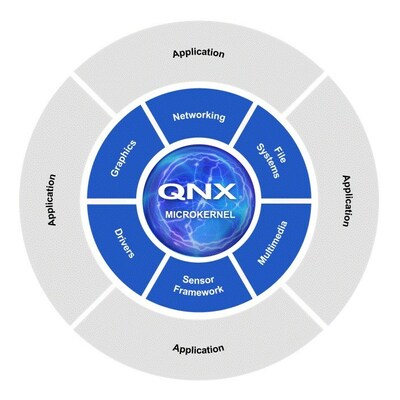 BlackBerry Limited announced the early access release of QNX Software Development Platform (SDP) 8.0 to enable automakers and IoT systems developers to deliver more powerful products at lower costs, while maintaining the unparalleled safety, security and reliability standards that QNX technology has long been known for. 
Powered by its new next generation QNX operating system (OS), the company's highest performance, safe and secure embedded OS ever, SDP 8.0 is designed to realize the performance potential of the increasing number of multi-core processors that automakers and IoT systems developers are selecting for their products and is the result of intense R&D work utilizing BlackBerry QNX's leading IP and unique experience in high performance EDGE computing.
Providing a step-change in performance while maintaining its competitive differentiator as an inherently safe and secure, POSIX compliant, real-time microkernel-based OS, the new architecture has shown an impressive 1-to-1 performance scaling factor as the number of cores increase, unprecedented for a commercial real time operating system. With the next generation QNX OS, customers can now fully realize the performance of next generation processors and reduce their overall costs by maximizing utilization of the available compute resources, a boon for the likes of automakers whose shift towards Software-Defined Vehicles has brought an exponential amount of software-based architecture complexity.
QNX SDP 8.0 lays the foundation for the next generation BlackBerry QNX product portfolio, including next generation QNX OS for Safety, QNX Hypervisor and QNX Hypervisor for Safety, allowing developers to reap the benefits of this new technology irrespective of which BlackBerry QNX technology best suits their requirement.
"The automotive industry is redefining software in the vehicle," said John Wall, Senior Vice President and Head of BlackBerry QNX. "Automotive architectures are transitioning to zonal, central compute and ultimately Software Defined Vehicles. The top to bottom scalability inherent to SDP 8.0, the QNX OS for Safety and the QNX Hypervisor makes this a natural choice for automakers looking for a total car OS."
BlackBerry is working with NVIDIA to integrate the QNX OS microkernel on the next-generation NVIDIA DRIVE Thor, which delivers 2000 TFLOPS of performance and consolidates automated driving with AI cockpit on a single centralized platform.
"The combination of our DRIVE Thor centralized computer and the new QNX OS will serve as a powerful foundation on which OEMs can build next-generation automotive systems that offer the highest levels of safety and security," said Ali Kani, Vice President of Automotive at NVIDIA. "This represents another major milestone in a nearly 20-year collaboration with BlackBerry that has helped both companies move to the forefront of the automotive industry."
"With more than 300 million vehicles capable of over-the-air software updates expected to be on the road globally by 2032, automakers are clamoring for better tools to help them develop compelling technology features in the software-defined vehicle," said Alex Oyler, a director at SBD Automotive, a leading global automotive technology research and consulting firm. "A secured-by-design operating system that seamlessly integrates with other software components on a high-performance system-on-chip represents the foundation of a safe, secure, and seamless experience for drivers. Both automakers and suppliers rely on validated software and well-integrated development tools to help them more efficiently build and maintain differentiating software for their fleets."