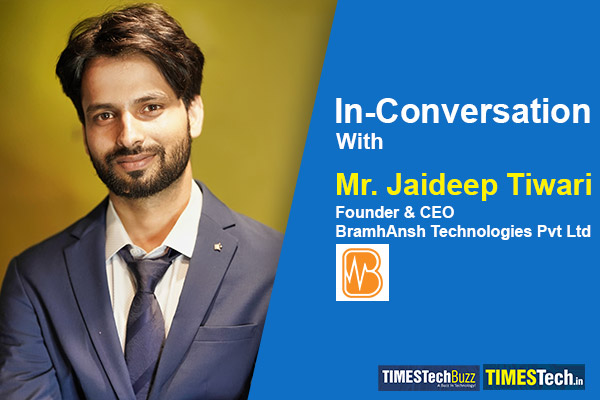 In an exclusive interview with TimesTech, Jaideep Tiwari, Founder & CEO of BramhAnsh Technologies Pvt Ltd, sheds light on the company's inspiring journey and its groundbreaking medical device, Migraelief. Discover how their technology is reshaping the MedTech industry, offering innovative solutions for healthcare transformation.
Read the full interview here:
TimesTech: What inspired the founding of BramhAnsh Technologies, and how do your medical devices, like Migraelief, contributes to healthcare transformation?
Mr. Jaideep: BramhAnsh Technologies Private Limited was established with a profound inspiration to drive transformation in the healthcare sector. The driving force behind our inception was when we recognized the limitations of traditional treatments and medications which sought us to create innovative solutions that could offer immediate, non-invasive relief to those suffering from these conditions like migraines, anxiety, insomnia, and more which has a significant impact on individual's lives.
The inspiration for our journey originated in 2015 when I, Jaideep Tiwari, Founder and CEO of BramhAnsh Technologies, was personally diagnosed with an anxiety disorder and required treatment. Rather than succumbing to this challenge, I, along with my friend K. Kartik, Co-founder and COO of BramhAnsh Technologies decided to harness the potential of technology to address mental health issues. With a history of collaboration and shared interests dating back to our college days, we embarked on a mission to establish a company that would leverage technology to provide relief from a wide range of disorders.
As emerging young entrepreneurs hailing from a small town in Chhattisgarh, we carried a grand vision and began our journey in 2017 with research focused on using sound waves to stimulate the activity of the nervous system. After extensive research and hard work, we successfully developed this innovative technology, which we named Migraelief and was granted the patent in 2020.
Migraelief is a groundbreaking medical device designed to tackle the global issues of sleep problems, migraines, and stress, which affect more than 700 million people worldwide. This pioneering product is India's first wearable device that employs neuromodulation techniques for migraine treatment. Migraelief is a medically certified device, registered with CDSCO and is ISO-CE certified.
Migraelief is a prime example of how we contribute to healthcare transformation. The device harnesses the power of our patented transducer technology that emits bone-conducting low-frequency sound waves, backed by scientific research, to provide relief to individuals who have struggled with other migraine treatments. MIGRAELIEF not only addresses a critical healthcare need but also offers a drug-free and non-invasive alternative to traditional medications, reducing side effects and medication dependency.
Our commitment to innovation and patient-centric solutions aligns with the broader healthcare transformation goals of enhancing patient outcomes, improving accessibility, and fostering well-being. Through our range of medical devices, like Migraelief, we aim to contribute significantly to the ongoing evolution of healthcare, making it more effective, accessible, and patient-focused.
TimesTech: How is BramhAnsh Technologies reshaping MedTech and what sets it apart from competitors?
Mr. Jaideep: BramhAnsh Technologies is at the forefront of revolutionizing the MedTech industry with its cutting-edge technology harnessing special low-frequency sound waves capable of conducting through bone, employing Neuromodulation techniques for stimulating nerve activity. This innovative approach draws inspiration from the growing body of literature on sound wave-based treatments, using which we successfully developed a clinically validated solution that stands out for its effectiveness. Our patented technology not only provides treatment but also incorporates preventive capabilities.
We strongly prioritize making our products affordable, easy to use, and of high quality. We are focusing on bringing positive changes and enhancing the overall healthcare experience. Currently, in India we are the first company to come with a neurostimulation device for migraine treatment and prevention. Unlike certain Western products relying on electrical or magnetic stimulation, which involve electrodes and entail recurring costs, Migraelief utilizes special low-frequency sound waves capable of penetrating through skin and bone to stimulate nerves. This innovative approach not only ensures cost-effectiveness but also simplifies the user experience. Additionally, our product also facilitates sleep induction, offers versatile programs, includes a migraine diary, and allows for remote consultation. We remain dedicated to unwavering innovation, with future plans to introduce more groundbreaking MedTech technologies.
TimesTech: Explain how Migraelief works and its impact on health disorders. What makes it innovative in wearable medical tech?
Mr. Jaideep: During our primary research we interacted with 30+ neurologists and 200+ patients which helps us to curate a user-centric solution for migraine treatment.
According to experts, migraine is described as a complex neurological disorder for which there is currently no permanent cure as the precise cause of migraines is still not fully understood, but it is believed to involve abnormal brain activity as a contributing factor. Even though there are multiple temporary solutions available for treating migraines, as per the survey more than 80%of migraine sufferers are seeking for a reliable and effective treatment option that provides immediate relief with no side effects. The above limitations in the traditional treatment methods led to the development of MIGRAELIEF, India's first neuromodulation-based wearable device exclusively designed for the treatment of migraines. The device utilizes research-backed low-frequency sound waves generated by the patented transducer technology. MIGRAELIEF has a unique band design and transducer placement that enables the efficient distribution of low-frequency waves across the head and ensures efficient neuromodulation by stimulating the nerves. MIGRAELIEF targets the trigeminal and occipital nerves in the brain and modulates the activity of the nerves to alleviate pain and promote sleep with a 20-minute course of treatment. It ensures non-invasive and medication-free relief, which is particularly beneficial for individuals who experience limitations or side effects with medications or are looking for an alternate treatment method. MIGRAELIEF is managed via an easy-to-use app that allows user to customize their treatments, track their migraine attacks, monitor symptoms, and share data with healthcare providers for better migraine management.
Globally Migraelief is the first wearable technology that uses sound waves method for migraine treatment. MIGRAELIEF device has gained recognition from the Central Drugs Standard Control Organization (CDSCO) and earned ISO-CE certification, affirming its efficacy and safety. Migraelief is transforming users' lives by offering rapid and drug-free relief with an impressive 89% response rate. This innovative device not only swiftly alleviates acute migraine pain and induces sleep within just 20 minutes but also offers preventive measures. The Clinical trials revealed additional substantial benefits which include:
Over 50% of patients reported a reduction in attack frequency,
60% reported a decrease in attack duration,
And more than 50% reported a reduction in medication consumption.
These findings prove the effectiveness of Migraelief as a migraine treatment solution. Migraelief's approach significantly enhances the overall quality of life, making a transformative impact on the experience of individuals living with migraines.
TimesTech: What were the major challenges in developing products like Migraelief, and how did you overcome them?
Mr. Jaideep: Developing products like Migraelief presented significant challenges for a startup company like ours. Firstly, establishing a reliable ecosystem of fabrication vendors and suppliers proved to be a major hurdle. Most vendors required large quantity orders (in the thousands or more) to run production batches. This posed a financial challenge for a research-oriented company like Bramhansh, as investing heavily in such quantities for sample pieces was not feasible.
Another substantial challenge was the need for extensive education and awareness-building efforts. However, disseminating knowledge and fostering a comprehensive understanding of the effectiveness of Neuromodulation devices among potential beneficiaries became a critical task. Overcoming the long-established reliance on pharmaceuticals for migraine treatment required a concerted effort to educate individuals about the transformative potential of this innovative approach.
We addressed these challenges, at Bramhansh by working diligently to identify vendors willing to accommodate smaller production quantities while remaining cost-effective. By being innovative, pragmatic and frugal, Bramhansh successfully navigated the challenges, leading to the successful development and introduction of innovative products like Migraelief in the market which is clinically proven, recommended by the doctor, and adheres to all safety parameters.
TimesTech: What are BramhAnsh Technologies' strategic plans for the next 12-15 months, including any upcoming developments or expansions?
Mr. Jaideep: In the coming 12 – 15 months, BramhAnsh Technologies is set to continue its mission of leading the mental health and wellness solutions sector through innovation and research-driven development. The company's vision remains focused on leveraging cutting-edge technology to make a meaningful impact on people's lives.
To realize this vision, BramhAnsh Technologies is excited to introduce two groundbreaking products built on its patented sound wave technology. These products are designed to cater to the needs of individuals dealing with hypertension and hearing loss. In addition to addressing these critical health issues, the company is venturing into new territories within mental health, targeting conditions like anxiety, bipolar disorder, and depression etc. by harnessing the power of its transducer technology.
The two flagship products to be launched include "Soonyam," a biofeedback-based tool that provides users with insights into their mental activity, facilitating meditation and psychological counseling for improved mental well-being. The second product is the "Bone Conducting Hearing Aid," specifically designed to tackle hearing challenges that conventional devices struggle to manage. By transmitting sound through bone, it offers an effective solution for hearing loss where traditional "hearing" aids often fall short.
These innovations are a testament to BramhAnsh Technologies unwavering commitment to pushing the boundaries of innovation in the pursuit of enhancing mental health and overall well-being. As it continues to expand its product portfolio and explore new frontiers, the company is positioned to lead the way in the mental health and wellness solutions sector, providing transformative solutions that significantly enhance the lives of individuals dealing with these conditions.
TimesTech: As CEO, what's your vision for technology-driven healthcare, especially in mental health? How does your company contribute to this vision?
Mr. Jaideep: As the CEO of our technology-driven healthcare company, my vision for the future of healthcare, especially in the realm of mental health, is centered on the development of novel technologies that harness the potential of low-frequency sound waves to address a wider range of health issues. We believe that healthcare should not only focus on treating illnesses but also on promoting wellness and preventing diseases. To achieve this vision, our company is at the forefront of adopting cutting-edge technologies, such as nano-sensors and sensor particles.
These technological advancements mark a significant turning point in healthcare, allowing us to deliver targeted therapies with unparalleled precision. By integrating nano-sensor particles into our therapies, we reduce the risk of adverse effects and enhance treatment outcomes. Moreover, our platform enables remote patient monitoring, empowering healthcare providers to make informed decisions and customize treatment plans based on real-time data. This approach ensures that each patient receives highly personalized and effective care.
At our core, we are dedicated in contributing to the healthcare landscape that embraces patient-centric care, data-driven decision-making, and proactive health management. Our mission is to reshape the future of healthcare by continuously innovating, conducting extensive research, and maintaining an unwavering commitment to improving healthcare outcomes at an affordable price. Our ultimate goal is to create a world where accessible, high-quality healthcare is a reality for everyone, and we are actively working towards that vision.