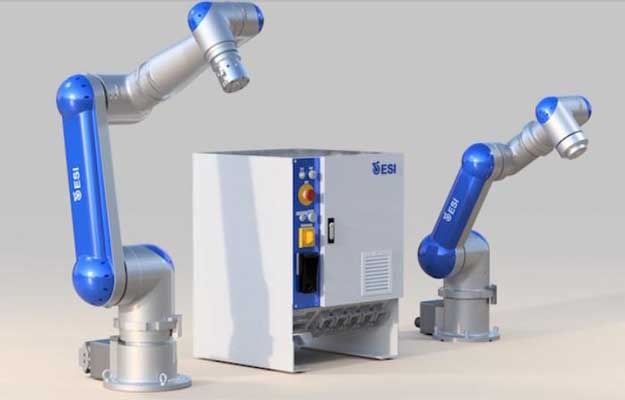 NOVEMBER 6, 2018 : ESI is today the R&D subsidiary of Shenzhen Anzer Intelligent Engineering Co, and until recently the bulk of its product line focused on mobile and consumer robots.
According to Matt Gryniewski, ESI's director of sales and marketing, the industrial cobots will be their most successful line to date.
"This is a market that's growing at a phenomenal rate and it's at a point where people are no longer asking what a cobot is, but are asking how they can implement one into their systems to boost the quality of production," Gryniewski says.
"We're ramping up production of the cobots to meet market demands. The other focus is to continue our R&D developments, which includes autonomous navigation of robots. We're using that academic flair to make our products better."
The C-5, the smaller of the two, is designed to work within hazardous industrial environments and aligns with Expib IIBT4 /Exib IIBT4 – two safety compliance methods that categorise this type of machine as "intrinsically safe."
From general assembly to handling hazardous materials, the C-5 is equally safe for human collaboration as is its bigger brother, the C-15.
The larger 6-axis C-15 weighs 100 kg and spans a workspace radius of 1,323 mm. The cobot can handle a rated payload of up to 15 kg, with repeatability of ±0.05 mm, and is equipped with sensor fusion technology for impact prevention and contact detection.
Safe for human collaboration, the C-15 is meant for labour-intensive assembly lines, precision machining, grinding, polishing, welding and material welding.
Both models feature hand-guiding and floating modes that allow the cobots to be manually "taught" complex tasks without programming expertise.
In addition, the cobots are controlled by a multi-core industrial PC that enables hand guiding mode, dynamic and quasi-static contact detection and an optional 3D safety vision system.
It's the metalworking capabilities of C-15 that caught the attention of North America's largest auto parts manufacturer, Aurora, ON-based, Magna International.
The Stronach Centre for Innovation – Magna's R&D division – chose ESI following an industry analysis and scouting exercise for a sanding project.
While sanding doesn't require much experience, it takes most of the time in the process. The robot can free the operators from the repetitive sanding of a roof panel and let them concentrate on the skilled tasks in hand finishing.
According to Van Gelder, when Magna introduced ESI's C-15 arm into its production lineup, they saw a 50 percent increase in production due to improved consistency and repeatability.
Additionally, implementing the C-15 cobot reduced the work area footprint by 40 percent and doubled their output for finished products.
"The reason this development project happened with ESI is because they were open to developing this specific prototype project with us," Van Gelder says. "With many of the other companies, you'd have to do this independently or through an integrator."