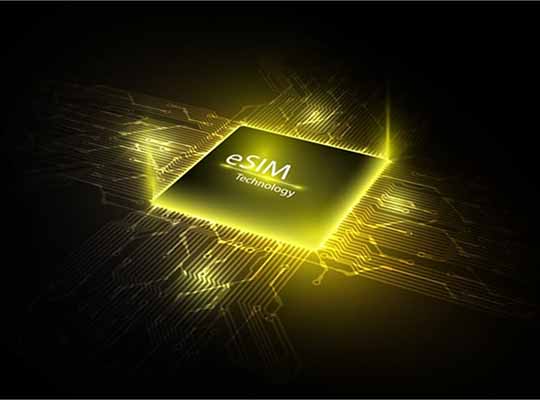 Low power wide area networks (LPWANs) are being rolled out to link, for example, Bluetooth Low Energy, Thread, or Zigbee short-range wireless sensor networks to the Cloud. LPWANs typically use low power, kilometer-range cellular IoT, LoRA, or Sigfox radios to connect to backhaul infrastructure.
Of these competing technologies, cellular IoT is the only one that leverages installed and proven global telecoms infrastructure. This is an advantage because it makes deployment less expensive and much quicker, but because cellular spectrum is regulated and licensed, connecting to a network is not straightforward.
Controlled Access
Cellular operators carefully control network access. Verification and authorization are established by the Subscriber Identity Module (SIM) card, familiar to consumers as the plastic chip-holder that typically plugs into a port on the side of a smartphone.
SIM cards trace their development back to an initiative by the European Telecommunications Standards Institute (ETSI) designed to ease access to GSM networks. According to its website, German banknote and smartcard maker Giesecke+Devrient invented the 'SIM plug-in'—which went on to become the global standard for SIM cards). In 1991, the company sold the initial batch of SIM cards to the Finnish wireless network operator, Radiolinjaj, which hosted the first GSM call in March that year.
The SIM stores the International Mobile Subscriber Identity (IMSI) number, a unique 15-digit code identifying the card on the operator's network. When network access is requested, the IMSI and a one-time-use 128-bit authentication key (Ki) are relayed to the network for verification and authorization.
Since 1991, the SIM card has gotten progressively smaller. The original form factor was credit-card sized, and subsequent iterations have seen the product shrink through Mini, Micro, and Nano versions. Today's popular Nano-SIM has dispensed with all plastic packaging and measures just 12.3mm x 8.8mm x 0.67mm.
Not so SIMple
The GSM standard has become the dominant form of cellular technology and forms the foundation for LTE ("4G" and "5G") technology. That has made the SIM card ubiquitous. (According to the International Card Manufacturers Association (ICMA), 5.4 billion SIM cards were manufactured in 2016.) It also means that the key forms of cellular IoT (LTE-M and NB-IoT) seamlessly embrace SIM technology. But despite this happy synergy, the SIM card common to billions of smartphones is ill-suited to autonomous cellular IoT sensors.
In part, this is because—despite the Nano-SIM's diminutive size—it still consumes valuable space, something that's at a premium in compact cellular IoT devices (Figure 1). And the SIM requires a port (increasing cost and providing access for dust and water). Worse yet, if a SIM upgrade is required each card must be replaced—something that's hardly practical for millions of cellular IoT sensors residing in inaccessible locations.
Another challenge arises because while a SIM on a roaming contract can theoretically provide global coverage by accessing local networks, the actual coverage depends on the number of roaming relationships the home operator has negotiated. And because the SIM stores only a single set of operator credentials, it is poorly suited for a cellular IoT device that might need to operate 'out-of-the-box' on any one of the hundreds of networks across the globe.
SIMs are issued by one operator, and that operator deals with access—and takes the money—even if the subscriber needs to use another provider's network when they are away from home. That's painful for consumers and potentially prohibitive for cellular IoT devices with minimal data-purchase budgets. Worse still, in some key regions, permanent roaming using a non-local operator is prohibited under local regulations, restricting the cellular IoT device's flexibility.
Embedded SIMs (eSIM) eliminate the need for a separate, relatively large external plug-in. As the name suggests, eSIMs form an integral part of the cellular device's electronic assembly. That means they can be made even smaller than a Nano-SIM and no longer need the costly and vulnerable external port. (eSIMs can still be supplied in conventional Micro- or Nano-SIM formats allowing use in older devices that feature a port and don't have a built-in eSIM.) Moreover, an eSIM holds multiple network operator credentials and can be "remotely provisioned" (quickly reconfigured via the cellular device's wireless link) —enabling rapid updates of network credentials to ensure constant connectivity and lower data charges.
eSIMs seem to be the answer for the network connectivity demands of cellular IoT, then. Problem solved. Well, not quite; a big challenge remains, and that's a lack of wide-scale adoption. The problem is that while eSIMs perfectly suit cellular IoT (for which they've primarily been designed) they don't necessarily suit the consumer … or many network operators for that matter.
According to Dean Bubley, founder of analyst, Disruptive Analysis, in an interview with The Register, adding an eSIM to a phone will increase its cost. Bubley noted the difference might be marginal, say $10—no big deal for a range-topping Apple or Samsung mobile but a lot more significant for the budget phones aimed at the developing world. Further, an eSIM that can seamlessly switch between networks (and tariffs) could hurt the business model of network operators who are used to retaining revenue no matter which network their customers use. Neither factor is likely to accelerate either eSIM manufacture, or network operator or phone maker support. In turn that will have a knock-on impact on eSIM supply for the B2B cellular IoT sector.
Conclusion
The promise of cellular IoT revenue for the network operators is enticing. Like smartphones, cellular IoT devices need verification and authorization before network access is granted. Smartphones use SIM cards for this purpose, but their form factor doesn't suit the unique demands of cellular IoT operation. eSIMS could meet the demands cellular IoT network connectivity; however, a significant challenge remains: a lack of wide-scale adoption. As a result, cellular IoT may look to another development: the integrated SIM (iSIM). iSIMs are smaller still, being built into the silicon of the System-on-Chip (SoC) at the heart of the cellular IoT product.
Steven Keeping gained a BEng (Hons.) degree at Brighton University, U.K., before working in the electronics divisions of Eurotherm and BOC for seven years. He then joined Electronic Production magazine and subsequently spent 13 years in senior editorial and publishing roles on electronics manufacturing, test, and design titles including What's New in Electronics and Australian Electronics Engineering for Trinity Mirror, CMP and RBI in the U.K. and Australia. In 2006, Steven became a freelance journalist specializing in electronics. He is based in Sydney.