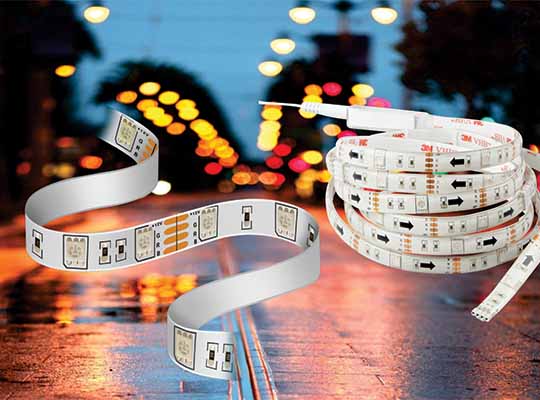 Over the last many years, LED lights have proven themselves as a significant source of lighting. They have rapidly acquired importance in the Indian lighting sector due to their multiple benefits over traditional lighting technology. Although the Indian LED lighting business is in its infancy, it promises an infinite number of development prospects over the next several decades. India, being one of the largest lighting markets, provides a profitable opportunity for LED manufacturers to establish operations in the area. The LED sector benefits from a sustainable environment due to skilled workers, ease of doing business, and demographic advantages.
India's LED lighting market is expected to expand at a rate of 24.3 percent over the next five years
India, the world's second-most populous country and fifth largest power user, has been experiencing a significant electrical demand-supply mismatch. Lighting has used a significant amount of the world's total power output via illumination sources and systems alone. The exhaustion rate continues to rise as new applications such as Biological Lighting, Entertainment Lighting, Aqua Tissue Culture, and Advertisement Lighting are developed. LED lighting is a dependable and energy-efficient source of illumination. LED lighting solutions have established a strong foothold in the Indian lighting sector, thanks to the various advantages they provide over traditional lighting technologies. As demand for smart, connected lifestyles and energy-efficient goods grows, the Indian LED lighting market is likewise seeing rapid development and is projected to continue to do so in the long run. The government's aggressive energy-saving goal provides the impetus for this transformation.
India's LED business is very prospective. This is shown by the market's 56.1 percent compound annual growth rate over the previous five years
LED lighting has emerged as one of India's fastest-growing sectors. This business has been largely fueled by reasons such as lowering LED light costs, greater government efforts, and growing awareness about energy saving.
Over the years, the market has developed, with south and north India driving expansion. However, a lack of information about LED lights continues to discourage customers from using them. Philips, Osram, Bajaj, Havells, and Syska LED Lights are among the industry's leading participants. Philips had the greatest revenue share in the fiscal year 2014, followed by Havells. Syska LED Lights came in third place in terms of revenue.
The government has approved a Rs 6,238 crore public-private partnership (PLI) program for LED lighting and air conditioners
India's government authorized a production-linked incentive (PLI) plan for white products – air conditioners and LED lights – in April 2021, with a budgeted allocation of Rs 6,238 crore.
India led lighting market – growth, trends, covid-19 impact, and forecasts (2021 – 2026)
It is possible to split the LED lighting market by the following criteria: Application (commercial offices), Product Type (lamps and luminaires), Distribution Channel (direct sales and wholesale/retail), and Geographical Location.
Market Overview
The Indian LED lighting market is estimated to expand at a 24.3 percent compound annual growth rate during the forecast period (2021-2026). In the present market environment, LEDs have established a foothold in the lighting industry. The primary reasons for this include the country's ongoing decline in LED costs and beneficial government efforts such as UJALA and SLNP, which provide LEDs at a reduced cost, and LED streetlight installation projects, respectively.
The Indian government's energy efficiency initiative, for example, distributed 21 crores of LED lights in April 2019, saving customers INR 11,000 crore. State-run Energy Efficiency Services Limited (EESL) has decreased the procurement price of LED bulbs to INR 38 per unit as part of the UJALA distribution plan. To meet the program's 2020 goal, more than 770 million LED lights will be installed around the nation by then.
Additionally, increased consumer awareness of the cost-effectiveness and eco-friendliness of LED lighting is expected to continue to fuel demand for LED lighting in both the residential and commercial sectors. India has proved in recent years that with the correct finance and market mechanisms, it is possible to swiftly install LEDs on a big scale. India has grown to be one of the world's greatest markets for LED lighting as a result of the UJALA initiative, which offers LED bulbs that are 50% more energy efficient than other lights available.
Companies have had to adapt their strategy to compete with the continuing epidemic, however, and the market has been disrupted by the recent outbreak of COVID 19. The epidemic took its toll on companies like Telensa and Signify. Signify had intended to update its solar-connected street light by Philips Combo Charge Controller in February 2020 to switch between solar and grid power. However, as a result of the COVID epidemic, the corporation has been forced to decrease 20% of its workforce's compensation in March of 2020.
Scope of the Article
Fluorescent and bright lights use incandescent light bulbs, which provide light at a far lower efficiency. LEDs convert around 95% of their energy into light, with the remaining 5% being lost as heat, encouraging customers to choose LEDs over other lighting options. Different LED lighting applications, such as indoor and outdoor, segment the market. The research looked at residential, commercial, industrial, and government uses inside, while the outside component looked at highways and roadways, architecture, and public areas. Product types are another way that the market is divided.
Key Market Trends
Energy-saving Lighting Solutions Are Becoming More Popular.
The LED lighting industry is substantially driven by the increased emphasis on environmental sustainability. Energy conservation has long been regarded as one of the most important implementation initiatives, and the adoption of LED lighting greatly contributes to energy saving.
In recent years, the Indian government has developed efficient energy efficiency initiatives aimed at establishing an energy service market. The government has implemented bulk buying of LED lighting, which has aided the nation in speeding its energy savings.
The Indian Ministry of India announced in January 2020 that over 361.3 million LED bulbs had been put throughout the nation and 10.3 million smart LED streetlights had been installed under the UJALA and LED Street Lighting National Program, saving an estimated 6.97 billion kWh/year in energy. It was also welcomed by the International Energy Agency (IEA), which noted that this was a chance for the federal and state governments to win widespread adoption of energy-saving measures in the public sector.
Additionally, the Rural Electrification Corporation Limited recently published a report indicating that over 72% of Indian households now have access to electricity. Additionally, the survey estimates that by the end of 2020, more than 94 percent of villages in India would have access to electricity. This is also projected to boost the country's demand for household LED lighting.
Outdoor Application is Expected to Grow Significantly
A substantial portion of the total power produced in the country is utilized for lighting purposes. As a result, the nation has been more focused on energy-efficient lighting solutions throughout the years. India's government is also adopting measures, such as the Smart Cities program and the National LED Program. This is projected to increase demand for outdoor LED lighting in the nation. The Bhopal Smart City project is one such example, with over 21,000 LED street lights installed. The category is likely to expand aggressively in the next years as a result of ongoing infrastructure upgrades such as highways, airports, metro, and trains.
As of January 2020, the Street Lighting National Program (SLNP) will have installed more than one million of the three million street lights around the country. The project aims to save 6.71 billion kWh of energy annually, equating to a 4.63 million tone decrease in CO emissions. Additionally, SNLP intends to replace approximately 1.34 crore conventional streetlights in India with smart LEDs by March 2020.
Additionally, a study provided by India's Minister of Urban and Housing Affairs indicates that 148 projects would be finished by January 2020 as part of the country's Smart Cities Mission. Additionally, 407 projects have been launched, while another 237 are in the bidding stage.
Competitive Landscape
The LED lighting industry in India is highly diversified, with a significant number of local and foreign companies. Due to the market's fragmentation, competition among participants is fierce. Due to the continual decline in LED costs in the nation, competition among producers has intensified, resulting in more innovation, expanded product offerings, and cheaper pricing.
Furthermore, the imposition of a GST of over 18 to 28% on LED lights and raw materials results in significant revenue leakage.
March 2020 – Signify has completed the USD 1.5 billion purchase of Eaton's Cooper Lighting Solutions. The business intends to use the money from this purchase to further its connected lighting and system innovation efforts. An increase in professional revenues of 42 percent to 53 percent is expected to fuel the company's revenue growth in the North American market.
February 2020 – Streetlights equipped with a Philips Combo Charge Controller from Signify may now be used in conjunction with a solar-powered hybrid power system. Solar-powered outdoor lightings are now used in Asia, Africa, South America, Australia, and Spain. The business hopes to open up a new market for these lights in these regions with this new invention.
Opportunities
India's lighting business has created a wide range of opportunities. LED lighting has made significant inroads into residential, business, streetlight, and yard illumination, but there is still a long way to go. Industrial lighting has not yet been transformed in the same manner that LED lighting has been transformed in other sectors, and hence there is significant potential in industrial applications. The LED sector can increase its profitability by offering wireless Smart Lighting in comparison to regular items such as bulbs and downlights. By joining the Human Centric Lighting market, businesses in a variety of industries such as workplaces, hotels, educational institutions, and the healthcare industry may benefit. With emerging technologies such as POE LiFi, VLC, and lighting for smart cities, smart malls, and retail lighting, as well as cooperation with IT industries, data and technology sharing and transfer, and so on, now is the time to invest in these technologies to ensure future readiness.
Challenges
Currently, low-quality raw materials and manufactured goods are supplied to consumers at low rates, but these items degrade the market and have long-term negative impacts on consumer well-being that are not obvious presently.
The industry is confronted with significant difficulty in terms of producing raw materials such as LED chips, their packaging, driver components, optics, and diffusers in India. At the moment, around 60% to 70% of raw material is imported, while final assembly is carried out in India. This is not a case of 'Made in India.' Due to the reliance on imports, it is often difficult to regulate the quality of raw materials, supply consistency, and so forth. Changes in government policy often impede the execution of industrial plans, resulting in setbacks for many businesses. India has enormous potential to develop into a manufacturing powerhouse for the full LED supply chain, but this would need significant financial investment. To promote such investments, the government must implement industry-friendly regulations and programs. The united efforts will ensure the success of the 'Make in India' initiative.
The years 2018–2019 remain critical for the Indian lighting sector, as a slew of new smart and wireless technologies were making a significant entry into the Indian lighting market.
The lighting sector should invest in research and development, as well as producing some of these technologies or components in India for a variety of applications. Small-scale manufacturers in the lighting sector should band together and develop cluster-based solutions for LEDs, drivers, and other components; otherwise, they will be unable to compete in the rapidly changing lighting business. They should collaborate and strive towards mass manufacture of components or full goods, as well as global distribution.
As the lighting industry moves toward digitization soon, the sector must be prepared to adapt to new technologies and integrate its products and services. Additionally, the lighting business should be prepared to give solutions to clients rather than just selling its goods. They will need to provide end customers with comprehensive solutions ranging from design through installation and commissioning of lighting goods and systems.
Indian Government Initiatives to Promote LED
The government of India's zero-subsidy Unnat Jyoti by Affordable LEDs for All (UJALA) and LED Street Lighting National Programme (SLNP) celebrated its fifth anniversary today.
This is the world's biggest streetlight replacement initiative, while UJALA is the world's largest residential illumination project. Energy Efficiency Services Limited (EESL), a joint venture of PSUs under the Ministry of Power, led and executed both.
SLNP has installed over 1.03 crore smart LED streetlights, resulting in expected annual energy savings of 6.97 billion kWh, avoided peak demand of 1,161 MW, and 4.80 million tCO2 reductions. LED streetlights have been placed in several states around the nation, supporting the Make in India project.
The UJALA project has given over 36.13 crores LED lights throughout India. Annual energy savings of 46.92 billion kWh, avoided peak demand of 9,394 MW, and a decrease in GHG emissions of 38 million t CO2 is projected.
These initiatives have garnered worldwide honors including the renowned South Asia Procurement Innovation Award (SAPIA) 2017 and the creative use of IT and business outcomes obtained in the Street Lighting National Programme (SLNP) 2019 CIO 100 award. It also received the Global Solid-State Lighting (SSL) Award of Excellence for its transformative impact on the LED business.
The UJALA initiative changed the energy efficiency market. Prices of LED bulbs given under the UJALA scheme have reduced from INR 310 in 2015 to INR 38 in 2018. Switching from inefficient incandescent bulbs to LEDs helps homeowners save money on power while improving indoor lighting. It improves the quality of life for families and communities while increasing energy availability for everyone. The yearly energy savings of 15% on typical home power costs are comparable to a week's earnings. LED bulb sales in India surged from 0.1 percent in 2014 to 15% in a year, and are expected to reach 60% by 2020. The domestic LED market has also risen far over the UJALA program's objective of 700 million LED sales, selling over 1.15 billion LEDs.
Moreover, in 2018, the Indian government launched the Gram Swaraj Abhiyan (GSA) to promote social peace by informing rural people about different government welfare programs and activities. GSA enabled 21,058 Indian communities with a high proportion of disadvantaged families to obtain LED lights at a discounted rate via the UJALA initiative. The LED bulbs provided energy-efficient, low-cost illumination with better lumen output than incandescent lamps.
Simultaneously, the LED Street Lighting National Program has increased people's productivity at night and made roadways safer for walkers and automobiles. Power utilities in states that have introduced LEDs save up to 50% on energy expenses while maintaining 95% streetlight uptime. These automatic lights turn on and off at dawn and dusk, eliminating waste. With CCMS, utilities may remotely monitor and correct any failures. LED streetlights have lighted 3,00,000 km of roadways in India in the past five years, providing public safety and energy efficiency.
Gram Panchayats (GP) has a direct influence on millions of rural people's lives. Overall inclusive development and developing democracy via participatory governance need GP. Retrofitting 3.08 crore conventional streetlights to LED streetlights may save around 3420 million kWh of electricity and reduce CO2 emissions by approximately 29 lakh tonnes. Approximately 23 million LED streetlights have been installed in Gram Panchayats in Andhra Pradesh, Telangana, Goa, and the Andaman & Nicobar Islands thus far.
By March 2020, SLNP hopes to have smart LEDs in 1.34 crore Indian streetlights. This ambitious aim will save around 1500 MW of peak demand, 9 billion kWh of electricity, and 6.2 million tons of CO2. EESL wants to attract investment to the tune of INR 8,000 crores by 2024 by reaching the whole of rural India. EESL expects to retrofit/install over 30 million LED streetlights.
Asia-Pacific Witnessed to Hold the Fastest Growing Market
The Asia-Pacific region has seen substantial expansion in the smart lighting market in recent years, and it is predicted to have the strongest growth throughout the projection period. Creating and building smart infrastructure in the area, scaling up the implementation of smart lighting framework across the private and commercial sectors, and rising government expenditures in public infrastructure are driving market development in the region.
According to the GSMA, China may account for around 4.1 billion IoT connections by 2025, accounting for over one-third of worldwide IoT connections. During the projected period, smart lighting systems are likely to benefit the most from the trend. Tencent, Baidu, JD, and Alibaba are among the country's IT behemoths proposing smart system solutions. The vast majority of China's market share is shared by these behemoths. These domestic brands are fashionable, and they are likely to fuel market growth.
The Indian housing sector is one of the fastest expanding industries in the country. The Smart City Mission, which aims to transform 100 communities throughout the nation, is propelling the market for smart lighting. India's Smart City Mission seeks to turn 3,800 street lights into sensor-based intelligent lighting systems via a new effort in Chandigarh. Other states' initiatives of this kind may also contribute to the market's development throughout the projected period.
The Indian government has initiated the UJALA initiative, intending to distribute 770 million LEDs by March 2019. This initiative intends to address the country's high cost of electrification and rising emissions from inadequate lighting, against a background of five-fold increases in power consumption over the years.
Competitive Landscape
The Smart Lighting Market is very competitive and is dominated by a few large competitors. In terms of market share, the industry is now dominated by a few large competitors. However, many firms are expanding their market position with smart lighting by gaining new contracts and purchasing other businesses. Among the leading companies are Koninklijke Philips NV, Cree Inc., and Eaton Corporation.
In July 2021, OSRAM Licht AG unveiled the Osconiq E 2835 CRI90 Quantum Dot LED (QD). Osconiq E 2835 CRI90 (QD) has remarkable performance even at extremely high color-rendering indices and warm light colors. The 2835 package provides extra system advantages to luminaire makers. The color temperature ranges from 2,200 to 6,500 K, and the efficacy is above 200 lumens per Watt (lm/W).
In May 2021, Samsung Electronics Co. Ltd. introduced the LM301B EVO, a new mid-power LED package designed for light efficacy and color quality in indoor and commercial applications. Because of the use of a novel reflecting material within the packaging mold and enhanced phosphor conversion efficiency, the LED package, which is based on Samsung's patented flip-chip design, has an effectiveness of 235 lm/W.
March 2021 – Hubbell Control Solutions has introduced a new and enhanced NX Distributed Intelligence TM Lighting Control Panel (NXP2 Series), which centralizes connection points in an enclosure and provides an installer-friendly solution that minimizes time and costs to establish code-compliant lighting control. The new NX Panel will accommodate a wide range of indoor and outdoor lighting applications, such as commercial, retail, education, industrial, parking, and site illumination.
September 2020 – Buddy Technologies, the company behind LIFX, has introduced the new Lifx Clean LED to the North American market. First antibacterial, germicidal smart light in the world with several color disinfectant functions and voice control.
February 2020 – AWOX (Cabasse Group) has announced the release of the GU10 Smart Light Color. It is a Bluetooth-enabled smart health-linked LED spot lamp that connects wirelessly to a smartphone or tablet, allowing users to manage the bulb's brightness intensity, color broadcast, and more.
Recent Developments
February 2021 – Signify, the company behind the immensely popular Philips Hue brand of smart light bulbs, has chosen Google Cloud as their preferred partner to create a seamless digital experience, making it simpler than ever for Hue users to fully leverage the benefits of smart lighting. Signify selected Google Cloud to power its smart lighting system because it enables the management of millions of linked devices while also providing genuine scalability, flexibility, and security.
July 2020 – The trade association for the lighting sector in the United Kingdom has made a clarion demand for smart lighting to be included in a EUR 750 billion European Union pandemic recovery program that involves repairing and modernizing buildings around Europe.
April 2020 – When COVID-19 broke out, it disrupted chemical industry output all over the globe, causing smart LED lighting costs to rise. Lumileds raised LED light pricing by 4% beginning in mid-April 2020, claiming the rise in expenses as a result of the coronavirus outbreak.
Indian LED Lighting Market Trends and Drivers:
At the moment, demand for LED lighting systems is centered predominantly in the North and South, owing to rising urbanization rates and an increasing number of government efforts encouraging the use of LED lights. The government's support for energy-efficient lighting technologies via different legislation has broadened the usage of LED lights across a variety of industrial, commercial, and residential sectors. The Indian LED Lighting market was worth US$ 3.58 billion in 2020 and is predicted to expand at a 28.3 percent compound annual growth rate between 2021 and 2026. Over the last many years, LED lights have established themselves as a significant source of illumination. They have rapidly acquired importance in the Indian lighting sector due to their multiple benefits over traditional lighting technology. Although the Indian LED lighting business is in its infancy, it promises an infinite number of development prospects over the next several decades. India, being one of the largest lighting markets, provides a profitable opportunity for LED manufacturers to establish operations in the area. A sustainable environment for the LED sector is created by skilled labor, ease of doing business, and demographic advantages.
Additionally, the fast-increasing automobile sector offers lucrative potential for the use of LEDs in headlamps, rear lamps, turn signals, and brake lights. Additionally, increased infrastructure expenditures, fast expansion of street lighting systems, a drop in the average price of LEDs, and different government and forthcoming smart building initiatives are likely to fuel LED light demand in India.
Conclusion
India has a massive potential opportunity for the adoption of LED lighting solutions over the next five to ten years. Additionally, India is anticipated to acquire a competitive advantage over China as labor costs rise in China and the Chinese currency, the Yuan, strengthens against the Indian rupee, making India's LED industry one of the fastest expanding marketplaces in the world. Consumer awareness of energy-efficient and environmentally friendly goods that are consistent with the broader trend of contemporary lighting and digitalization will result in a paradigm change in India's electrical and electronic industries. Light bulbs are one of the most prevalent electric appliances on the planet, accounting for around 15% of worldwide power use. LED lighting technology has established a grip in the market for lightbulbs due to its up to 75% energy-efficiency advantage over conventional incandescent and compact fluorescent (CFL) bulbs. LEDs will be critical in allowing low-carbon electrical availability. Due to its low energy consumption, cheap cost, modular design, and simplicity of use LED lighting is the first option in industrial, commercial, and residential applications.