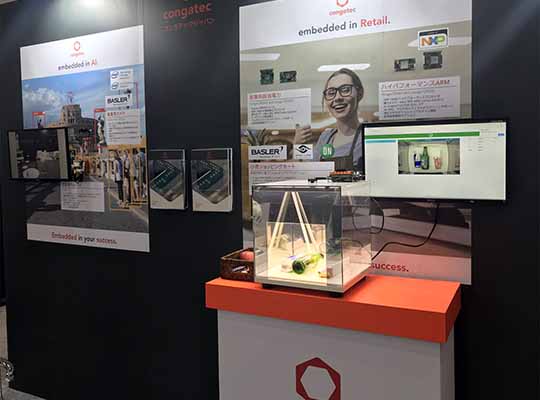 Deggendorf, Tokyo – congatec is presenting its new COM-HPC based products and technologies for the next decade of embedded computing at the Japan IT Week Autumn exhibition at Makuhari Messe (28-30 October), Booth 39-18. In addition, congatec is also showing its latest platform enhancements, new demo systems and customer solutions based on today's leading embedded computing standards. OEMs visiting the congatec booth can experience both the innovative power of new standards as well as the long-term continuity of the leading embedded specifications in an ever-changing world. Comprehensive offerings far beyond boards and modules round off the showcase, as congatec continues to expand its services to simplify the design-in of increasingly complex embedded computer technologies for OEMs even further.
Besides the new COM-HPC products and technologies, the congatec showcase includes the new Intel Atom processor portfolio, a certified Intel kit for workload consolidation, the AMD ecosystem for 100 Watt TDP, a vision and AI demo with Basler, plus a variety of real customer applications from Hacarus, FUJI SOFT INCORPORATED and LECIP.

"In 2030, the leading high-end Computer-on-Module standard will be COM-HPC; workloads will be highly consolidated in real-time capable virtual machines of high-performance edge systems; vision based intelligence will be a standard feature, embedded in many leading processors, addressing the needs of virtual reality, augmented reality, and mixed reality; and autonomous mobile robots will have reached a market volume nearly as large as the entire industrial computing industry," predicts congatec's new Japan country manager Yasuhiro Okumura, summarizing some of the major trends for 2030. He goes on to explain: "We have identified these and several other trends and will be demonstrating what engineers can expect in all these areas from congatec as a worldwide leading vendor of high-performance embedded computing products."
The brand new COM-HPC standard
A major highlight are the presentations around upcoming COM-HPC Specification. Specified by the PICMG, it is positioned as the successor of the most successful high-end embedded computing module standard COM Express. The COM Express standard is predicted to keep its leading position until the end of this decade. Over the next years, figures are expected to decline only slowly as existing embedded designs will continue to use this established standard while COM-HPC will rapidly ramp up its market share. OEMs utilizing embedded computing standards will benefit from the best of both worlds: the innovative edge provided by the new standard as well as the continuity of the leading specifications in an ever-changing world. Modules launched on the basis of COM Express within the next few years will be available for at least another decade, or even longer in view of the autonomous vehicle trend. But OEMs are also in extreme need of massively improved computing power to handle the heavy workloads at the edge of the IoT – including situational awareness. It is for those and many more applications that the new COM-HPC standard has been designed.
Platforms with 11th Gen Intel Core processor
The first product developed in alignment with the coming COM-HPC Specification is based on the 11th Gen Intel Core processor, which congatec has made available on a COM-HPC Client size A module and also on the next generation COM Express Compact Computer-on-Module. This provides engineers the choice to further scale the performance of their existing systems or develop the next generation of products utilizing COM-HPC's broader array of interfaces. OEMs will benefit from the substantial performance improvements as well as communication enhancements that the new modules based on 11th Gen Intel Core processors deliver to the high-end computing sector. Typical applications can be found in many high-end solutions, from embedded systems and edge computing nodes to network hubs, and local fog data centers to core network appliances, as well as ruggedized central cloud data centers for critical government applications.
Server modules with AMD EPYC Embedded 3000
The full range of COM-HPC will be available a little later with the launch of COM-HPC Server modules. Engineers who don't want to wait until the availability of the COM-HPC Server modules specified by the new standard or who don't need the entire power, can utilize the ecosystems built around the COM Express Type 7 standard and Computer-on-Modules such as the AMD EPYC Embedded 3000 based conga-B7E3. Its massive edge computing power can be scaled to multi-core systems with up to 100 Watt TPD. However, leveraging its full power demands ruggedized high-performance cooling solutions. Another focus of the booth presentations is therefore congatec's 100 Watt ecosystem that now also includes perfectly tailored cooling systems.
Boards and modules with Intel Atomx6000E Series processors
Another highlight is the brand new congatec platforms on the basis of the new low-power Intel Atom processors (code name Elkhart Lake). To be made available on SMARC, Qseven, COM Express Compact and Mini Computer-on-Modules as well as Pico-ITX Single Board Computers (SBCs), the different Intel Atomx6000E Series, Celeron and Pentium N & J Series processors are based on low-power 10 nm technology and will pave the way for a new generation of edge-connected embedded systems. The new congatec boards and modules impress with doubled graphics performance for up to three simultaneous displays running at 4Kp60 and a whopping 50% more multi-thread computing power compared to their predecessors on up to 4 cores. Further benefits especially welcomed in real-time industrial markets are Time Sensitive Networking (TSN), Intel Time Coordinated Computing (Intel TCC) and Real-Time Systems (RTS) hypervisor support as well as BIOS configurable ECC and extended temperature options from -40°C to +85°C. Detailed feature sets of the different SMARC, Qseven, COM Express Compact and Mini Computer-on-Modules as well as the Pico-ITX SBC.
Intel certified RFP kit for workload consolidation
Having installed massive compute power at the edge, consolidation is the next logical step. For this purpose, congatec is presenting its Intel certified RFP (ready for production) kit for the first time. Designed in cooperation with Intel and Real-Time Systems, the newly certified kit targets the next generation of vision-based collaborative robotics, automation controls and autonomous vehicles that have to tackle multiple tasks in parallel, including situational awareness utilizing deep learning based AI algorithms. The solution-ready platform is based on a COM Express Type 6 module equipped with the Intel Xeon E2 processor and integrates three preconfigured virtual machines to demonstrate that real-time applications can run on a virtual machine even while another application on the same system is rebooted.
Vision and AI kits in cooperation with Basler
As vision will be embedded in a major portion of embedded system installations to address various situational awareness needs, congatec also presents two vision and AI kits in cooperation with the Basler embedded vision experts and Intel's OpenVINO kit for AI. Another highlight is the sparse modeling demo of the Japanese AI experts at Hacarus. Sparse modeling needs little training data to make highly accurate predictions. This is an advantage for vision-based inspection systems, among others, because the reject rate is naturally lower when manufacturing quality is high. With sparse modeling it is possible to create a new inspection model starting with 50 or even fewer images. This is significantly less than the 1,000 or more images required for traditional AI.
Qseven based LECIP digital signage system for transportation
The presentation of the LECIP digital signage system for transportation based on Qseven modules with dual core Intel Atomx5-E3930 processor underlines the huge global demand for rugged computer technologies for in-vehicle applications. LECIP shock and vibration-proof systems for extended temperature ranges own over 60% of the Japanese automated bus fare collection market and are highly regarded by bus operators. Embedded in the success of the presented LECIP system is the Qseven module conga-QA5/i-E3930. LECIP, which also delivers fare collection systems and information displays to Asia and North America, is expanding its business worldwide, underlining the need of such increasingly globally active OEMs for globalized embedded computer vendors such as congatec that are present in all regions and major economies across the world.
PALRO care robot embeds congatec modules
That Japan is also strong in humanoid robots is reflected by the presence of the PALRO care robot from FUJI SOFT INCORPORATED. Equipped with Qseven modules from congatec, it rounds off the company's presentations in Booth 39-18 at the Japan IT Week Autumn exhibition. Designed for use in the geriatric and preventive care sectors and as a conversation partner for the elderly, it is a perfect example of how strongly we need all the above mentioned technologies.
For more information, please visit at: www.congatec.com.