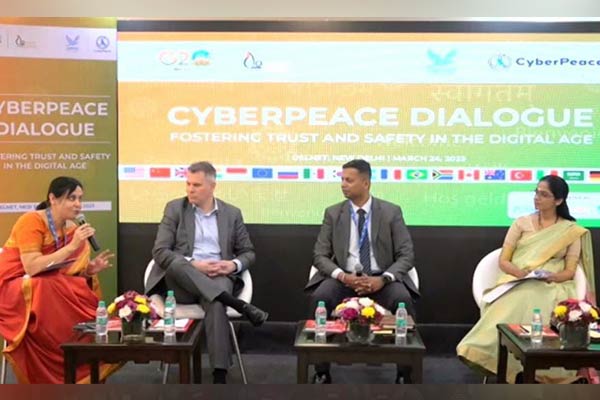 CyberPeace a Global non profit and thinktank of Cyber and Policy experts has organized the CyberPeace Dialogue with C20 Working Group on Technology, Security & Transparency supported by Zoom Video Communications, Developing Library Network (DELNET) and Autobot Infosec.
The CyberPeace Dialogue is a collaborative effort that brings together a diverse group of stakeholders, all committed to promoting responsible technology use for empowerment, trust, and safety in the digital age. Participants include policymakers, government representatives, UN agencies, industry experts, academics, civil society members, and netizens, with a special focus on ensuring the inclusion of differently-abled individuals.
The dialogue focused on Trust and Safety in Cyberspace and several aspects of technology and its impact on society, such as digital inclusion, privacy, data protection, online safety, and bridging the digital divide. It laid down insights into strategies and initiatives to improve digital inclusion and also connecting the unconnected.
Emphasizing the importance of collaboration among multilateral organizations, such as governments, law enforcement agencies, and technology companies, the dialogue stressed the need for international cooperation between countries and the role of cyber diplomacy in developing efficient policies and tools for creating a safe space online for everyone.
Mr. Jonathan (Josh) Kallmer, Head of Global Public Policy and Government Relations at Zoom Video Communications talked of the pandemic and how everyone was affected by it. He further discussed how the pandemic redefined relationships with technology. Kallmer shared several actions taken by governments all over in order to make Cyberspace safer for netizens and discussed the role companies like Zoom play in being a part of the solution.
He further explained how Zoom coped with and had realizations about its role, responsibilities of becoming a global company during the pandemic and the role it plays to make data secure and private. Over a question about making the platform accessible, Kallmer said one of the recent discussions regarding increasing female economic participation and how technology can be used to enhance accessibility.
Vineet Kumar, Founder and Global President, CyberPeace started CyberPeace Dialogue with the importance of the event's inception, emphasizing the need for multi-stakeholder representation to address the challenges faced by communities in today's digital landscape.
He went on to explain, "It's crucial to understand and implement security measures while using the internet. The dialogues aim to raise awareness about risks, offer solutions, and make these platforms safer for everyone." Furthermore, he mentioned that the suggestions and insights gathered during the discussions would be brought to the attention of policymakers and to the G20 secretariat to facilitate appropriate changes and improvements.
Prof. Krishnashree Achutan, Dean, Amrita Vishwa Vidyapeetham, coordinator C20-TST working group (G20-India) shared a presentation highlighting the priority of the C20 working group on Technology, Security & Transparency and also discussed issues including tech for empowerment, AI and data for
security, transparency, trust and disinformation along with different modes of attacks, changes in usage of technology without experience and how it leads to risks, roles of stakeholders, and need of operational collaborations. She explained how the protection of data is easier as compared to going after a culprit and discussed issues including amounts of average costs of data breach.
Mr. Lolichen PJ, Child Protection Specialist, UNICEF, addressed virtually. He discussed how India has seen a rapid increase of technology and reach especially in younger generations. He further shared risks faced by children and pointed out the gender divide between men and women along with the urban and rural divide.
Agita Pasaribu from Bullyid in Indonesia and Quynh Nguyen from CyberKid in Vietnam shared how their organisation works to cope with Cyber threats, the issues faced in the country, common types of online abuses and the age group of the largest number of targets..
Mr TIM Nurul Kabir, Executive Director, FICCI Bangladesh shared the steps taken by the government in Bangladesh to implement the digital era in the country and how it impacts the economy. How the government is working to help people in dealing with cyber threats.
Prof Scott Shackelford shared how he had begun working in the field of cyber security and how he saw countries' working together to reduce the risks of crimes in Cyber Space. He suggested that institutions such as CyberPeace work to fight the cyber war before it begins, and commended the work done by the foundation so far
The dialogue was followed by an Open Forum and Q&A Session held with panelists and participants to address additional topics and concerns related to technology for digital empowerment. The discussions were highlighted with an overview of the global cyberspace landscape and high-priority issues related to cybercrimes.