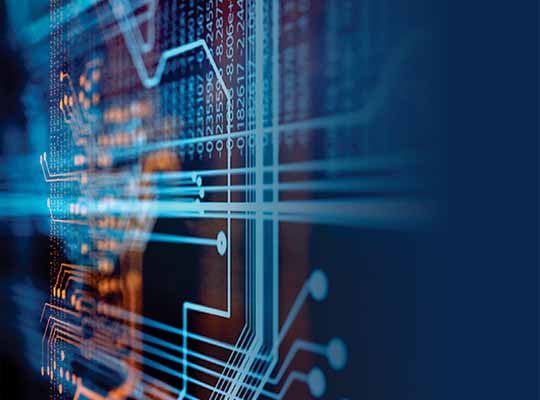 The dominance of data is not anymore unheard. Few spell it as oil and the potential of data has today helped drive new business models. With data, storage became critical in the physical world. Thereafter the world of Internet helped introduce a virtual world, named as Cloud computing and then what, the world migrated from a physical reality to virtual. But with the gamut of data surging, cloud did become a critical space and then the 'Security' in the cloud. Hence, describing cloud security is pivotal today defining new strategies for enterprises and almost every business. Vivid discussions over policies, controls, procedures and advanced technologies are defining 'Cloud Security' ahead. From authenticating access to filtering traffic, cloud security can be configured to the exact needs of the business. And because these rules can be configured and managed in one place, administration overheads are reduced and IT teams empowered to focus on other areas of the business.
The Transition to Cloud and Nurturing Cloud Security

Every business is migrating to cloud; hence cloud security becomes critically important. Sophisticated threats and cyber-attacks are alongside finding a spree. Today, cloud computing is no less at risk than an on-premise environment.For this reason, it is essential to work with a cloud provider that offers best-in-class security that has been customized for your infrastructure. More and more organizations are realizing the many business benefits of moving their systems to the cloud. Cloud computing allows organizations to operate at scale, reduce technology costs and use agile systems that give them the competitive edge. However, it is essential that organizations have complete confidence in their cloud computing security and that all data, systems and applications are protected from data theft, leakage, corruption and deletion.
Cloud Security Benefits:
Centralized security: The beauty of centralization is into your hand. Cloud computing centralizes applications and data, cloud security centralizes protection. Cloud-based business networks consist of numerous devices and endpoints that can be difficult to manage when dealing with shadow IT or BYOD. Managing these entities centrally enhances traffic analysis and web filtering, streamlines the monitoring of network events and results in fewer software and policy updates. Disaster recovery plans can also be implemented and actioned easily when they are managed in one place.
Reduced costs: Pocket-friendly! From a small business, enterprise to a single consumer, cloud has helped to store your data and curate it safely. One of the major benefits is storing data scraps the added investment of a dedicated hardware. Not only does this reduce capital expenditure, but it also reduces administrative overheads. Where once IT teams were firefighting security issues reactively, cloud security delivers proactive security features that offer protection 24/7 with little or no human intervention.
Less Manhandling: Less interference of humans can make work seamless and also chaotic. A reliable and reputable cloud services provider or cloud security platform can help evade manual security configurations and almost constant security updates. Less resources and more productivity is what significantly cloud security can render. A dedicated space to all your cloud storage and business processes is looked after and managed seamlessly.Visibility and Reliability: At the core without much manipulation of data and with automated processes brings more visibility to the owner. Cloud computing services offer the ultimate in dependability. With the right cloud security measures in place, users can safely access data and applications within the cloud no matter where they are or what device they are using. By definition, cloud security responsibilities in a public cloud are shared between the cloud customer (your enterprise) and the cloud service provider whereas in a private cloud, the customer is managing all aspects of the cloud platform.
Cloud Security Threats and Mitigation
Does cloud computing exacerbate security threats to your application? Which emerging threats are relevant? Which traditional threats are amplified or muted? Answers to these questions are dependent on the combination of cloud service deployment and operational models in play. The following table illustrates the dependencies which should be taken into consideration when architecting security controls into applications for cloud deployments: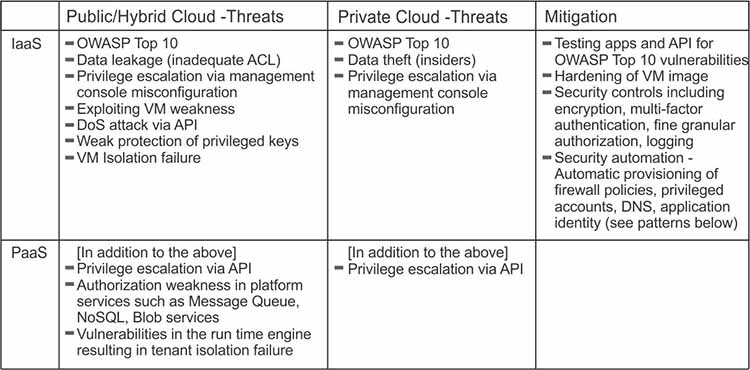 In addition to the aforementioned threats to information confidentiality and integrity, threats to service availability need to be factored into the design. Please remember that the basic tenets of security architecture are the design controls that protect confidentiality, integrity and availability (CIA) of information and services.
Cloud Security Architecture – Plan
As a first step, architects need to understand what security capabilities are offered by cloud platforms (PaaS, IaaS). The figure below illustrates the architecture for building security into cloud services.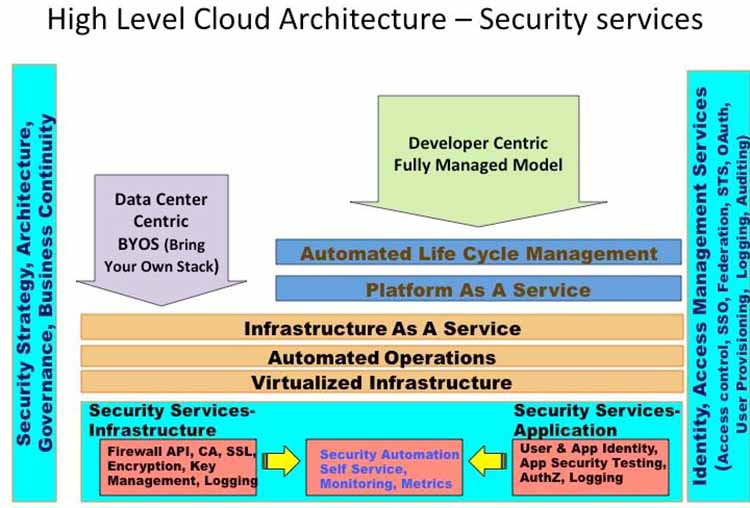 Security offerings and capabilities continue to evolve and vary between cloud providers. Hence you will often discover that security mechanisms such as key management and data encryption will not be available. For example: the need for a AES 128 bit encryption service for encrypting security artifacts and keys escrowed to a key management service. For such critical services, one will continue to rely on internal security services. A "Hybrid cloud" deployment architecture pattern may be the only viable option for such applications that dependent on internal services. Another common use case is Single Sign-On (SSO). SSO implemented within an enterprise may not be extensible to the cloud application unless it is a federation architecture using SAML 1.1 or 2.0 supported by the cloud service provider.
Chip Design and Cloud Security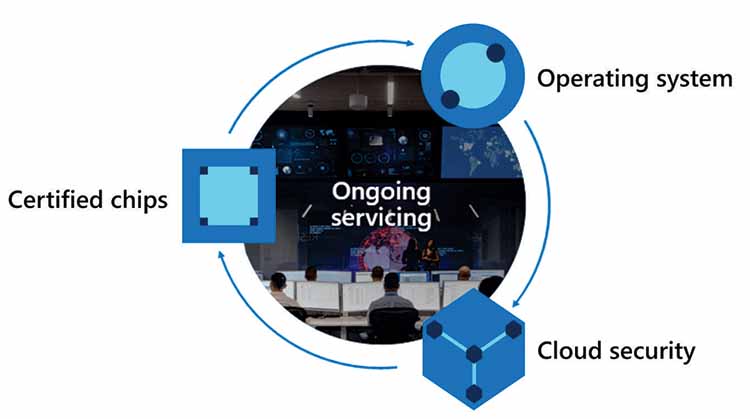 Cloud service providers run their entire business with the help of gigantic data centers. More enterprises are migrating to mission-critical applications to the cloud, data privacy and software security are growing concerns. Hence productivity, scalability, security, and flexibility to design and verify chips in the cloud and migrate your software applications is evitable to the cloud. Designers building SoCs for cloud computing applications need a combination of raw processing power and energy efficiency to maximize total system throughput. When deciding what the type of infrastructure best serves your chip design needs, you may opt for in-house servers and storage. But it's only a matter of time before electronic design automation (EDA) compute needs surpass the capacity of your existing infrastructure – leading to inconsistent performance, reduced productivity, and a longer time-to-market. And, during periods between projects, investments in large server and storage infrastructure can sit idle, leading to resource waste. A growing percentage of companies developing chips these days are either startups or systems companies, rather than traditional chipmakers. Those companies have less design infrastructure in-house, and in the case of startups they do not have the resources to buy emulators or simulators large enough for a reticle-size AI chip. In addition the growing complexity of chips and more heterogeneous architectures are adding to the difficulty of designing these chips at the most advanced nodes, where even large chipmakers are constrained by compute resources in their server farms.
Automotive Moving to Cloud Rapidly
With more innovations happening across the automotive sector cloud is becoming important. Connected Cars, advanced infotainment system, ADAS or self-driving cars all are data hungry and needs advanced data analytics and IoT systems driving Cloud Security. Keeping track of data for the lifetime of a vehicle is critically important. That way, if anything goes wrong, they can go back and figure out exactly what cause the problem by analyzing original data and understanding what may have slipped through the cracks. In the case of automotive OEMs, liability is attached to accidents caused by technology. Having detailed information about the manufacturing process, the supply chain and the exact version of tools used to simulate and test are essential for determining the cause and averting other potential accidents through recall notices."Engineering teams struggle to meet compute needs when they are limited by the finite space and capacity of on-premise datacenters. Despite this widening compute gap, engineers have to meet product design deadlines and delivery expectations regardless of limited infrastructure, hampering productivity. By moving electronic design projects to the cloud, customers can effectively bridge the compute gap, improve productivity and shorten time to market", Editor's opinion.