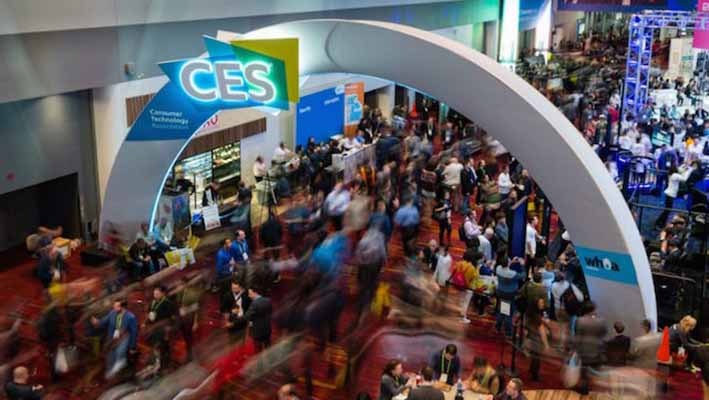 7 January, 2019: During the Consumer Electronics Show (CES) 2019, Deloitte will host a Smart Future conference series and an interactive display focusing on emerging technologies that are blurring traditional industry lines, impacting people and organizations, and enabling a Smart Future. The sessions will provide a visionary—and practical—look at all things smart: mobility, connectivity, the enterprise, cities, and entertainment. Deloitte's Smart Future interactive display will also provide participants with an immersive experience demonstrating what the smart future could look like. The event, owned and produced by the Consumer Technology Association (CTA) attracts the world's business leaders and pioneering thinkers, providing a global stage where next-generation innovations are introduced to the marketplace.
WHEN: January 7-11, 2019
Las Vegas, NV
Deloitte's Smart Future interactive display, Grand Hall Lobby of the Las Vegas Convention Center
Deloitte leaders will be available for one-on-one meetings throughout the event to discuss the Smart Future and related Deloitte insights across the key themes: smart mobility and connectivity, smart cities, smart enterprise, and smart entertainment.
Smart mobility and smart connectivity
Enabling a smart future will require a connected ecosystem—powered by 5G, cloud, and other technologies—that integrates people, mobility, and the environments in which they operate. Greater connectivity is already enabling the future of mobility including autonomous vehicles, electrified passenger drones, and entirely new transportation systems fundamentally changing how people and goods move. Related Deloitte insights include:
Global Technology, Media & Telecommunications (TMT) Predictions: In its 18th edition of TMT predictions, Deloitte predicts smart speakers will become the fastest-growing connected device category; fifth-generation (5G) wireless networks will arrive in scale; and China's leading telecommunications network will enable the maturation of significant new industries. (Global focus)
2019 Deloitte Global automotive consumer study: Explores four foundational elements of the future of mobility—vehicle autonomy, electrification, connectivity, and shared transportation—through a global consumer lens, and uncovers just how willing—or not—people are to use these technologies. The latest report will be available on January 7 (Global focus)
Regulating the future of mobility: Explores the global role of regulators and policymakers in safeguarding the public good as the future of mobility rapidly unfolds. (Global focus)
Global mobile consumer survey – US Edition: Analyzes consumer attitudes about mobile technology—from smartphone and smartwatch adoption to increased use of digital voice assistants, demand for data, and anticipation for 5G. (US focus)
Smart cities: Good for government, citizens, and business
Smart cities have the potential to provide extraordinary benefits to the economy, mobility, citizen safety, security, and more. Realizing these benefits through effective smart cities solutions will require a new level of collaboration between public and private partners, and innovative funding and financing models. Related Deloitte insights include:
Deloitte City Mobility Index (DCMI): Offers a holistic view of cities' entire mobility landscapes and the steps they can take to realize the future of mobility in the coming decades. (Global focus)
Deloitte's Funding and financing smart cities series: Outlines creative alternatives to traditional infrastructure finance models in order to fund and finance smart cities. (Global focus)
Smart city: Unlock your city's potential: An array of research into the journey to become a smart city. (Global focus)
Smart entertainment: Online all the time?
In a hyper-connected world filled with intelligent devices, the line between offline and online has become blurred. Traditional media companies and publishers are transforming advertising to enable partners and brands to reach consumers through digital platforms. And, sports organizations are realigning their focus on fans and creating extended experiences and interactions. Related Deloitte insights include:
Digital media trends survey: Examines the generational habits of US consumers to uncover the shifting attitudes and behaviors that involve entertainment devices, advertising, media consumption, social media, and the Internet. (US focus)
The future of advertising: With virtually unlimited on-demand options for media consumption, and new direct-to-consumer channels, the traditional media advertising model is broken. This research explores how ad publishers can thrive in the face of this disruption. (US focus)
Digital reality: Explores the transformation in how we engage with technology, through augmented, virtual, and mixed-reality, 360 video, and immersive experiences that are at once intuitive and data-rich, and which put the human user at the center of design. (US focus)
Smart enterprise: Super powers through technology
Digital and exponential technologies are accelerators of innovation and are driving unprecedented change across all enterprises. They can improve efficiency, power new products and services, and enable new business models. Learn which innovations are gaining traction and how organizations are accelerating adoption and adapting their workforce while driving the most value for their smart enterprise. Related Deloitte insights include:
Digital transformation collection: This series explores how leading companies are leveraging digital technologies to accelerate innovation. (US focus)
State of AI in the enterprise: 2nd edition: When implementing AI technologies, companies face social, ethical, and logistical challenges. This study explores how a deeper understanding of AI and a pragmatic approach to its adoption can show a way forward. (US focus)
Coming of age digitally: Based on a global survey conducted with MIT Sloan Management Review, this research shows how companies are adapting to a digital business environment. (Global focus)
The Industry 4.0 paradox: This Deloitte Global survey explores how companies plan to invest in digital transformation, revealing several disconnects between strategy and actions. (Global focus)
Interested in learning more about Deloitte's Smart Future at CES 2019? Smart mobility, smart connectivity, smart enterprise, smart cities, smart entertainment—see how it all adds up to a Smart Future. A schedule of Deloitte's Smart Future track at CES 2019 can be found here.