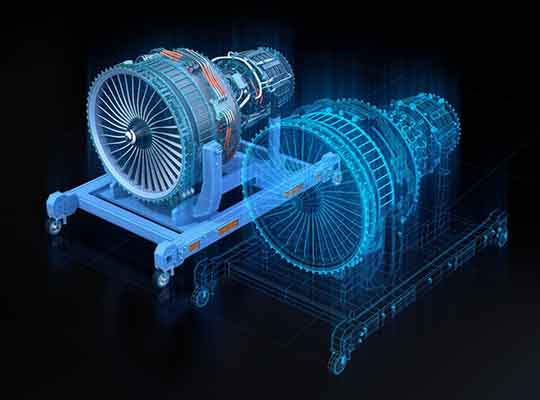 Industry 4.0 brought in tremendous changes to the product development process. Industry 4.0 provided the framework for designing products that were connected, at times 3D printed. The framework for computing moved from HPC to Cluster almost unlocking the potential in terms of simulations. Detroit Engineered Products' (DEP) Digital Twin offering was a significant aspect of Industry 4.0. The transformation was relevant to several industrial verticals, catering to product conceptualization, product design, product validation, and manufacturing. This brought about a change for businesses and simultaneously, set to bring about Digital Structure and Culture.
Explaining a little about Digital Twins, Shirin Hameed, CMO, Detroit Engineered Products (DEP) explains, "A Digital twin is essentially an enabler to convert a physical asset into a numerical asset. They are built to exist along with the life of the product, and help to optimize the real physical asset. They exchange data and interact through IoT. A digital twin can be a model of a component, a system of components, or a system of systems- such as pumps, engines, power plants, manufacturing lines, or a fleet of vehicles. In the Digital Twin, the actual product and the virtual model are no longer separate, but twin-like. It is a digital duplicate that represents a physical object or process, however it is not intended to replace a physical object; but merely to inform on its optimization. It would typically be used for operational optimization, predictive maintenance, or anomaly detection, and are naturally extremely useful in remote, sensitive or difficult to access locations. "
According to a report from Gartner, Digital Twin the concept of copying your physical assets in the digital world is sweeping the computer-aided engineering (CAE) and Internet of Things (IoT) industries. The use of AI-driven technology in the form of a digital twin is helping companies worldwide reduce costs as they start to re-open after the COVID-19 lockdown."
Radha Krishnan, Founder & President, Detroit Engineered Products (DEP) said, "CAE plays a very important role when simulation using digital twin is necessary. MeshWorks, our CAE driven simulation platform simplifies model-based machine development. Developers can import a CAD data directly into our platform, and DEP MeshWorks parametric modelling methodology can be used to create these optimized and parametric FE models, or Response Surface Models, or Reduced order models, which can be used for analysis. You can also carry it forward to the FE model, and can analyse the FE model with real loads. And thus since your FE model is live, you can communicate directly and have an efficient model suited to real- words conditions. Digital twins are the key to efficiency when it comes to software development and the virtual commissioning of a machine."
In Industry 5.0, Digital twin is expanding the framework and transforming it to another level. Personalization or Mass customization is one aspect that product design would have to plan out for besides the focus moving towards Cognitive computing. The products are expected to be interactive with HMI's. The products would still stay connected on 5G type of network and this demands real-time validation. The interesting part for businesses is to balance Economics with Ecology and Social perspectives.