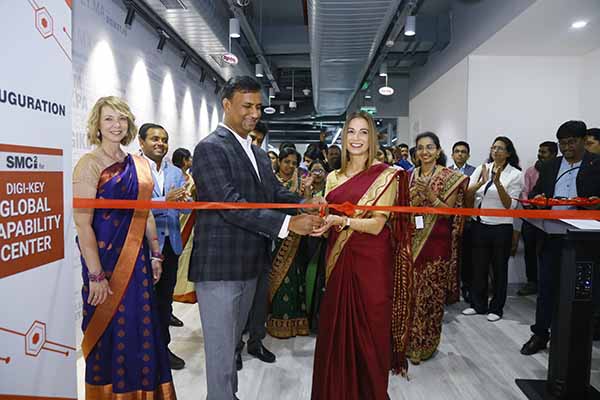 Bengaluru: Digi-Key Electronics has launched its first Global Capability Center (GCC). It is a 30,000 sq ft facility in Bhartiya City Bengaluru India. The facility was inaugurated in the presence of several Digi-Key key leaders and its support partner, SMC Squared (SMC2). Digi-Key's facility at Bengaluru is the first of its kind. Further, the Bengaluru GCC facility will serve as an epicenter for technology and innovation for Digi-Key's operations globally. Additionally, it will support the organization in keeping pace with its suppliers' and customers' demands for services and innovation.
Ramesh Babu, chief information officer at Digi-Key, said "The industry is moving at a phenomenal pace that requires all players to constantly innovate and integrate technologies. In this period of strained supply chains, Digi-Key is playing a critical role in supplying the components that global companies and innovators need. Our IT team is one of the many departments helping Digi-Key process and ship more than 27,000 packages per day.  Our new Digi-Key Global Capability Center expands our talent strategy and is about making our employees feel truly valued."
Patricia Connolly, CEO and Partner of SMC Squared, Digi-Key's chosen implementation partner, said "We are honored to partner with Digi-Key to create their India technology hub for innovation and development. Digi-Key India's focus will be to empower highly skilled and talented team members to drive business-critical technology initiatives."
Digikey is headquartered in Thief River Falls, Minnesota, USA. Digi-Key Electronics is recognized as both the leader and continuous innovator in the high-service distribution of electronic components worldwide. Moreover, Digi-Key provides more than 10.8 million components from over 2,300 quality name-brand manufacturers. Further, the Global Capability Center will be an integral part of Digi-Key's long-term strategy.