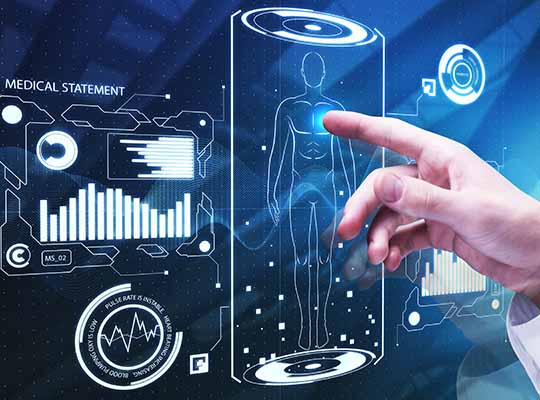 I am glad to note that Digital transformation initiatives have finally begun to disrupt the Healthcare delivery models. Digital interventions such as Artificial Intelligence (AI)-enabled Clinical, Financial & Supply-chain decision support solutions, Internet of Medical Things (IoMT)-enabled Devices, and Interoperable Applications are revolutionising the way patient-centric connected care is gaining increasing prominence and replacing the current error-prone (silo) ways of exchanging vital healthcare information. For instance, healthcare organisations are discovering how a SMART Electronic Health Record is aiding in reduction of medical errors and redundant Diagnostic tests, and helping in optimum utilization of Specialists' time. And this is just the tip of the iceberg. Digital transformation is now in fact a boardroom subject and a strategic initiative for any healthcare provider, albeit at a slower pace when compared to other sectors such as CPG, Retail, Banking and Insurance, amongst others. The pace is likely to accelerate further as various Care providers, Pharma companies and Public agencies jump on the bandwagon to adopt Online collaboration, Smart technologies and Digital tools that streamline operations and improve care.
Cost of Healthcare across the Globe has seen a sharp upward trend due to factors like ageing population, rise of non-communicable diseases (NCD) and lifestyle-related diseases. Along with this are the changing expectations of a subset of the population that is increasingly converting to and consuming everything that Digital health platforms have to offer. This phenomenon is driving the focus towards connected-health initiatives which are patient-centric and could be delivered through Digital channels.
FROM DRAWING BOARD TO EXECUTION
It is pertinent to note that digital transformation is not an end in itself but a means to achieve business outcomes. Digital interventions need to be a part of a process workflow, and from that perspective, a Process Engineering exercise (and process re-engineering wherever required) is a critical success factor and a prerequisite for any Digital Transformation initiative. It can also be stated that the purpose of digital transformation initiative is to achieve the business outcomes by intertwining digital interventions with a business activities related to either Clinical, Operations or Administrative functional areas. One of the critical success factors for any digital transformation initiative is to ensure that the expected outcomes are clearly outlined and measurable, and the processes need to be well-engineered to ensure that those outcomes are achieved. As a first thumb-rule, process areas, which need re-engineering, should be taken up before embarking upon a digital transformation initiative. When streamlined, processes can improve the reaction time for clinicians, which ultimately leads to improvement in overall quality of care. In fact, it may be noted that organisations that are leading in the digital transformation era are re-engineering their Enterprise architecture to include a layer of data and analytics microservices.
Apart from Process Engineering, Organization Change Management (OCM) is also one of the most critical success factor for any Digital Transformation initiative. The pace at which an Organization moves from a paper-based process workflow to a (near) Digitized process workflow is directly dependent on the success of an OCM initiative. The extent to which the business outcomes could be achieved is dependent on the success of the execution of the OCM strategy. In fact, by dovetailing Business strategy, Organization change management and Digital interventions, Healthcare organisations can be more Agile and predictive in their business outcomes.
It needs to be also noted that a Digital transformation initiative should typically not be treated as an Information Technology (IT)-led initiative but rather a Business-led initiative, and the Governance model needs to be structured accordingly.
It is a fact that companies that focus on investing in Enterprise-wide digital ecosystems will most likely witness Strategic and Operational initiatives which will be more coordinated, streamlined and sustainable. We (Manorama Infosolutions Pvt Ltd) have a proven Digital Transformation approach, and along with our partner ecosystem, are delivering outcome-based transformation initiatives.