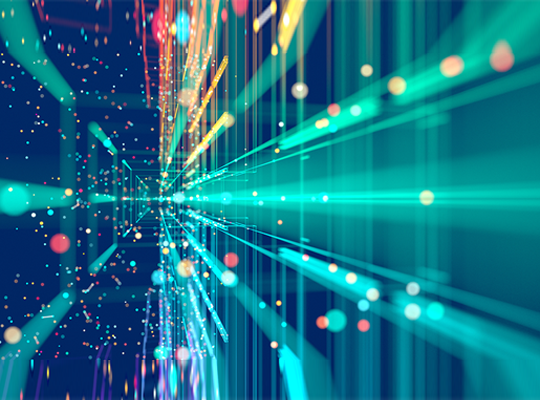 Digital Transformation (DX) has moved on from being a buzzword to a central point of focus, and development, for organizations all over the world.
Digital Transformation refers to the alignment of real world use cases, culture and work, with technology solutions. These solutions complement & support the transformation of a real-world use case and drive user experience & data insights.
CEO-level leadership, their ambition and workforce willingness are the key, enabling requirements, for implementing & accelerating digital transformation. Although, CIOs will lead the DX space, CEOs are investing millions of dollars into DX objectives & efforts.
Digital Transformation enables leadership drive top-line growth and reduce total cost of ownership, with data-driven decision making enabled by highly accurate, real-time information & application delivery.
DX in itself encompasses several working elements & ecosystems such as:
Customer experience (CX)
Industrial IoT
Organization-centric DX
DX in Supply Chain
DX for Production & Manufacturing
Products & Services
Citizen-Centric DX
A very important functional use case of digital transformation, which has been left out of the general purview, is citizen-centric DX where it can enable a host of opportunities.
Let us take an in-depth look into the various elements of DX:
• Customer Experience:
Retailers experienced a stark shift in the way customers were interacting with their products. Upon the dawn of aggressive e-commerce markets, Customer Experience design moved from a purely physical environment to a digital environment.
While retailers used CRMs to understand user behaviour through internal audits, the digital shift to actually implement full-fledged digital solutions took time. However, the digital transformation has now enabled retailers to get a deeper understanding of how customers are interacting with products and services to facilitate even more personalised Customer Experience. Many retailers today offer their own Applications, mobile and web, to drive sales.
• IIoT:
Industrial Internet of Things in industry 4.0 is leading the way when it comes to driving asset efficacy while increasing efficiency of systems and processes with real time monitoring from sensor inputs. These sensor networks, built on lightweight communication protocols, driven over cloud, help organizations leverage single pane of glass visibility over complex, widespread deployments. The information collected from sensors can be processed at the edge itself, or over the cloud. In this space, 5G deployments and WiFi 6 will enable further dense environments to functional effectively because of high bandwidth.
• Organizational DX:
In hindsight, we can imagine that having in place smart, productive solutions for enabling a Digital Workplace would have mitigated the disruption that has been caused by the COVID-19 pandemic by enabling easy workplace scenarios.
Organizational DX, today, embodies the emphatic necessity for implementing remote, and secure digital workplace solutions and management capabilities for running the organization effectively. Organizations have taken cognizance of the pressing need to enable workplace flexibility. DX solutions for remote & branched workplaces, with management consoles, help monitor employee productivity across all departments.
DevOps and NetDevOps are another important concepts for organizational digital transformation. Siloed development, operations and IT teams create obstacles in smooth application delivery. Coupling these teams together, deploying Agile methodologies, helps add value to the organization's effort of digital transformation and improve application delivery and support.
• Supply Chain Management:
Supply chains decades ago were quite inefficient. With the development of Globalization on a large scale, real time tracking of assets over endpoints possessed a critical challenge, simply because of the lack of solutions which enabled real-time tracking of assets across globalized supply chains.
Supply Chain ecosystems have gone under incredible paradigm shifts. Thanks to digital transformation strategies and its technological counterparts.
SCM systems today enable live, real-time tracking of inventories, assets and its deliveries across global sources and destinations. DX in supply chain management has drastically reduced time-to-market and lowered running costs due to better logistics monitoring.
• Process & Operational Agility:
Several process-oriented & manufacturing companies include operations which are manually monitored and controlled. For this use case, DX enables complete automation & monitoring of operational ecosystems. Implementation of DX, accelerated by already in-place IoT systems and Cloud, help organisations scale effectively, horizontally as well as vertically, across all ecosystems.
Digital Transformation in the space of process and operations helps pace agility by mitigating faults and constantly improving asset efficacy through automated, response mechanisms designed to control the environment for high accuracy.
• Products and Services:
The transformative effect of DX in products and services has been reflected on a large extent in the sphere of consumer entertainment. OTT platforms are surging ahead to beat traditional entertainment options like television and movies. Leading entertainers are looking at OTT platforms for their future content releases. OTT service providers are building scalable, microservice based architectures to reduce bottlenecks. These architectures are designed to handle a very high concurrency whilst ensuring smooth performance across all users.
• Citizen-Centric DX:
Often overlooked, and almost absent from mention in most places, citizen centric DX is what will shape the future of pervasive connectivity. Cellular and other wireless modes of communication are the first in line for enabling pervasive connectivity. Digital transformation of entire communities, cities, countries and the world at large will be led by a combination of wireless and cellular technologies.
The key enabling technologies for a Citizen-Centric DX will be WiFi-as-a-Service. There still are large pockets of people disconnected from the world due to the unavailability of reliable and affordable Internet connectivity options.
Citizen-centric approach revolves around ubiquitous connectivity, from a DX perspective, it opens up sea of opportunity for the population. From supporting the economy to empowering education, DX for daily citizens will shape the future and create learning and employment opportunities for a large number of people.
The Future of Digital Transformation
The future of digital transformation is inevitable. It is going to happen, while the time frame for implementing DX has been accelerated from the past year due to the pandemic, we can already envision a world where digital transformation will bring in ubiquitous computing paradigms which are well within our reach today.
The development of VR & AR will aid organizations in creating experiences which mimic a physical, real world scenario for customers in the comfort of their houses. Organizations will be able to allow customers interact digitally with products, thus replicating a physical shopping environment within a room.
Advanced IIoT, a combination of IIoT and advanced computing concepts like machine learning and artificial intelligence would create self-healing and self-optimising production environments. Technologies like deep learning & AI would help computers make decisions based on production requirements and the kind of scaling which would be required to fulfil production goals for on-time delivery and deployment.
Data sourced on a micro-level, cumulatively, will allow enterprises to close ecosystem gaps causing loss of efficiency. This data will also be presented in sets of easy to grasp graphical representations.
On an organizational level, it seems very likely that a large number of people are going to be working from home for a long time, due to the obvious risk of the pandemic. While companies have started strategising on phasing the workforce into workplaces at a slow pace, it presents the challenge of risking liabilities if someone gets sick.
Remote workplace paradigms will continue to rise, technology solutions which enable minute tracking of employee activity over remote workplaces will ensure timely completion of deliverables and sustain productivity to in-office levels.
Supply Chain Management & logistics has a steady rate of adopting digital transformation solutions. However, blockchain has the potential to radically change the way we approach supply chain management.
From the source to destination, the integration of blockchain-based solutions can eliminate gaps between tax structures, and entities surrounding it, by deploying smart contracts which integrate with SCM systems for automated finance structuring.
Process and Operational automation is bound to happen at a faster rate in the coming decade. Reduction of manual intervention and installing machines for task automation will greatly increase the level of efficiency within manufacturing and production units.
As we've said before, Citizen-Centric DX as a paradigm has not been talked about much, let alone explore. Smarter cities and smarter devices are going to require smarter connectivity. Leveraging end-to-end connectivity solutions will help in connecting citizens on a global scale. As leaders in cutting edge wireless technology, we have noticed an aggressive increase in the demand for pervasive, and highly available connectivity. We have a firm reason to believe that rapid proliferation of urbanization in many geographies is going to further drive DX into looking at the citizen-centricity of it.
The People Dimension of Digital Transformation
The only limitation to a full-fledged DX shift is culture and the people-dimension. Here, the leadership plays a pivotal role. Leadership, from CEOs, CIOs to mid-level management, everyone has to spearhead efforts to drive digital transformation for ensuring business resiliency and staying in the game.
Aligning business goals with digital transformation initiatives with a defined set of procedures is a good approach for organizations looking to implement digital transformation solutions.
The central figures of all DX initiatives should be CEOs and CIOs. The CEOs are responsible for convincing the workforce of the need for digital transformation initiatives. The people dimension of DX has always been a problematic issue to address for organizations throughout domains.
Going ahead, we believe that DX will be a key transformative driver of all change. People will get onboard to proceed with DX initiatives and organizations that lead steadfastly in this paradigm will lead the way, and the change.
Digital Transformation is the key to unlock the full potential of Industry 4.0, and the future it enables for a better tomorrow.