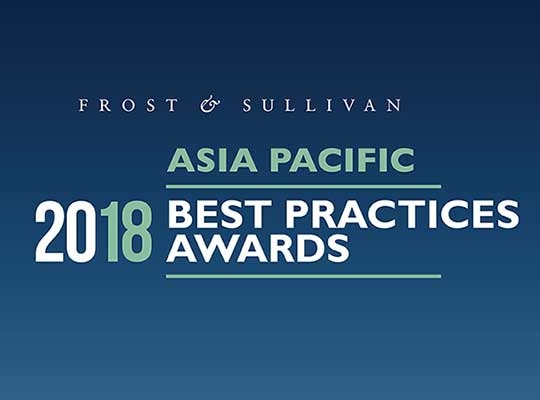 SINGAPORE, Nov. 30, 2018 – Frost & Sullivan has presented Singtel with the 2018 Southeast Asia and Singapore Managed Security Service Provider of the Year and Data Center Competitive Strategy, Innovation & Leadership awards at the annual Frost & Sullivan Asia-Pacific Best Practices Awards Banquet held at the Shangri-La Singapore earlier today.
Divya Prasad, Senior Industry Analyst, Cyber Security, ICT Practice of Frost & Sullivan noted that over the years, Singtel has developed a strong domain expertise and R&D capabilities, enabling it to offer various innovative managed security service offerings. This has generated a high trust among customers in the APAC region and across the globe.
"In 2017, Trustwave, a Singtel company, continued to demonstrate a strong leadership position during the year despite the stiff competition in the market. Trustwave continued to hold a strong position in the market through its vast and comprehensive MSS portfolio with offerings ranging from perimeter, endpoint to cloud security. The company also offers advanced services such as DDoS protection, Advanced Threat Prevention, threat hunting, deception and threat intelligence. Through these services, the customers have been able to benefit from a strong security architecture and can focus on their main business operations," she added.
"We are honoured to receive this recognition," said Arthur Wong, Chief Executive Officer at Trustwave. "These accolades reflect significant advancements we continue to make in the Asia Pacific region and globally to help organisations address an increase in sophisticated cyber threats while contending with shortages of adept security practitioners. Our near real-time threat intelligence derived from our global network of Advanced Security Operation Centres powers our threat detection and response, remote forensic investigations and other managed security services and is a key differentiator we deliver to the marketplace. We look forward to continuously helping organisations refine how they protect data assets and strengthen overall security postures."
As a testament to its regional expansion focus and continued innovation in the Singapore Data Center market as well, Singtel was also recognized with the 2018 Singapore Data Center Competitive Strategy, Innovation & Leadership Award.
Nishchal Khorana, Director, ICT at Frost & Sullivan, acknowledged that the Singapore data center market is extremely competitive due to the growing presence of global data center service providers. However, it is apparent that Singtel continues to create differentiation in areas such as optimization of data center operations as well as adoption of newer technologies to create greater customer value.
"The collective measures and initiatives are clearly helping Singtel to effectively stand out amongst the competition. This has also led to acquisition of key customers across multiple industry segments. Innovation continues to be a key priority for Singtel with focus on software defined data centers. Furthermore, Singtel's DC.DX platform enables seamless integration of data center, network, security, managed services and hybrid cloud services," he explained.
"Our data centres are key to providing managed services which include cloud, analytics and cyber security services to facilitate our customer' digitalisation journey," said Goh Boon Huat, Vice President, Global  Products, Group Enterprise at Singtel. "The award will spur us on to innovate and strengthen our leadership in the data centre space and position Singapore as the leading data centre hub in the region."
The recipients of the annual Frost & Sullivan Asia-Pacific Best Practice Awards were identified based on in-depth research conducted by Frost & Sullivan's analysts. The award categories offered each year are carefully reviewed and evaluated to reflect the current market landscape and include new emerging trends. The short-listed companies were evaluated on a variety of actual market performance indicators which include revenue growth; market share and growth in market share; leadership in product innovation; marketing strategy and business development strategy.