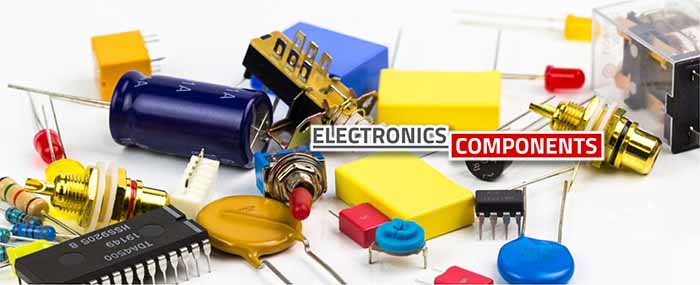 Electronic components are mostly industrial products, available in a singular form and are not to be confused with electrical elements, which are conceptual abstractions representing idealized electronic components. The Electronic Components industry concentration is not high; there are more than one thousands manufacturers in the world, and high-end products mainly from USA, Japan and European. Company mergers and acquisitions, and inter-companies cooperation have occurred for development and growth. As the downstream consumption usually follows with developed and rapid economic growth areas, such as BRICS, the developed areas' company prefers investing to underdevelopment regions these years. The Electronic Components market was valued at 360700 Million USD in 2018 and is projected to reach 533700 Million USD by 2025, at a CAGR of 5.0% during the forecast period. Long-term demand for electronic components remains robust although sales expectations for the third and fourth quarters have moderated, according to the ECIA.
The Potion of Growth in Electronic Components Distribution Biz
Yet there are no indications long-term demand for electronics will decrease. Chip makers – currently struggling with a shortage of supply – plan to bring more than 20 fabs online over the next few years. ECIA's component sales index remains above 100—the demarcation line between contraction and growth. Following a peak of 157.7 in March, sales expectations declined to an estimated 115.4 in September. The trend shows continuing but moderating growth through the end of the year.
Customer expectations may be adjusting to the fact that chips could be scarce for years but ECIA's assessment of overall end-market demand remains encouraging. ECIA's comparison between growth expectations for Q3 2021 and Q4 2021 shows continued optimism for sales growth in both quarters. The share of survey participants expecting growth in Q3 is 68 percent followed by continued optimism in Q4 but with 51 percent of respondents. Only between 2 percent and 4 percent of participants expect a decline of between -1 percent and -3 percent in Q3 and Q4. The remaining survey participants expect stable revenues for the second half of 2021.
Technology Shaping Supply Chains
The data effectively highlighted that there has been an increased shift of preference to touch input technology which has pushed up the demand for display devices as consumers prefer information in visual form. Touch screens have become the gold standard on devices used today. The adaptation of IoT & Industrial IoT technology has increased demand for sensors and Wi-Fi components which have created opportunities for growth in industries like medical, automotive, industrial, security and aerospace, among others. The above insights have been derived from major suppliers including Abracon, Analog Devices, Diodes Inc., FTDI, Infineon, Kyocera AVX, Littelfuse, Maxim Integrated Products, MEAN WELL, Microchip Technology, Molex, Murata Power Solutions, Nordic Semiconductor, NXP Semiconductors, Omron, onsemi, Schurter, Sensirion AG, STMicroelectronics, Taiwan Semiconductor, TE Connectivity, Texas Instruments and Vishay. The reports were unveiled by OEMSecrets.
SaaS Technology Changing Sourcing Requirements
Today, many OEMs still depend on calling multiple approved vendors for quotes and have them compete on the price and the lead time. This process can take days, if not weeks at a time. Now, imagine how long would it take to quote a 10,000 item bill-of-material (BOM) manually? Besides the quoting process itself being long, it is also difficult to manage many stocking distributors who cannot quote all the parts on the BOM and fulfill it completely. As the result, the OEMs need to deal with issuing multiple purchase orders (POs) to multiple vendors and factor in various lead times and dock deliveries.
Artificial Intelligence (AI) into Supply Chain Processes
When discussing the use of AI in the supply chain, we mostly focus on various segments in improving the operations of warehouses and shipping departments. Many companies are starting to implement gesture and voice-recognition systems for data processing over keyboard and mouse data entry. This process can speed up the way warehouse workers are pulling and placing the components from the shelves.
Positive User Experience (UX)
Besides well-known catalog distributors of electronic components, many smaller niche houses are placing significant value on how the UX is affecting their brand. In talking to our participating sellers/vendors on Sourcengine, we found that many distributors are trying to constantly improve their customer user experience. Whether that is by offering discounts and other product price incentives, building e-commerce platforms on their website, reducing the number of clicks throughout the checkout process or trying to improve their quoting process, there is no excuse for not providing a wonderful user experience. Even large distributors are continually innovating. During the 2019 EDS Summit in Las Vegas, Dave Doherty of Digi-Key stated: "We are always on a digital acceleration. We have been on a digital path since 1996 and there is no embayment to that." As the result, Digi-Key is focusing on providing a better user experience to their customers by introducing the image recognizer and the voice search for component shopping. "The user experience will undergo a significant shift in how users perceive the digital world and interact with it. The integration of virtual reality (VR) and augmented reality (AR) with multiple mobile, wearable, IoT and sensor-rich environments and conversational platforms will extend immersive applications beyond isolated and single-person experiences", according to Gartner.
2022 – What's Waiting for Semiconductor Industry?
The global semiconductor industry is in a difficult place as 2021 draws to a close. The field has been coping with a chip shortage since late 2020 that has disrupted end-market manufacturing operations across dozens of segments. Market analysts estimate the bottleneck will cost the automotive sector alone $210 billion this year.
Moreover, leading chipmaking executives and insiders believe the component crunch will persist throughout 2023. Accordingly, the electronic components supply chain will grapple with lead time delays, availability issues, and pricing fluctuations throughout the coming year. That said, the sector offers enough visibility to create credible long-term forecasts for the industry. Here's a look at some industrywide developments that OEMs, CMs, and EMS providers will encounter in 2022.
The Chip Crunch Should Ease Up in 2H22
The consensus among leading chipmakers is that the global parts shortage will continue undercutting their output until 2023. Because interest in electronic devices and equipment skyrocketed in the aftermath of the coronavirus pandemic, the current level of production capacity is insufficient. That said, multiple component company executives believe that the bottleneck will ease up in the second half of 2022. Reports SupplyChain 247.com
Reports Stating a Strong Future
Demand for semiconductors is robust across a wide range of customer segments including industrial, wireless communications, consumer, computer, automotive, commercial, aerospace and defense. Strong demand has outpaced production capacity resulting in higher prices, which is contributing to revenue growth for distributors. Distributors are seeing strong sales of microcontrollers, MOSFETs, power ICs, discretes and analog chips. World Semiconductor Trade Statistics says overall semiconductor revenue will rise 25 per cent in 2021 as sales reach $551 billion. Memory ICs will have the strongest growth areas as sales rise 36 per cent. Analog sales will increase 29 per cent; logic, 26 per cent; sensors, 24.8 per cent and discretes, 23.5 per cent, according to WSTS.