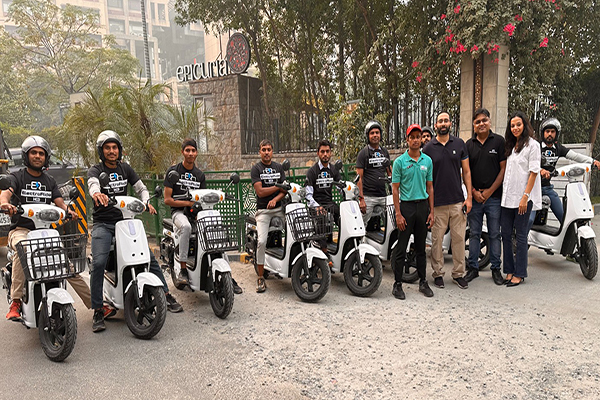 ElectroRide by Goenka Green, India's fastest-growing multi-brand electric vehicles retail chain, receives orders from Uber and Jubilant FoodWorks to provide customized end-to-end EV mobility solutions. This mandate aims to advance clean and sustainable urban transportation with light commercial vehicles on long-term rental as well as outright purchase basis.
As part of this association, ElectroRide will provide cost-efficient and customized electric vehicles catering to the specific needs of Uber and Jubilant FoodWorks including its brands — Domino's and Hong's Kitchen. These endorsements are the outcome of ElectroRide's strategic partnership with HCD India, India's first OEM focused on last mile mobility and delivery. Together, HCD India and ElectroRide have been delivering to leading logistics service providers — DHL and Delhivery.
"We are thrilled to be associated with Uber and Jubilant FoodWorks to create a synergy that will redefine last-mile mobility. Our shared commitment to sustainability, convenience, and an exceptional customer experience makes this partnership truly special", said Tanuj Jain, Director & Co-founder, Goenka Green.
Elaborating on the partnership, Raghav Nanda, Founder & CEO, HCD India, said, "While several players compete in the market, we stand out as a frontrunner, thanks to our perfectly tailored electric vehicles that are able to withstand the specific demands of these companies and also the unforgiving demands of the last mile mobility sector. Our commitment to providing the right type of electric vehicles, paired with a rapid service model aligns with the industry's needs, and positions our vehicles for significant growth and success in the electric mobility sector."
Speaking about growth and expansion plans, Rajendra Goenka, Founder & Chairman, Goenka Green said, "We are eyeing to expand 2500 EV stores across India in the next 5 years. Further, we plan to introduce 10,000 electric vehicles on Indian roads within the next 2 years under the last-mile mobility wing and become the largest chain of multi-brand electronic vehicles that cater to B2B customers. Our mission is to break market barriers for all big giants in the mobility segment and cater to more such brands."
An arm of Goenka Green, ElectroRide is a multi-brand e-mobility product solutions company which offers an array of products including motorcycles, three wheelers, and eco-mobility solutions. The company provides after sales support and is actively participating in developing and deploying e-vehicle charging infrastructure across the country. With a strong footprint in the northern part of India, ElectroRide further plans to expand its reach in South India.