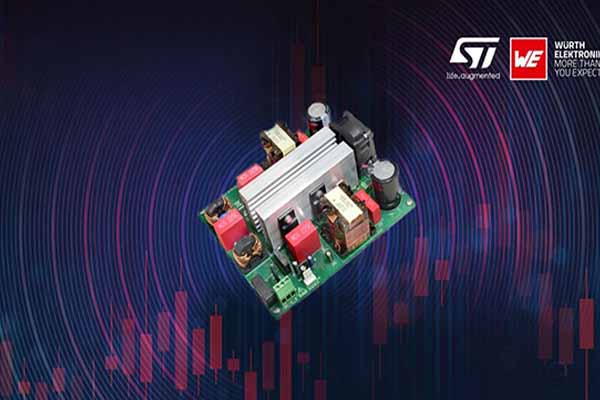 element14 is now stocking the 1kW analogue bridgeless power factor correction (PFC) device utilizing the BARBI topology from ST Microelectronics and Würth Elektronik.
BARBI is an innovative bridgeless Power Factor Correction (PFC) topology that improves the efficiency and power density. It allows to remove the conventional 4-diode bridge rectifier with a two MOSFETs working as synchronous rectifier to even boost the efficiency. Despite the bridgeless approach, it can still be controlled with analog controller and doesn't require complex transistor driving circuit since the switches are driven only with LS gate-drivers.
The double boost topology (BARBI) based EVL4986A-1KWBL demonstration board serves as a bridgeless PFC pre-regulator capable of delivering 1kW output power (400Vdc) and a broad input voltage range of 90Vac to 265Vac. It is based on the new L4986A peak current mode CCM power factor controller and can serve as a front-end converter for up to 1kW. This board is designed to meet the IEC61000-3-2 and JEITA-MITI standards.
Key features include:
Input mains range: 90 to 265 Vac at 45-65 Hz frequency
Output voltage/load: 400 V / 2.5 A
High efficiency: above 98% at 230 Vac (full load), above 95.5% at 115 Vac (full load), and above 94% between 10% and 100% of full load.
Low no-load mains consumption: below 250 mW at 230 Vac
Mains harmonics in compliance with EN61000-3-2 Class-A and JEITA-MITI, Class-A
EMI compliance with EN55022 Class-B
Safety compliance with EN62368
Dimensions: 145 x 160 mm, height = 35 mm
PCB: double-sided, made of 70 µm FR-4, and has a mixed PTH/SMT design
Featured products on the board include L4986 CCM PFC controller, STW69N65M5 Power MOSFET, STPSC12065 SiC diode, and PM8834 dual LS gate driver from STMicroelectronics. These components are suitable for a variety of applications that require high efficiency, superior power density, and outstanding performance.
Würth Elektronik provides the 750319521 PFC boost inductor, WCAP-FTBE and WCAP-FTX2 film capacitors, and the WE-CMBNC common mode power line choke. These components are designed to meet the high-efficiency requirements of power factor correction topologies and provide superior EMC behaviour, self-healing properties, and broadband suppression for common mode noise.
The board can be used in industrial and medical switch mode power supplies; high-power LED luminaries, consumer electronics, and server power supplies. The L4986 controller provides a low-component count solution with high efficiency and low THD performance in all operating conditions, making it ideal for various power electronic applications.
The EVL4986-1KWBL demonstration board is available from stock at Farnell in EMEA, Newark in North America and element14 in APAC.