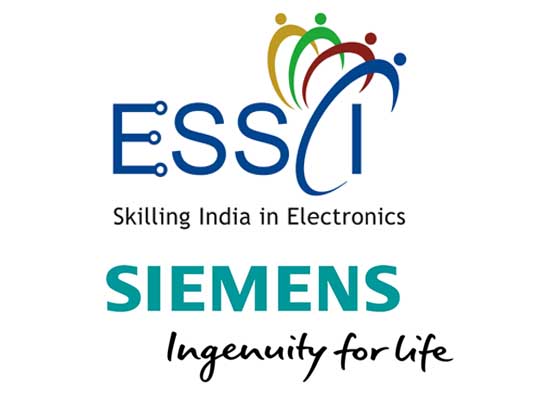 New Delhi: 7 Oct, 2020- The Electronics Sector Skills Council of India (ESSCI) signed an MoU with Siemens Limited to establish cooperation between both the organizations and to execute the projects around skilling ecosystem, future skills, Training of Trainers (ToT), and developing new technical manpower for the Industry.
The Mou aims to deliver both short-term and vocational course training based on Industry 4.0, Electronics, Electrical Installation, Industrial Control, Smart Manufacturing, Digital Twin, and related technologies and sharing the best practices that are followed in the industries. From time to time, Siemens Limited will also support ESSCI in organizing programs/webinars on the state of the art technologies, solutions, products through authorized training centers; in person as well as virtual. Siemens will play the role of Knowledge Partner for Project-Based Learning (PBL) Offerings by ESSCI to colleges and will also support in the assessment of PBL outcomes.
Speaking about the agreement, Mr. N.K. Mohapatra, CEO, ESSCI said that this tie-up will benefit the youth of the country who are looking forward to pursuing their career in the electronics industry. Siemens Ltd. will support us in validating the QPs/job roles of ESSCI as per the industry requirements. It will provide experts for Hackathons, Skill Competitions, and WorldSkills competition. Further, ESSCI is also looking to roll out various Industries assisted training/courses with Siemens on a joint certification basis. Apart from this, Siemens will also help ESSCI in developing STEM-based courses in schools and promoting Recognition of Prior Learning (RPL) and other relevant Government schemes.