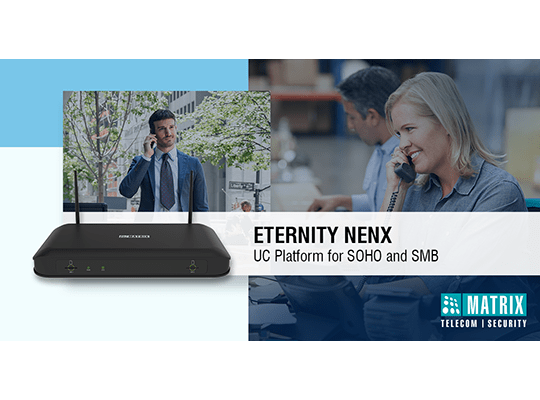 April 9, 2020 – Strength, success and growth of small and medium businesses rely on strong relationships with the end customers and business associates. To stay competitive in the market, efficient communication and better customer responsiveness are essential business drivers. The new-age SMB and SOHO businesses for IP based communication infrastructure to further enhance productivity and mobility leading to quicker decision making of key business aspects. Matrix ETERNITY NENX is a next generation IP-PBX system for small offices / businesses having up to 66 users. A small yet powerful IP-PBX, ETERNITY NENX provides all business class telephony features to be productive, look professional and enhance customer services.
Key Features of  ETERNITY NENX 
Control Call Costs
Extend Business Reach
Flexible Phone Options
Future-proof Solution
Enhances Workforce Productivity
Efficient Call-routing
Easy to Manage
Voice Mail and Integrated Auto-Attendant
Want to know more?
Click Here to Dive Deeper into the details.