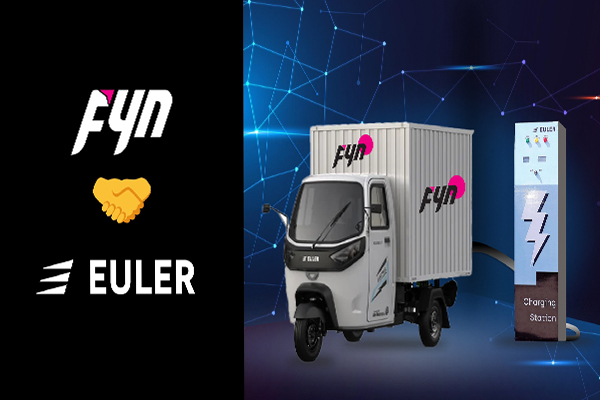 India's first vertically integrated EV as a service platform, Fyn, which has emerged as a pioneer in maximizing efficiency of deployed EVs, has announced a strategic partnership with Euler Motors to procure 2000 fast charging 3 wheeler EVs. Through this transformative alliance, Euler Motors will empower Fyn to establish the country's largest 3-wheeler fast charging EV fleet, dedicated to serving the burgeoning B2B sector with its flagship product – the Euler HiLoad EV. Fyn has secured financing of this deal from Petronas-backed Gentari, a global leader in providing green mobility solutions. Gentari aims to establish Vehicle as a service fleet in India, Malaysia and APAC to drive sustainable mobility switch and adoption. The company aims to have 10% market share of charging points and EVaaS across key markets in APAC including India.
To meet the growing demand from the logistics sector, Fyn is leveraging its innovative platform approach to unite all EV stakeholders on a single platform, driving India towards a sustainable green mobility future. Euler Motors is all set to deliver the 2000 Euler HiLoad EVs over the next 18 months. This strategic phased approach will help Euler Motors and Fyn to revolutionize the commercial EV segment, pioneering the shift towards eco-friendly mobility solutions.Visakh Sasikumar, Founder CEO, Fyn, says, "Our goal is to empower our customers to extract the maximum potential from their deployed EVs. To achieve this goal, we have leveraged our deep understanding of the EV landscape in India as we have been ahead of curve on many levels. Fast charging is truly a game changer. To have a vehicle ready for quick redeployment through fast charging, has helped logistics companies achieve their business goals in a more capital-efficient manner. Our partnership with Euler is a significant step towards building a mass
electric ecosystem, transforming intra city transportation and creating much-needed value for India."
The 3W LCV Euler Hiload EV from Euler Motors will fuel Fyn's expansion plans into new geographical markets within India, including Mumbai, Delhi, and Coimbatore. With features like a 12.96 kWh battery pack with patented liquid cooling technology, highest load capacity of 688 kgs in the sub-one tonne vehicle category and torque of 88.55 Nm for best-in-class pulling power the HiLoad EV, boast of better performance, extended battery life, reduced total cost of ownership and less down time which improves profitability for users.
Commenting on this partnership, Saurav Kumar, Founder and CEO, Euler Motors said, Our association with Fyn gives us an opportunity to not just expand our market reach across India, but also allows us to address critical aspects of EV ownership, fast charging infra and operational excellence. We are looking to deploy 2000 Euler HiLoad EVs with Fyn over the next 18 months. This alliance is driven by our unwavering commitment for EV adoption in the Indian commercial segment. Together, Euler and Fyn aim to be the catalysts of technological progress, revolutionizing mobility, and co-creating a sustainable future where innovation meets sustainability."
The strategic alliance with Euler Motors marks a pivotal milestone in Fyn's journey towards expansion and nationwide impact. Fyn is growing 20% month-on-month, boasting an active fleet of over 500 EVs. It is presently operating in Chennai, Hyderabad, and Bangalore. The company aims to expand its footprint to Mumbai, Delhi, and Coimbatore within the next 18 – 24 months., The collaboration will play a key role in enabling Fyn to achieve its ambitious goal of establishing a 5000-strong EV fleet by 2024. With the support and expertise of Euler, Fyn is poised to accelerate its growth trajectory.