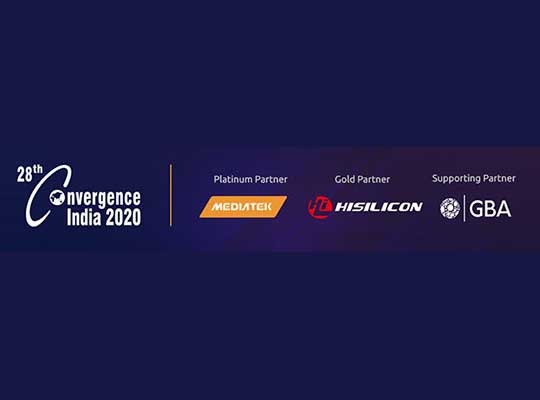 How are AI & Blockchain helping data management, and how to integrate & optimise the pair?
What is their business usage, & where to draw the line between investment and returns?
The innovative solutions to consider for an organisation, and the benefits & limitations of using innovative technology?
How to make this secure and how to deliver return on investment?

New Delhi, June 13th, 2020: Exhibitions India Group continues to deliver impactful industry deliberations with 28th Convergence India expo hosting the latest webinar on AI and Blockchain: A Powerful Pair for Post COVID-19 World.
The adoption of Blockchain technologies is increasing rapidly in a pandemic-ridden world. Many countries and companies from across sectors are exploring Blockchain beyond POC. The post-COVID-19 world will likely see an interplay of technologies, and Blockchain with AI with their multitude use cases will see widespread adoption and innovation. Moderator Mr. Sharat Chandra, Blockchain & Emerging Tech Evangelist led an insightful discourse on the fast-evolving landscape of AI & Blockchain, discussing investment opportunities and the effect COVID-19 has had on the ecosystem.
Speaking of the scope of the pair of technologies, Ms. Debajani Mohanty, Blockchain Author revealed, "We are fast moving towards Industry 4.0. As Mr. Satya Nadella recently said too, we have made two years' worth of movement in a span of two months. The combination of AI & blockchain may be lesser in existing business cases, but the potential is high- from finance to aviation to supply chain and medical fraternity. For example, working on breast cancer research, blockchain can be used to garner high amounts of data that can be highly beneficial. The future will see user ID & passwords be replaced by biometrics & behavioural dynamics."
Citing a case study where they worked with a coffee outlet, Mr. Navveen B., Head of Technology, Bridgeweave Ltd. revealed some promising results. "We used AI & blockchain to assess the supply chain efficiency of the coffee shop. Based on data collected by blockchain, we were able to identify the entire life cycle starting from the coffee beans to the finished product. AI removes the ambiguity that human involvement brings, thereby producing reliable data."
Mr. Vijay Kumar, Founder, DigitalFort Technologies | 11 US Patents Holder: Cyber Security, Blockchain, IoT & Digital shared his opinions on the biases against blockchain as a privacy threat, calling them a slight misjudgement. "There's a patent that says there are 68 markers that uniquely identify a human being. Augmented Reality (AR) is a widely adopted technology now, especially by e-commerce companies; as AR gives them unique insights into customer behaviour. Using blockchain-enabled research, businesses can recommend a personalised 'advisory' to a consumer to suggest products or trends that might be more to their liking. This is a win-win for everyone in the supply chain."
Discussing the impact of COVID-19 on banking technologies, Mr. Prasanna Lohar, Head Technology, DCB Bank elaborated, "All banking operations in the post-pandemic world will be affected. For instance, a customer who used to visit the bank for a KYC formality, will now prefer to do so remotely. Video KYC is becoming popular, and may become the norm in the future. AI algorithms will play a big role, and other automation including voice assistants and AR will be employed to cut out the man-in-the-middle as most industries, including banks will suffer from the effects of COVID-19."
Elaborating on the investment challenges for new entrants in the blockchain ecosystem, Mr. Aly Madhavji, Managing Partner, Blockchain Founders Fund said, "One of the biggest challenges in a supply chain is that there are too many parties involved. Supply chain blockchain is a difficult market for startups, and smaller companies usually get pushed out, especially by large logistics providers. With AI & Blockchain together, the idea is to create a future without passwords, and help make it safer with identities."
The widespread business uses of AI and blockchain were discussed by the panel. Mr. Tanay Mahindru, Young Professional, NITI Aayog shared some real-life implementations, "The combined used of AI & blockchain can be many, especially in the field of blockchain based supply chain. We did a small study with a drug manufacturer to keep track of logistics, movement of drugs, temperature control details etc. In another instance, we are working with the government of Telangana to track the movement of rice. Unique identifiers assigned to lots of rice gives the assurance to customers that they get exactly what they had desired."
You may view a recording of the webinar here: https://www.facebook.com/ConvergenceIndia/videos/994988734250071/
For more information, please visit: http://www.exhibitionsindia.com/