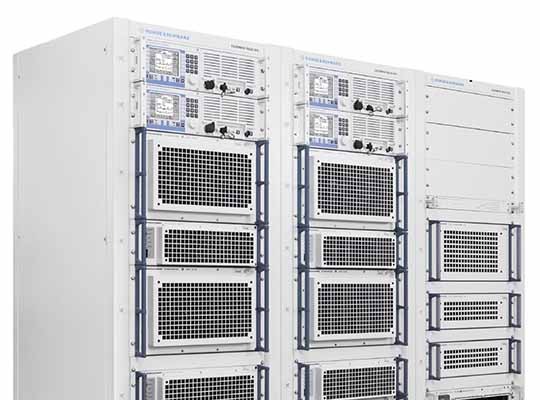 Munich | 12-Dec-2018 : Rohde & Schwarz has signed a procurement and maintenance contract with the Defense Acquisition and Logistics Organization (DALO) of the Danish Ministry of Defense for the implementation of NATO BRASS EO. The Danish Navy is the first user to implement the new NATO target architecture BRASS Enhancement One Target Architecture (BRE1TA) for HF communications within the fleet. In addition to procurement and installation of the system solution for twelve ships and three shore stations, the contract includes 15 years of maintenance, service and support.
Michael Tarp Hansen, Project Manager BRASS EO at DALO: "We are pleased to continue our cooperation with Rohde & Schwarz as a reliable partner for our navy's shortwave communications system. Having used the radios for many years, we were already confident in the technology. Now Rohde & Schwarz has offered us an attractive overall solution for the complicated system integration that fulfills Danish as well as NATO requirements for strategic HF communications."
Holger Brandt, Vice President Market Segment Navy at Rohde & Schwarz: "We are proud to be the first supplier on the market to implement the new standard together with the Royal Dutch Navy. We not only contribute our technological excellence and solution competence as a system integrator, we also assist and support our customers over the long term during the utilization phase."
BRE1TA offers simplified routing, resulting in faster transmission of military information between coastal stations and seagoing units in accordance with STANAG 4406; and IP services can be provided over shortwave links in accordance with STANAG 5066. Backward compatibility with NATO BRASS Initial Core Capability (ICC) and NATO legacy systems ensures interoperability with other branches of the armed forces and NATO units.
For robust and autonomous long-range communications (beyond line of sight), Rohde & Schwarz is equipping twelve ships, two coastal stations and a training facility. The turnkey solution includes the message processing, remote supervisory and control, and communication infrastructure and switching subsystems. The system is based on the R&S M3SR Series4100 HF radios with new interfaces for wideband applications, the R&S MMHS message handling system, and other key components of the integrated R&S NAVICS communications system. Cybersecurity solutions conforming with the latest NATO information assurance standard are integrated into the IT infrastructure. The Rohde & Schwarz radio equipment also provides the basis for wideband HF applications (HF wideband) and higher data throughput on radiocommunications lines.
For more information, please visit at : rohde-schwarz.com