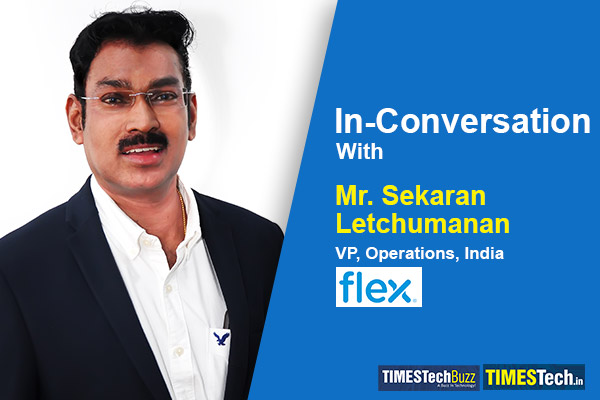 Sekaran Letchumanan, VP of Operations for India at Flex, discusses the pivotal role of emerging technologies in supporting sustainable manufacturing in an exclusive interview with TimesTech. He highlights how Industry 4.0 technologies, digitization, and circular economy solutions are driving environmentally conscious practices at Flex, a global leader in manufacturing and supply chain solutions. Mr. Sekaran sheds light on Flex's commitment to reducing emissions, its unique circular economy approach, and the transformative impact of digitization on sustainable manufacturing practices.
Read full interview here:
TimesTech: How can emerging technologies support manufacturers in their sustainability journey?
Mr. Sekaran: Emerging technologies play a crucial role in supporting manufacturers' sustainability efforts. They help maximize resources and provide insights to address environmental challenges and promote sustainable practices across the manufacturing process.
Reducing carbon emissions is a key area where these technologies excel. Advanced analytics and Internet of Things (IoT) enable manufacturers to monitor energy usage and emissions data to identify areas for improvement and optimize where needed to ultimately reduce their carbon footprint.
Beyond an organization's environmental footprint, industry 4.0 technologies also help manufacturers track and optimize waste and resources to increase efficiencies. Simulation tools such as digital twins can help optimize production by providing line of sight into the transition from design to production in order to efficiently minimize waste and raw material consumption.
In addition, 3D printing enables precise and localized production, reducing material waste and helping reduce transportation emissions. 3D printing technology can also be used to design parts for refurbished products, further enabling circular practices.
TimesTech: How is Flex accelerating the adoption of Industry 4.0 for sustainable operations?
Mr. Sekaran: Industry 4.0 plays a pivotal role in our sustainable manufacturing journey, enabling us to maximize resources, minimize waste, reduce emissions, and gain valuable insights. Flex sites around the world utilize these technologies to deliver superior business outcomes while advancing sustainable practices.
Our manufacturing site in Althofen, Austria, part of the World Economic Forum Global Lighthouse Network, is a smart factory powered by 100% renewable energy sources. This achievement makes it carbon neutral, an achievement made possible using a specialized IT infrastructure enabled by IIoT, which provides real-time energy data monitoring and alerting of significant energy use, leakages, and more.
In many of our sites in China, digitization and smart metering drive environmental impact mitigation. A digital waste management system eliminates manual processing of material and waste, utilizing networked scales and QR codes for efficient data registration and verification. Real-time access to data enhances waste reduction efforts and decreases paper waste.
As we progress on our sustainability journey, we remain committed to innovation and delivering advanced and sustainable manufacturing capabilities.
TimesTech: What is Flex's roadmap to lowering its emissions?
Mr. Sekaran: In 2021 announced our commitment to cut our operational emissions in half by 2030 through implementing and purchasing renewable energy and optimizing site infrastructure.
We doubled down in 2022, announcing our commitment to reach net-zero greenhouse gas emissions by 2040, taking an ecosystem approach including investing in site and system efficiencies, procuring and deploying renewable energy, and continuing collaboration with our ecosystem of customers and suppliers.
TimesTech: What are the challenges that you face in implementing circular economy solutions?
Mr. Sekaran: Achieving a true closed-loop economy represents a complete business transformation for organizations operating with a traditional linear supply chain. A circular economy requires adjustments both upstream and downstream the value chain, including:
Harvesting sustainable materials, responsibly
Redesigning shorter, more regional supply chains
Making sustainable adjustments to product design
Designing sustainable packaging solutions for reduced waste and increased product protection
Optimizing quality repairs and equipment refurbishment through engineering expertise
Customer service solutions for returns and repairs
Selling solutions and an integrated logistics network for refurbished product resale to secondary markets
An integrated forward and reverse logistics network to eliminate dwell time
Flex's circular economy philosophy first and foremost acknowledges that these changes occur neither in a vacuum nor through isolated, "off-the-shelf" services or solutions. In addition, contrary to popular perception, recycling solutions alone cannot support circular value chains that deliver meaningful economic value and positive environmental impact. Customers instead derive value from a tailored set of repair, refurbishment and recycling solutions that correspond with their organizational goals. The effort is fundamentally collaborative and achieved through customized solutions, expertise cultivated from iterative approaches and deep IT investments, across a network of quality partnerships – all of which we offer our customers.
We approach circular economy engagements with a flexible, solutions-selling model that analyzes a customer's value chain holistically to determine where and how circular interventions will reduce emissions and drive resource productivity. Our dedicated circular economy team employs a suite of financial and environmental modeling tools, including our homegrown Flex ECO2, that use quality internal and external data and analytics to help customers quantify the impact of those interventions over both the short and long term. As a result, Flex is in the unique market position of enabling strategic vision casting and circular economy activation for large corporations eager to reimagine a more sustainable business model for the future.
TimesTech: How is digitization bolstering sustainable manufacturing practices?
Mr. Sekaran: Digitization plays a crucial role in enhancing sustainable manufacturing practices by providing real-time data and insights. Through the utilization of digital technologies, manufacturers can reduce their environmental impact and adopt more efficient and sustainable processes.
For instance, our zero-waste certified site in Sorocaba, Brazil, a Sustainability Lighthouse, leverages Industry 4.0 technologies such as automation and digitization to drive circular economy ecosystems. These technologies enable the transformation of e-waste into repurposed materials through repair, harvesting, and recycling. This approach not only minimizes waste but also reintroduces materials into the product lifecycle, promoting sustainability.
At Flex Sorocaba, digitization also facilitates streamlined waste tracking and collection using cloud-based reverse logistics systems and industrial Internet of Things (IIoT)-based collection bins, resulting in a 94% reduction in material waste and a 38% reduction in plastic material costs. The automated material management system implemented in Sorocaba also ensures the identification of waste materials and supports hygienic recycling processes. In addition, functions like utilities management and CO2 dashboards resulted in a resource-saving equivalent to 44,000 carbon credits by providing real-time data on energy consumption and emissions. This especially empowers manufacturers to optimize resource utilization, monitors environmental savings and impact effectively.