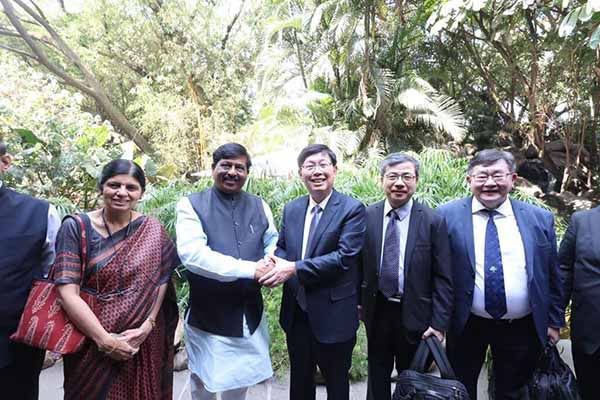 Bengaluru- In a big boost to India's Atmanirbhar Bharat ambitions and a testimony to Karnataka's success in drawing investments to the state in the Electronics manufacturing & assembly segment, Hon Hai Technology Group (Foxconn) has announced a major investment in Karnataka. 300 acres of land has been identified for this purpose near the Bengaluru International Airport, in Doddaballapura & Devanahalli taluks.
The lunch meeting was led by Dr. Murugesh R. Nirani, Hon'ble Minister for Large and Medium Industries. The team then had a meeting with Ms. Vandita Sharma, Chief Secretary to Government of Karnataka at Vidhana Soudha.
The visit culminated with a dinner hosted by Mr. Basavaraj Bommai, Hon'ble Chief Minister of the State. The Hon'ble CM and Mr. Liu discussed about Foxconn's investment plans and Mr. Bommai assured full support for the project. The electronics manufacturing project is expected to generate more than 1,00,000 employment opportunities in the next 10 years within the state.
Foxconn is the world's largest electronics manufacturer, with total revenue exceeding NT$ 6 trillion in 2022. As of last year, it ranks 20th in the Fortune Global 500.
Foxconn has 173 campuses and offices in 24 countries/ regions around the world. The primary product segments for the company include Smart Consumer Electronics (Smartphones, TVs, Game Consoles, etc.), Cloud and Networking Products (servers, communication network, etc.), Computing Products (computers, tablets, etc.) and Components and Others (connectors, mechanical parts, services, etc.)