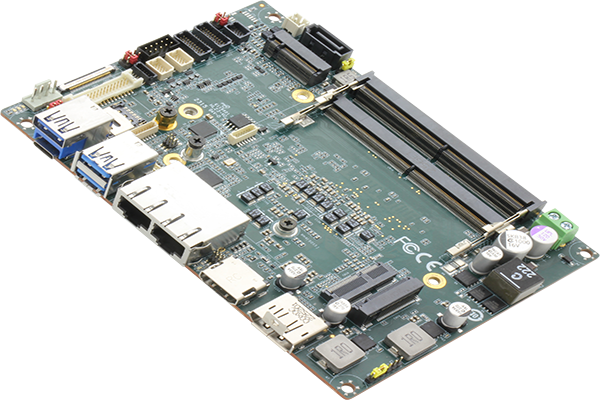 AAEON, a global leader in embedded computing, has introduced the GENE-RAP6, the company's first single-board computer featuring embedded 13th Generation Intel Core processors. 
Available with Intel Core i7, i5, i3, and Intel Processor U-series CPUs, the GENE-RAP6 takes advantage of the 13th Generation platform's performance hybrid architecture, which offers up to 6 performance cores, 8 efficient cores, and 20 threads with targeted workload management through integrated Intel Thread Director technology. Additionally, the board contains flexible system memory options, supporting up to 64GB of dual channel DDR5 running at 4800MHz via two SODIMM slots.
The first notable feature of the GENE-RAP6 is its variety and quality of display interfaces, which include physical HDMI 2.1 and DP 1.4 ports, both offering 8K resolution at 60Hz, along with internal connectors for LVDS and optional eDP 1.4 providing resolutions of 1920 x 1080 and 4K, respectively. Notably, the board's HDMI port can be used to drive two 4K displays at 120Hz, enabling support for up to four simultaneous 4K displays. This output, paired with the board's Intel Iris Xe Graphics eligibility, is one of the reasons AAEON have noted its potential for use in healthcare imaging applications. 
Similar synergy can be seen with the pairing of the board's dense I/O and its high-bandwidth DDR5 memory. The GENE-RAP6 hosts an external I/O made up of 2.5GbE and 1GbE LAN ports, along with four USB 3.2 Gen 2 ports (Type-A x 3, Type-C x 1), in addition to four internal COM headers for RS-232/422/485, as well as GPIO and SMBus. Containing such a combination of speed and flexibility in its connectivity, it is easy to see how the GENE-RAP6's layout lends itself to human-machine interfaces and panel PC solutions.
The GENE-RAP6 is equipped with a number of storage options that can be utilized according to the needs of different applications, including a standard SATA drive, an M.2 2280 M-Key for NVMe, and an FPC connector supporting four PCIe 4.0 lanes. Functional expansion is also available, with 5G, Wi-Fi, and Bluetooth modules supported via an M.2 3052/3042/2242 B-Key and M.2 2230 E-Key.
AAEON has noted that these expansion options, alongside the board's Ethernet ports, COM headers, SMBus, and GPIO connectors, provide the necessary connectivity capability to handle process control systems, data analysis, and virtualized monitoring when deployed in industrial automation applications. It is also worth noting that the GENE-RAP6 has the option of TPM 2.0, with the purpose of bolstering data security for such tasks.