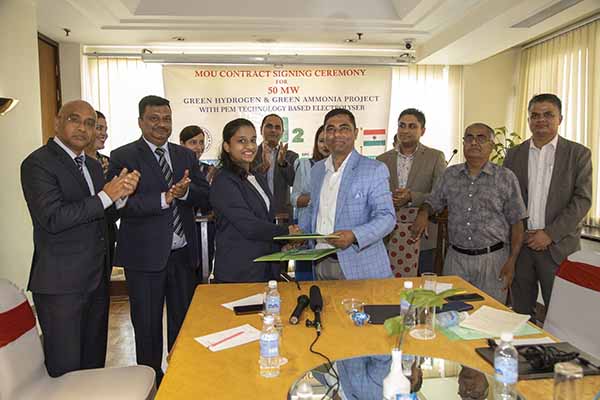 New Delhi- GreenZo Energy has added one more name to its numerous projects cumulating up to 1500-MW. The Indian company has signed a Memorandum of Understanding (MoU) with API Power, a Nepal-based renewable energy company, to develop 50-MW green hydrogen plants, within a span of 3 years, in Nepal. The event took place at the Everest Hotel, Kathmandu, Nepal.
Describing the energy landscape in Nepal, Sanjeev Neupane, Managing Director, API Power Company Ltd, said, "Our country is rich in hydropower with 20,000 MW of projects under development and the seasonal nature of resources from our vast network of 6000 rivers necessitates hydrogen storage.
The areas of development under the MoU include API Power investing Rs 1,000 crore in green hydrogen projects of 50MW that can generate 4000-MT hydrogen annually. It has also proposed sites of their existing hydro and solar projects to be used for the hydrogen initiative, which include Bardeghat, Chanauta, Kawasoti, Dhalkebar, Parwanipur, Simara and Chandranigapur. The pilot hydro project of 1-MW, as agreed by both the companies, will take off at Naugarh Gad Hydroelectric Project (8.5 MW).
For GreenZo Energy, the MoU with API strengthens its mission to become a pioneer in electrolyser manufacturing and green hydrogen production. It has begun scaling up its operations for its planned 250 MW electrolyzer manufacturing facility in India and has added multiple key hires to its credible R&D team, comprising of experienced members of ex-NTPC and ex-IIT Bombay, in New Delhi.
Talking about the collaboration in Nepal, Shreya Agarwal, Lead Strategy and Operations of GreenZo Energy, "Greenzo's international experience in energy research, consulting and manufacturing produces synergy perfectly with API Power's renewable energy assets. We are thus excited and looking forward to work on a common dream to decarbonise the planet". The MoU will come into effect today and will remain active till the completion of the proposed projects by 2025.