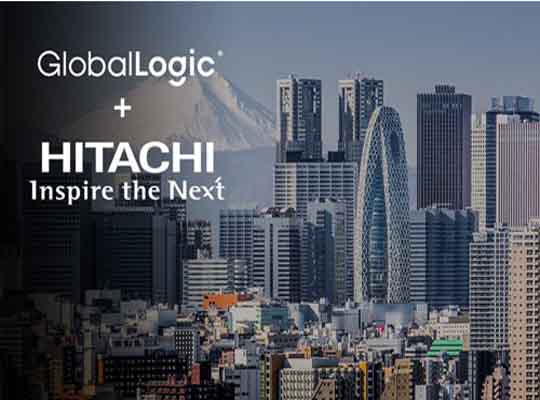 Hitachi today announced that it will acquire GlobalLogic Inc. (President and CEO: Shashank Samant,  "GlobalLogic"), a leading U.S.-headquartered digital engineering services company.  The acquisition is based on the definitive agreement among Hitachi Global Digital  Holdings Corporation ("HGDH"), a U.S. subsidiary, an SPC established by HGDH for  the acquisition and GlobalLogic Worldwide Holdings, Inc., the parent company of  GlobalLogic. The transaction is subject to customary conditions and regulatory  approvals and expected to be completed by the end of July 2021. 
Through the acquisition, Hitachi expects the addition of GlobalLogic's advanced digital engineering capabilities, and its solid client base including major technology companies, to strengthen the digital portfolio of "Lumada."*1 Hitachi Vantara LLC, a U.S.-based subsidiary of Hitachi and its digital infrastructure, data management, and digital solutions business, plays a key role in driving Lumada business growth in the global market.
The acquisition will create synergies across Hitachi's five sectors – IT, Energy, Industry,  Mobility and Smart Life – and automotive systems business (Hitachi Astemo) by  accelerating the advanced digital transformation of social infrastructure such as rail,  energy, and healthcare at a global scale. Through its Social Innovation Business delivered by collaborative creation with customers, Hitachi aims to increase social,  environmental, and economic value for its customers and realize a sustainable society.
Headquartered in Silicon Valley, GlobalLogic is a leading company in the fast-growing digital engineering services market. With over 20,000 professionals in 14 countries, GlobalLogic operates design studios and software product engineering centers around the world.
GlobalLogic has deep "chip-to-cloud" advanced software product engineering technology as well as experience design skills and vertical industry expertise. By combining these capabilities, GlobalLogic helps clients drive new revenue streams and incremental value for their customers by designing and developing innovative software that powers products, platforms, and digital experiences.
The company has a solid client base with over 400 clients comprised of market leaders and marquee brands spanning key industries such as communications, financial services, automotive, healthcare & life sciences, technology, media and entertainment, and manufacturing.
Digital transformation (DX) investment is growing at an accelerated pace globally. IDC predicts that 65% of global GDP will be digitalized by 2022 driven by products and services from digitally transformed enterprises. *2
In addition, according to Zinnov (a research & advisory company specializing  in Product Engineering and Digital Transformation) the total addressable market for  digital engineering will grow to 1.1 trillion U.S. dollars by 2025, growing at a compound  annual growth rate (CAGR) of 19%.
Digital transformation continues to be a priority for organizations everywhere, and the COVID-19 pandemic has only expanded demand for new data-driven business models, customer experiences, and connected ecosystems. However, many organizations lack the knowledge and experience to design and deploy new digital platforms. They are also challenged by the shortage of the skills required to build digital-native products, and to design new interaction models and digital experiences, such as new digital ways of shopping or new models for delivering and receiving healthcare. Against this backdrop, the demand for GlobalLogic's services is growing rapidly, and the combined company has greater access to this massive market opportunity.
Hitachi has been promoting initiatives to transform and provide more advanced and intelligent social infrastructure, such as rail and energy, using its digital technology, in order to achieve a transformation into a global leader in the Social Innovation Business. As part of its 2021 Mid-term Management Plan, Hitachi previously committed to the
strategy to make growth investments of 1 trillion yen in the IT sector*4, primarily through Hitachi Vantara, to strengthen digital capabilities including digital products, solutions, partnerships, front and delivery capabilities. GlobalLogic will be an integral part and a growth engine of Hitachi's portfolio of Lumada digital solutions and services.