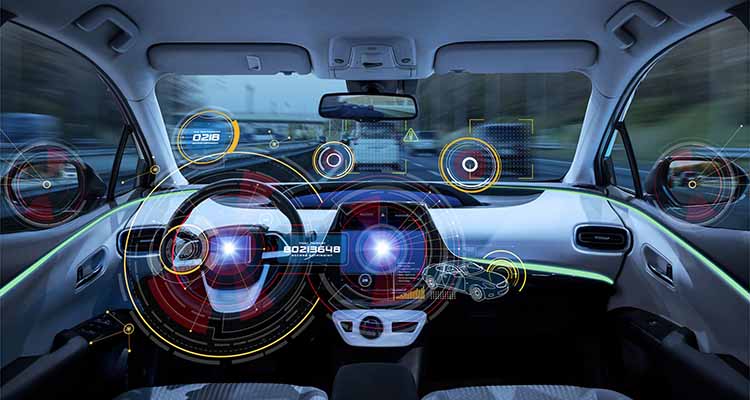 Automotive HMIs Become Part of the Brand Experience
When sleek and stylish touchscreens first entered the automotive domain, automotive manufacturers must have smiled. No longer did they need an industrial-looking instrument cluster with mechanical gauges and dials. The touchscreen interface permits an almost infinite number of ways of presenting key vehicle data, in addition to configuring and controlling the growing list of functions. What started with a relatively small number of entertainment and navigation features within the infotainment head-end unit, quickly spilled over to the instrument cluster. Automotive manufacturers strive to differentiate their vehicle brands and models from the competition, to find an edge, and automotive human-machine interfaces (HMIs) presented them with a way to further engage owners with the brand experience.
Today, touchscreen HMIs are omnipresent in cars. They integrate with our smartphones through interface applications such as Android Auto and Apple CarPlay. As the amount of electronics-based systems such as advanced driver assistance systems (ADAS) continue to be integrated into the vehicle, the HMI has become the core of the vehicle's control and information mechanism. The traditional instrument cluster situated behind the steering wheel has become an intrinsic part of the HMI.
In cases where the vehicle's HMI is just a display rather than a touchscreen, it still provides a high degree of user customization in how software-based dials and other information are laid out. This degree of personalization is a crucial component of any automotive manufacturer's brand experience.
Although touchscreens have dominated the HMI, critics have raised concerns that touchscreens distract the driver too much, so alternatives such as voice recognition and in-air haptics are gathering momentum. So, what technical factors and advances will influence the design of an automotive HMI in the future?
HMI Technologies and Design Considerations
No matter how sophisticated, stylish, and elegant a UX/UI designer can make the touchscreen operation, safety is paramount. The automotive HMI needs to be intuitive in use, not distract the driver for longer than necessary, and prevent access to some features while the vehicle is moving. International Organization for Standardization (ISO) 15005:2017 appears to be the only safety-related standard that stipulates that glances of 1.5 seconds should be the maximum time for drivers to take their eyes off the road when interacting with their vehicle's HMI. For example, Volkswagen's HMI typically warns the driver when it appears to be they are spending too much time interacting with the HMI while driving.
Projected capacitive touchscreens (PCAP) is a mature technology that is well established and has a proven track record. Support for large screen sizes, multiple touchpoints, and gesture recognition are readily available from most semiconductor vendors. Several complementary technologies have become popular additions to touchscreen displays, and these are proximity detection, haptics, and force detection. Proximity detection aids usability through capacitive touch detection within about an inch of the touchscreen surface. It is used to bring up menus and other options as a hand comes close to the screen. Haptics typically include a mechanical vibration created by a miniature micromotor and offset weight to give feedback during use. While common in smartphones and game controllers, they are not typically used in an automotive environment, audible tones are preferred.
From the perspective of safety, automotive touchscreen HMIs have come in for a lot of criticism recently. With an increasing amount of functionality accessible from the HMI, it is highly likely that the driver can become distracted. An alternative HMI control mechanism that is gaining popularity is the use of voice recognition. Already used by smartphone assistants such as Apple Siri, Amazon Alexa, and Android Auto integrated with Google Assistant, they are not as popular for automotive HMI applications, although that situation is rapidly changing.
Another alternative HMI interface technology is in-air haptics. An in-air haptic HMI uses a combination of a hand-tracking sensor and a matrix of miniature ultrasonic speakers. Ultrasonic signals emitted from the speaker array can be shaped and felt by a human hand. An example is forming a circular control knob shape that the hand can appear to grasp. By then tracking the movement of the hand, a control interface is formed.
Automotive HMI Technical Challenges
The environment inside a vehicle can be challenging. Extremes of temperature and humidity are frequent in many climates. For touchscreen HMIs, condensation forming on the touchscreen surface, operation with damp fingers, or a gloved hand are known conditions that can lead to the erratic behavior of the controller IC. The LCD also needs to accommodate extremes of ambient light, from the darkness at night to bright sunlight. The touchscreen controller needs to warn the driver of erroneous operation, and the LCD needs to quickly and automatically compensate for rapidly changing light conditions.
Voice recognition is predicted to be the HMI mechanism of choice for the future based on safety. Audible noise within a vehicle's interior can vary tremendously, from occupant conversations, media center, hands-free phone calls, and road noise. Road noise can come from tire noise, suspension rumbles on poor road surfaces, and wind noise. Digital signal processing techniques are crucial to filter out unwanted sounds before command detection by voice recognition algorithms. Machine-learning neural network algorithms are getting better every day, with new high-performance application processors and inference engines now able to provide a natural language interface.
Other challenges in the automotive domain include strict adherence to electromagnetic inference EMI/EMC standards, electrostatic discharge protection, and transient suppression. All components need to be automotive qualified both for temperature rating and for stress resistance (AEC-Q100/200).
Any HMI function involved in the operation of an ADAS function needs to conform with the automotive functional safety standard ISO 26262.
Conclusion
Automotive HMIs have transformed the way we interact with our vehicles and have become the principal control panel. As HMI technologies continue to advance, manufacturers are eager to implement new ideas that enable them to differentiate their vehicles from the competition, but they're also aware of concerns that touchscreens can distract drivers. Voice recognition and in-air haptics are gaining popularity and could play a more significant role in future HMI development.
About The author:
Robert Huntley is an HND-qualified engineer and technical writer. Drawing on his background in telecommunications, navigation systems, and embedded applications engineering, he writes a variety of technical and practical articles on behalf of Mouser Electronics.