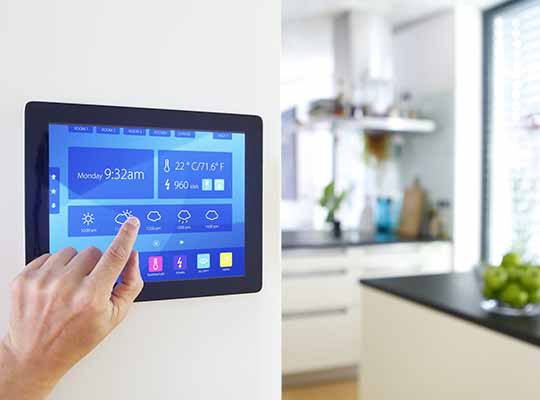 After years of dreaming, theoretical work, and rigorous R&D, home automation is finally a reality. Opening doors and turning on lights just by commanding the device is no longer a part of a science-fiction movie. Now people dream about having a voice assistant like Iron Man's JARVIS and the truth is such fancy technologies are not far.
According to Allied Market Research, the global home automation market is expected to reach $81.64 billion by 2023, growing at a CAGR of 11.2% from 2017 to 2023. The surge in the launch of innovative technologies and increase in partnerships of tech giants and start-up companies drive the growth of the global market.
For instance, a start-up, Cleantech launched Nature Remo, a smart room air conditioner controller that can fit in one's palm. The device can be wall-mounted and utilizes built-in sensors and is connected to a smartphone app. The device can be connected to voice assistants such as Amazon's Alexa to control home appliances with voice.
Two tech industry giants, Apple and Google have been showing keen interest in home automation technology. The companies have funded millions and millions of startups to launch novel home automation devices. What's more, every smart home device comes with a connection to Google's voice assistant.
For instance, SwitchBot, a renowned smart device company recently launched two home automation devices. The company unveiled SwitchBot Motion Sensor and SwitchBot Contact Sensor. Both new products are integrated with the home automation set. SwitchBot Motion Sensor comes with a passive infrared motion sensor and can detect human presence during day or night. The sensor can send a notification to the connected smartphone of the user if it detects any movement, making it ideal for home and offices. On the other hand, the SwitchBot Contact sensor can be installed on windows and doors to know if they are opened at any time. What's more, you can turn off the lights when you leave the house and turn them on when you enter.
Such devices were a part of movies and now they are as real as they can get. However, what will be the future of home automation?
Home automation and the internet of things (IoT) are branches of the same tree. However, the device security of IoT is still a topic of concern. In the future, more secure IoT devices would make their way into the market and be a part of home automation.
The rise in the launch of home automation devices has increased their availability. However, the lack of standardization would help develop trust between users and the service providers and give them a chance to get their value for money.
When we think of home automation, robots come instantly to mind. While the world with robots as faithful helpers is still afar, the hospitality and tourism industries would surely use robotics for repetitive jobs such as cleaning and cooking.
The emergence of wearable technology was focused on monitoring the health of the user. The same principle is now adopted by the home automation industry. Apart from smartwatches that track sleep patterns, physical activities, and nutrition levels, these devices would soon connect to their healthcare providers and help diagnose illness with the help of artificial intelligence (AI). Apple Watch has already demonstrated that it can save the life of the user by deploying emergency services. Similarly, having smart technology for healthcare saves outpatient visits to hospitals and aids in cases of emergency.
The full accessibility of internet connection and rise in penetration of smart devices would drive the future of the home automation market. It will be a norm in a few years. From standardization to manufacturing devices with utmost security layers would help build a faithful consumer base. The advent of 5G and Wi-Fi 6 are just the beginning of the revolution, making the future of home automation bright and promising.