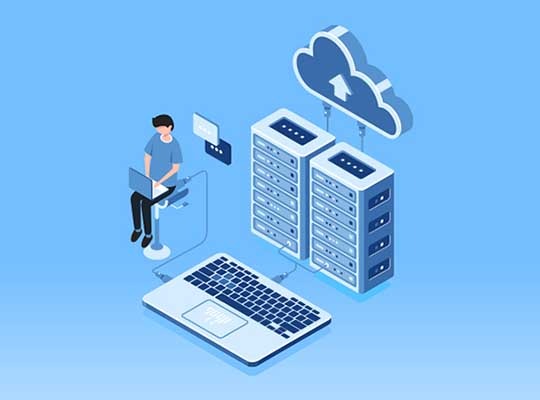 15 June, 2020- Going digital is no longer a choice for businesses that want to keep pace with their competition and customer expectations alike. Thankfully, technologies like Artificial Intelligence, Machine Language, Big Data and Internet of Things are here to assist them with this transition. Apart from these technologies, cloud based solutions are coming ahead as the biggest game-changer. There is much that these solutions can deliver in terms of capabilities and innovation when it comes to modernizing the core enterprise operations. The impact of these applications is immense, whether it is about improving the user experience, reducing operational costs or driving a business towards a digital ecosystem as a whole. Further, they serve benefits such as flexibility, security and agility for the business, making them an attractive proposition for enterprises that aspire to improve their capabilities. Let us explain the role of these applications in terms of driving digital transformation for organisations and making them future-ready.
The Growing Role of the Cloud in Enterprise Digital Transformation
Over the years, digital transformation has become the key to survival in the competitive landscape. Enterprises are going the extra mile for achieving it sooner rather than later because it drives innovation and enhanced customer experiences that make them stand apart in the crowd. It was estimated a couple of years ago that 83% of workloads would be hosted on the cloud by 2020, but the impact is probably even greater now, thanks to the remote working switch in the wake of the COVID pandemic. When it comes to embracing cloud based solutions for driving your digital transformation initiative, the benefits are much greater than what you can ever imagine. Let us list the role this technology can play for organisations that have a revamped digital ecosystem on their agenda.
Agility and Flexibility
In the current dynamic scenario, any business has diverse responsibilities but only a limited time to fulfil them all. Additionally, there are unforeseen circumstances they need to handle from time to time. The best possible solution would be a one that is based on the cloud because it offers both agility and flexibility to align with the changing needs and scenarios. For example, cloud call center software has come to the rescue of businesses that had to embrace remote working to keep their support operations up and running during the COVID crisis. The same is with cloud telephony as it lets them connect with the customers, regardless of the constraints of location and timing. The move is agile and easy because there is no dependence on traditional IT infrastructure.
Cost-Effectiveness
One of the biggest challenges that businesses aspiring to go digital face are the massive investment needed for implementing the requisite changes. But cloud solutions resolve it to a significant extent as they need not invest in and manage the required infrastructure. Apart from saving on infrastructural investment, it also lets you conserve on the cost of the human resources required to maintain the in-house data centers and applications. With cloud providers, you even have the option to scale up or down, so that you end up paying only for resources that you actually use.
Enhanced Scalability
The customers' expectations are ever evolving and businesses need to be one step ahead to keep pace. This is best achieved with real-time data and analytics, which give you a constant idea about changes in customer expectations. Here too, cloud solutions can come to your rescue with real-time, reliable and accurate information that they offer. And the best part is that they provide it all without any extra investment and work. Further, solutions like cloud telephony are highly scalable when it comes to increasing your bandwidth and reaching out to a much larger customer base with minimal investment and within minimal time span.
Reliable Security
Another advantage of choosing cloud technology for your digital initiative is the unmatched security it offers. By moving your database to the cloud, you get the assurance of greater protection from cyberthreats such as data breaches, system shutdown and even disasters. Since there is a provision to create multiple backups, the risks associated with data loss caused by system failure are reduced to the minimum. Moreover, the chances of internal data theft are also eliminated with secure and penetration-resistant cloud solutions.
Business Continuity and Resilience
With solutions like cloud call center software in place, you can always rest assured about business continuity and resilience. There are hardly any chances of downtime, which can make all the difference from the customer experience perspective. Even if you happen to lose data or have glitches in the system at any point in time, the cloud provider would be right there to get things up and running again. The provider's agility and resilience can actually save your organisation from a humongous loss, both in terms of revenues and reputation.
Seamless IT Solutions
Digital transformation is a challenge for the IT team in itself and you will need to simplify it with seamless solutions. Thankfully, cloud-based applications effectively address the pain points of the IT teams and liberate them to focus on the core aspects of transformation. Further, these solutions are omnipresent, regardless of the physical location. This results in better customer experiences, faster delivery, quick solutions, enhanced retention and business growth.
Greater Sustainability
A lesser known but equally important benefit of leveraging cloud-based applications for digital transformation is its sustainability. By relying on virtual rather than physical infrastructure and cutting down the use of paper, the technology offers the benefits of energy efficiency and reduces the load on the environment as well. Not only does it pave the way for building a digital ecosystem but does it while being green and cutting down the carbon footprint of the organisation.
The Takeaway
Cloud based solutions undoubtedly have a huge potential when it comes to transformation, innovation and business value improvement. They act as catalysts for this transformation and do a lot, right from enhancing customer experience to reducing costs and serving as the foundation of the new business model as a whole. However, the journey can be complex and full of challenges related to the implementation of the cloud-enabled applications in the existing ecosystem. Here are the most common challenges you may expect to face:
Concerns related to data security and service quality as the security and privacy controls are with the cloud service provider
Migrating the legacy systems and integrating the advanced cloud-based applications with the existing systems may be tougher than you think
Cloud-based systems may not provide complete control over how the IT infrastructure is provided and operated, so governance can be another issue
Despite these challenges, the adoption of this technology still remains the best way to make the transition to a digital ecosystem. And the best part is that these challenges are surmountable, provided that you collaborate with a cloud solution provider that is reliable enough and offers applications that add real value to your business. Believe it or not, collaboration with such a partner is truly a worthy investment as it can open a huge opportunity for your business.
Author bio:
Vanita Arora is a marketing enthusiast. She is currently working with Servetel – a leading cloud telephony service provider that specializes in providing IVR Services. Researching new online marketing trends are some of her interest areas that keep her rejuvenated.