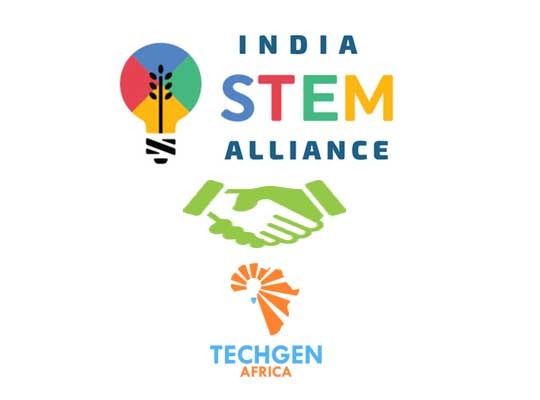 New Delhi, 1 February, 2019 : The India STEM Alliance today announced that they have collaborated with Tech Gen for its first strategic partner in Africa.
The India STEM Alliance was founded to inspire young people's interest in science, technology, engineering and math (STEM).The strategic partnership announcement represents a larger commitment by India STEM Alliance to TechGen "By sharing our knowledge and resources with TechGen, the India STEM Alliance is not only investing in the future of STEM but building relationships between students and mentors," said Mr. Raj Kapoor, the Co Founder of India STEM Alliance. "It's so important to give our time to mentor these young people. As a Strategic Partner of TechGen , ISA is continuing to grow its support of TechGen students and educating and inspiring the next generation of talent."
The demand for STEM-educated employees continues to rise in developing countries, and in the future the need will outpace the number of prepared candidates if left unaddressed. ISA's partnership with Tech Gen is a critical component of its larger effort to close the STEM skills gap.
The India STEM Alliance and TechGen will collaborate in capacity building, setting up centres of innovations in schools and in the community. The strategic partnership will take the lead in creating frameworks and advise schools on best practices, consult them on STEAM strategies, curates solutions and project manages to ensure measurable learning outcomes have been achieved.
The alliance projects that STEAM education shall propel the country into the league of developed nations.
About India STEM Alliance
The India STEM Alliance (ISA) is a science development think tank. We have steadily grown over the years both in members and projects. We are a small group with big ideas. We are former scientists, higher education leaders, analysts, graduate students, and others who are just passionate about science. The Alliance was born from a series of intense discussions about science education, global health, and how to increase access around the world and especially in developing countries. The initial goal focused on promoting STEM education around the country.
About Tech Gen
TechGen Africa, based out of Nigeria is a platform to grooming world class tech innovators. They envision a future where youngsters will solve societal problems, using technology, thereby fostering socio-economic growth.
TechGen is committed to expanding STEM education to schools students and communities across Africa. Tech Gen is lead by the dynamic Sodiq Ade Balogun who is the founder/CEO at TechGen. He's passionate about making lasting impact and instilling innovative culture in youngsters.He was nominated among 100 innovative young Africans in 2018.
In 2017, he was selected among over 10,000 graduates across various institutions in Africa to receive NYSC merit awards. He has his first degree at university of Lagos. Also a graduate of Lagos Business school, IBM, Y combinator startups school, Haas business school, Berkeley.