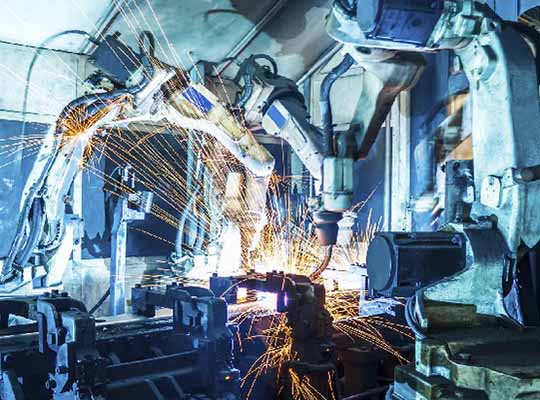 GDP fell dramatically by an annualized 31.7 per cent in the second quarter (Q2), the largest quarterly decline in the history of the series, dating back as far as 1947. Now what this has to comply with our focus of Industrial Automation is the power of automation in the industrial sector which seems to be only savior to the stumbling global economy. Lack of production process efficiency is a critical area for companies. Though the new limelight for manufacturing industry started from October 2020, where industries witnessed a revamp.
Agility and adapting nature of the new norm with scalability seems deciding Industrial Automation strategies for the manufacturing sector.
Working From Home With Robots
The work-from-home revolution offers new opportunities for parents and people with disabilities and the global nature of the new economy means that teams often have to collaborate across national and even continental borders. In a time where remote working is dictating new working-norms, robots can do their bit to run the mill. Where plants need to attend their production charts, Automation can find the answer. Plants require the usual amount of upkeep and extra services, such as daily deep cleaning and extra maintenance for equipment pushed to its limit to meet spikes in demand or make up for lost productivity. To do this while reducing on-site personnel, companies have increasingly turned to robots, with the consequence that stock prices for advanced robotics soared in 2020.
Most people's jobs in today's workforce are an amalgamation of tasks, and in many positions, there's at least one manual task that could be automated. Whether it's balky spreadsheets or monotonous manual barcode scanning, these tasks are going to be some of the first to be eliminated by automation. The shift will be substantial but could be a net positive. That's because, with the more repetitive work automated, employees will likely end up taking on roles that are heavier on problem-solving and creativity. A study from the MPI Group reveals that 34 per cent of manufacturers have plans to incorporate internet of things (IoT) technology into their processes, while 32 per cent plan to embed IoT technology into their products. Therefore, this trend will likely continue in 2021, with companies purchasing advanced robots to automate routine tasks and comply to social distancing regulations.
The Empathetic Proportion of Automation
Thinking, smelling and responding to emotions are where Industrial Automation can make production linked work from engaging. Researchers are identifying innovation and tweaks where this can be a viable possibility. As social skills is one of the major bottlenecks of AI. Researchers haven't found a way to automate empathetic response, social cue-reading or the other subtle but critical skills of human interaction. Furthermore, these technological leaps aren't considered likely to be solved any time soon. So, in the meantime, people skills are increasing considerably in importance.
Supply Chains

During lockdown, people worldwide have experienced first-hand the consequences of complex supply chains that heavily rely on one geographical area. To prevent this from happening again, manufacturers must seek to eliminate single-source dependencies by diversifying their supply chains in 2021. We will witness a shift from global to regional sourcing, with manufacturers sourcing raw materials closer to home and producing components, which were traditionally outsourced for manufacturing, in-house. In addition, companies will also need to invest in inventory management solutions that provide visibility across all nodes of their supply chains, beyond their tier-one suppliers. In this way, manufacturers will be able to react quickly if one node is unable to fulfil an order. This is where establishing a relationship with a reliable parts supplier is essential.
The Issues and Overcomes
AI techniques will lead the way toward the vision of a fully automated factory that flexibly manufactures goods in small batches—all the way to "sample size one" production. In 2021 and beyond, we will see more and more AI-enabled applications that are not only technologically interesting, but also economically relevant.
Rise of the automation architect: The automation boom has propelled previously niche roles to the forefront. Companies suddenly need experts in-house to sort out the ever-growing complexities that automation brings to their business. The automation architect establishes the standards and tools for enterprise use of automation. They dive into policy and analyze how automation impacts people and processes. They lead the modernization efforts, building the business case as to why something should or should not be automated. They also analyze the impact automation makes across business units to determine a standardized approach for the entire organization.
RPA Mainstream Use Grows: Global spending on RPA services hit $12 billion in 2023 – up from $5 billion in spending in 2019. RPA is increasingly being used to help employees be more effective in their daily tasks. By automating traditional tasks, companies can remove human errors while ratcheting up efficiency. Taking away mundane tasks frees up workers to tackle more challenging problems.
Internet of Behaviors data increases: Internet of Behaviors (IoB) uses data to alter behaviors. Every day, each one of us generates massive amounts of data. From our social media feeds and smartphone location tracking to telematics on our cars and health data monitoring through wearables, privacy is more of a myth every day. IoB synthesizes this data to build digital footprints for each one of us that businesses can leverage. Telematics is a great example: Used to analyze driving habits, it can track speeding as well as reckless and careless driving, which signals that a driver is at high risk for a future accident. Using this data, insurers can opt out of covering hazardous drivers, and commercial fleets can focus their safety training on higher-risk drivers. When it comes to insurance, drivers can currently opt into this monitoring with the promise of lower rates, but this won't always be optional. Some insurance carriers, like Metromile, are working directly with car companies to build tracking into their new models. 2021 will see IoB creeping into more business use cases in every industry.

Market Outlook and The Indian Scenario
Manufacturing firms in India are increasingly adopting automation to overcome various complexities and simplify the manufacturing processes in a bid to improve productivity. The integration of technologies such as robotics, AI, and machine learning is helping manufacturing firms reduce labor costs, eliminate human errors, and automate the entire process with improved lead times. Also, the incorporation of sensors, analyzers, and transmitters provides valuable insights and ensures controlled production operations. With increasing competition in the Indian market, the adoption of automation systems is expected to gain momentum during the forecast period. This will fuel the growth of the industrial automation and instrumentation market in the country. Global industrial automation market is to register a substantial CAGR of 8.8% in the forecast period of 2019-2026. The report contains data from the base year of 2018 and the historic year of 2017. The rise in the market value can be attributed to the adoption of industrial robots in manufacturing sector for fast production capacities.