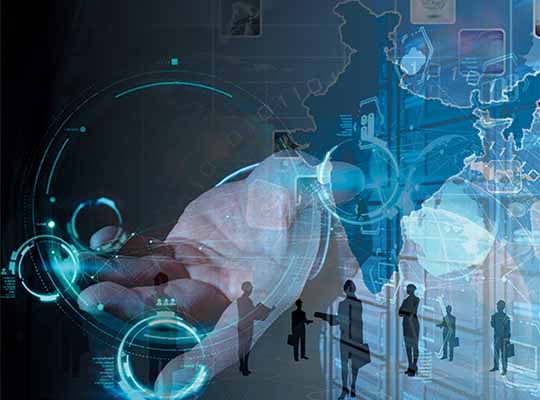 The digital drive is India is witnessing extensive growth. Adoption of digitalization is viably visible across industries. Given the impact it has brought in our lives can be defined how technology played an instrumental role during the lockdown. From cyber-computing to the edge innovations are radically shaping the technology industry. Now the trend of interoperability between IT and OT is shaping manufacturing industry. Perhaps post lockdown or say the 'New Normal' automation seems to have been taking a pivotal space across businesses. A growth of 2.3pc Y-o-Y in the technology sector is a proven use case of the digital transformation drive. Experts also reckon that the Indian technology industry will be the biggest talent-hunters in the FY21 with estimated 1, 40, 000 job-seekers to get new tech jobs. India today is one of the largest digital markets across the globe. Sustainability and resiliency has been the key to success for large tech companies and startups went alongside. Interestingly, with tech events getting back in the show, more companies despite the pandemic situation has shown their interest in participating and exploring the bullish Indian tech market.
Market Sentiments – A New Mile in the Indian technology Industry
According to a recent Nasscom report, Indian IT services revenue is set to touch $194 billion by end of FY 20-21, a 2.3% increase from the previous year. The commentary from the Indian IT giants, post their Q3 FY21 results, were all positive as they closed large deals and estimated a strong Q4. On the other hand, government initiatives like the PLI scheme and EMC 2.0 manufacturing seems to be the new backbone of the Indian economy. Nasscom has earlier reported that more startups are raising their first round of funding in 2020 (nearly 42%) as compared to 2019 (around 29%). The first-time funded startups were in BFSI, ed-tech, agri-tech and gaming. In 2020, despite the disruption caused by the pandemic, over 12 unicorns were added to India Inc, as reported by Nasscom in its report.
The Hyper-Digital Transformation
Advance technologies like blockchain, AI, IoT, security, AR/VR and data analytics will create newer opportunities. Tapping, evaluating, strategizing, assessing and implementing will derive new success stories in the technology sector. Nasscom predicts that digital skills demand will outstrip supply by FY24. Accelerating hyper-digital transformation is taking a new rope-walk as the balance of Indian and international companies are more consolidating technology know-how. The priority in the coming years should be not ponder but adapt newer talent-acquisition strategies and empowering talent-pool about the billion dollar opportunities advanced technologies can proffer to India.
Media and Events
Congregation and dissemination of information and information through the right platform is also vital for the Indian tech companies. Hence, relying more on branding, sharing individual company's expertise in the mainstream to bring the winning competitive edge. Having said that, technology and its innovations can no longer kept in silos in the cyber-physical world. As technology has become more interactive alongside tech companies to draft newer sales strategies which can be interactive and intuitive. The quantum theory of expanding through Media and events shall be critically important slating new growth for Indian technology industry. More reliance and creating reliability across markets are new growth catchers.
Scrutinizing the Opportunities for Indian Tech Industry
Automation is the word along with cyber-physical driven strategies is the key mantra. Impending on 'Analog Theories' can be treacherous. Hence educating digital skills and offering services-based strategies can be the winning shot. Industry 4.0 and robotics is here and India is set to be one of the biggest markets complementing automation. In somewhat, the latest demand & supply gap of chips showcases the quantum demand of technology starvation by businesses. Few experts believe, " India are to transition from a volume play to a value play and look beyond low cost, greater efficiency cycle and seek an orbital shift in capital and wealth creation then investing in ownership of intellectual property is the path to pursue and deep tech, the vehicle to ride on." Automobile, consumer electronics, telecom and agriculture where the penny is laid and with right vision and accuracy to detailing of the market one can create and pick more opportunities.
Conclusion
To be happy with is there is a growing interest in the IP-ownership and product development space in India and greater clarity and focus among the various stakeholders to look towards creating an ecosystem that can spawn deep tech-driven disruptor.