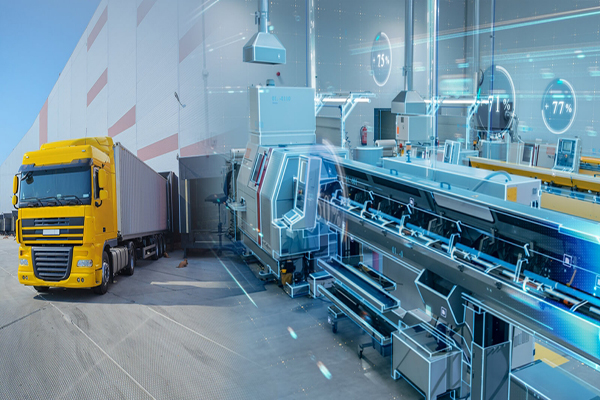 Smart manufacturing is the buzzword now as the industry 4.0 trend is all set to redefine the new paradigm across the industry verticals. It is interesting to note that Industry 4.0 and AIoT security trends are complementing each other. AIoT (Artificial Intelligence of Things) is a foundational technology for Industry 4.0. AIoT helps connect IoT devices to sensors that have artificial intelligence capabilities. This is being done with minimal human intervention. AIoT is driving the Industry 4.0 transformation process. It is redefining the future of not just security but the entire spectrum of industrial automation.
In these fast-changing times, Hikvision is helping to drive the security, productivity, and visibility imperatives in this new era of manufacturing.
The convergence of IoT-enabled systems and AI (Artificial Intelligence) applications are transforming the Security Management system into more intelligent and proactive functions with shorter response time. The AIoT-based security solutions are adding value by offering real-time alerts and proactive security solutions. The innovative AIoT-based integrated security systems (Video Security Systems, Access Control, Intrusion Alarm, Perimeter Security, and smart Automation) have helped to transform the smart manufacturing sector to the next level.
When it comes to industrial Internet-of-Things and Industry 4.0 issues, we usually think about the investment in automated equipment as well as the application of software systems such as MES (Manufacturing Execution Systems) and ERP (Enterprise Resource Planning). But enterprise leaders do well to note that smart manufacturing is more than that.
We see today's manufacturers facing three major challenges:
Personnel Management – While people, or labour, remains the essential element of the production process, their output relies on finer management;
Visibility across the process – Automation equipment and software systems need more timely alerts and improved incident handling protocols, as well as forward-looking insights, to guarantee operational stability; and
Lean Management for Boosted Productivity – In environments as complex as manufacturing plants, lean management regarding factors of production such as office park vehicle traffic, dock management, overspeeding in campus and information sharing, are also important in boosting productivity.
The good news for manufacturers is that today we have intelligent manufacturing solutions that can help with all of these critical management requirements – and more. These solutions leverage AIoT technology to shift offline data online where it can be monitored and utilized. AI and intuitive visualization technology also allows managers to monitor the site, production, and operational processes, and to respond in real time in the event of an issue – helping to drive efficiency and productivity.
Managing personnel more efficiently continues to be a perennial problem in the industry 4.0 scenario. Manufacturing parks have significant personnel management requirements, with large teams arriving on site and accessing specific areas for their work all day long – creating complex logistics, access management, security, and health and safety requirements.
Technological advancements make it possible to give employees touch-free access to manufacturing sites, covering the main entrance, the floor, offices, exits, production areas, EPA areas (ESDPA – Electrostatic Discharge Protected Area), and more. The technology provides "non-stop" access to ensure that employees can enter the site quickly, even during peak times – such as morning and evening rush hours or in bad weather.
The solution safeguards plant safety with precise access management. For example, only authorized staff can access specific areas of the site, which helps to boost security. For visitors, the solution provides full-journey online management, which increases convenience. With no blind spots for security, the solution also protects the park against theft and vandalism.
Another benefit of this technology is that it turns physical footprints into digital records for accurate time and attendance management. Based on a manufacturer's choice of verification and identification methods – from face recognition to fingerprint readers, cards, or PIN codes – employees can be identified and attendance reports and work records can be generated automatically. This ensures that the HR department can support employees effectively, optimize time & attendance management, and maximize accuracy for payroll, overtime, and compensation in general.
It further maximizes visibility for production and operations. Organizations with large-scale production environments often experience information silos, making it difficult to detect and respond to incidents in real time or to make changes that increase efficiency. The solution to these challenges is providing full visibility of the large-scale production processes.
We can use augmented reality (AR) cameras and easy-to-use location capabilities to create a live map of a site, giving managers a clear visual interpretation. The system, which integrates seamlessly with other industry control systems, presents production information and site images on a four-screen display. This would help with remote inspections, alarm handling, automated information collection and analyses, predictive maintenance for equipment, and performance evaluations. These systems also detect defects in equipment and human errors to minimize downtime, mitigate safety risks, and provide insights for better decision-making.
With the help of augmented reality, manufacturers can also place visualized displays in the workshop, adding an extra layer of visibility for assets and production processes. Visual images can be used to send safety reminders to employees, facilitate communications between teams, and improve work supervision and collaboration for improved efficiency.
To optimize facilities and traffic management, the industry should look at customised solutions. For all manufacturing parks, the ability to manage the flow of vehicles efficiently and safely is of paramount importance. This requires real-time visibility of driving and parking on site, as well as monitoring of loading and unloading, scheduling and dispatching, and security across all areas of the site.
Traffic management solutions should look at standardizing on-site vehicle flow to help park managers embrace innovation and increase productivity. The solution can be powered by AIoT technologies, including cameras with tailored algorithms, auto-triggered radar, management software, LED displays, and more. These technologies will all come together to help operators create more manageable park environments, and to improve vehicle and resource allocations for optimal efficiency.
Speed measurement cameras and LED Screen with real-time speed and ANPR displays help to regulate driving practices at a worksite. This helps to reduce accidents caused by speeding, reverse driving, driving out of lane boundaries, illegal lane changing, and more. Meanwhile, illegal parking cameras detect vehicles that have stopped in prohibited areas that could cause accidents or injuries.
By creating a safer, more orderly park environment, site operators can help incoming drivers locate the right loading docks and warehouses more quickly and easily. Managers also find it easier to stay up-to-date with vehicle statuses, to control traffic, allocate resources, and respond to emergencies. In the end, this all leads up to racially improved productivity and more efficient operations.
In conclusion, the rapid evolution of smart manufacturing driven by cutting-edge technologies signifies a monumental shift in industrial paradigms. The amalgamation of AIoT, AI, and IoT systems is not just a trend; it's a transformative force reshaping the future of manufacturing. These advancements, offering heightened management capabilities and fortified security measures, are catalyzing a profound change in how industries operate. As the manufacturing landscape continues to evolve, embracing these innovations becomes not just a choice but a strategic imperative. The promise of even more sophisticated solutions on the horizon heralds an era of unprecedented efficiency and safety in manufacturing, solidifying the pathway towards a future where intelligent systems define the very fabric of industrial operations.