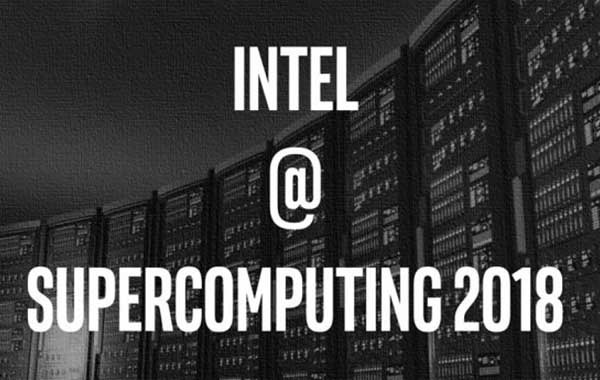 This week at Supercomputing 2018, Intel displays how its industry-leading technologies in the areas of computing, memory and interconnects are defining the future of supercomputing. Intel previewed its next-generation Cascade Lake advanced performance processor, optimized to support the most demanding data workloads, and highlighted the use of Intel Optane DC Persistent Memory in next-generation supercomputers.
"The pace of innovation within today's supercomputers is staggering, and it shows no signs of slowing. From the scientific community to the commercial HPC industry, customers are demanding the ability to handle the convergence of AI and HPC at unprecedented scale. Intel is uniquely positioned to deliver on the promise of this next-generation intelligent infrastructure, opening the door to new research and industrial insights previously unimagined."
–Rajeeb Hazra, Intel corporate vice president and general manager, Enterprise & Government Business
What Intel Disclosed at Supercomputing 2018: At Supercomputing 2018, Intel disclosed new performance results for next-generation Cascade Lake advanced performance processors, a new class of Intel Xeon Scalable processor designed to support converged high-performance computing (HPC) and artificial intelligence (AI) workloads. Available in the first half of 2019, Cascade Lake advanced performance processors are designed to accelerate applications in the fields of physics, weather modeling, manufacturing, and life and material science. The processor features Intel DL Boost technology, which improves AI/deep learning inference performance by up to 17 times compared with Intel Xeon Platinum processor measurements at its 2017 launch.
The North German Supercomputing Alliance will adopt Cascade Lake advanced performance processors in its next-generation supercomputer to enable significant computation gains and improved efficiency. Several OEMs have also announced intent to support Cascade Lake advanced performance, including Bull Atos, Colfax, Cray, HPE, Inspur, Lenovo, Megware, Penguin, Quanta, Sugon, and Supermicro.
Intel also announced momentum for the use of Intel Optane DC Persistent Memory in the HPC arena, with the Texas Advanced Computing Center (TACC) being the first supercomputer to adopt the technology in its forthcoming Frontera system. Intel Optane DC Persistent Memory, which will be delivered with the next-generation Intel Xeon Scalable platform (codenamed "Cascade Lake"), is an innovative new technology that increases server memory capacity, accelerates application performance and, unlike DRAM, offers the benefits of data persistence. In supercomputing, where data sets range into multiple petabytes, Intel's persistent memory offers the potential for nearly "instant boot" of full racks and advanced check-pointing at extreme scale. Based on next-generation Intel Xeon Scalable processors and set to be operational in 2019, TACC's Frontera is expected to be the fastest supercomputer on a university campus2. Frontera will allow academic researchers to make important discoveries in all fields of science, from astrophysics to zoology.
How Intel Shapes Supercomputing's Future: The industry is moving beyond classical high-performance computing and into a new data-centric era, where HPC becomes intertwined with analytics and AI at a massive scale. Intel's data-centric portfolio – delivering world-class technologies to move, store and process data – is in high demand to meet customers' insatiable supercomputing requirements both now and in the future. For the past four years, more than 90 percent of Top500 supercomputing customers have chosen Intel as the foundation for the world's fastest systems.