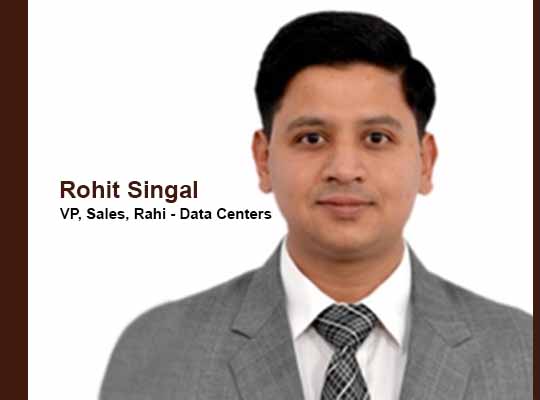 Co-founded in 2012 by Sushil Goyal, Tarun Raisoni, and Rashi Mehta, Rahi was founded with the purpose of providing end-to-end global IT solutions that could help businesses convert long term goals into success. In an exclusive interview with Rohit Singal, VP – India, Rahi we try to understand the company's focus, its key offerings and more about cloud database space in India. Edited excerpts below.
TimesTech: With what mission and objectives was the company set up? Kindly mention some of the key offerings of Rahi?
Rohit Singal: Rahi was founded with the purpose of providing end-to-end global IT solutions that could help businesses convert long term goals into success. It was co-founded in 2012 by Sushil Goyal, Tarun Raisoni, and Rashi Mehta. The entrepreneurs continue to work towards harnessing the ongoing evolution of technologies and facilitate building businesses with enhanced productivity and profitability.
Rahi focuses on tailor-made solutions that meet every organization's specific requirement and helps them scale and adopt technologies in a flexible and effective manner. We are a single stop provider for an organization's IT needs and leverage the best of breed innovative technologies to give a curated solution.
During the pandemic, our seamless processes ensured smooth transitioning. We have developed processes and skillsets to deliver IT solutions to customers globally and the pandemic did not change that for us. Our logistics and distribution teams understand supply chain processes and continue to deliver engineering and support resources efficiently. The journey which started 10 years back has been full of important milestones with strategic investments and recognitions coming our way. As of today, Rahi has a presence in 6 continents, across 22 countries, and 32 cities with 1000+ customers. The hyper-scale start-up provides a full life cycle of technology solutions and works around various IT verticals that are critical to the advancement of digital businesses.
Our key offerings include:
Data Center: Our data center infrastructure solutions are helping organizations to create a dynamic and efficient IT environment that can respond to today's business demands while being agile enough to adapt to the changing landscape.
Enterprise IT Infrastructure: Our enterprise IT services extend from data center infrastructure management (DCIM) solutions, server consolidation, and virtualization to storage and asset management.
Networking & Security: Any company, regardless of its size or sector, needs a level of network and security solutions in place. Not just to expand its growing environment but to also keep it safe from ever-increasing cyber threats. Rahi provides assessments for security, monitors the network looking for malicious cyber activity, to delivers a threat intelligence briefing where we discuss security incidents seen on our clients' networks during our cyber threat assessment
Cloud Infrastructure: Our expertise in designing and implementing private or hybrid cloud environments using existing or new infrastructure has helped many businesses maintain visibility and control of workloads ensuring performance.
Audio/Video: We offer a suite of carefully vetted A/V products that can help to enlighten, entertain and increase engagement and enhance collaboration. We enable businesses with flexible options that can be tailored to each specific environment.
Global Services and Logistics: We also offer logistics services that include product assembly, packaging, tracking and security. Together, these capabilities enable us to deliver multivendor IT solutions across geopolitical boundaries, helping customers operate efficiently and effectively in every market they serve.
TimesTech: How is the cloud database space growing in and outside India?
Rohit Singal: According to Industry ARC, the Cloud Database Market is forecast to reach $39.1 billion by 2026, after growing at a CAGR of 31.4% during 2021-2026. A cloud-based database is suitable for organizations that require immediate access to database services, easy scalability options, low cost, and low maintenance. The cloud database helps organizations to focus on the main business by completely depending on their service providers. Organizations are moving to cloud databases due to their increased efficiency and outsourcing maintenance and support. Cloud database eliminates physical infrastructure and provides faster time to application development at a lower cost. There are a lot of players in the market who want to gain a greater market share through various partnerships, mergers and acquisitions. Unlike a traditional on-premise database, cloud databases allow developers to help themselves with database capabilities and spin up and configure a database that's ready to integrate with their application in minutes. North America dominates the cloud database market due to the high adoption of cloud computing and storage by large enterprises and SMEs in the region. The growing demand from the large-scale enterprises and the increased number of investments in the IoT applications and its impact on the IT and telecom industry will increase the demand for data management services that will in return create a lot of opportunities in the cloud database market during 2021-2026.
TimesTech: Why are organizations using artificial intelligence and machine learning in cybersecurity?
Rohit Singal: Artificial intelligence and Machine Learning are no more just a buzzword but are making a significant impact on various industries. AI and ML have proven to be extremely useful when it comes to detecting cyber threats based on analyzing data and identifying a threat before it exploits a vulnerability in your information systems. ML enables computers to use and adapt algorithms based on the data received, learn from it, and understand the consequent improvements required. In a cyber-security context, this will mean that ML is enabling the computer to predict threats and observe any anomalies with a lot more accuracy than any human can. It can help cybersecurity teams to become more proactive in preventing threats and responding to effective attacks in real-time. It can reduce time spent on regular activities and allow organizations to use their resources more efficiently.AI can be used to identify activities that human oversight would mostly fail to catch. The newer threats like never-before-seen attacks require a much more sophisticated capability. The use of AI + ML technology helps to recognize attacks rather than defending a known vulnerability. ML can make cybersecurity easier, more efficient and less expensive. ML and AI truly protect against modern cyber warfare.
TimesTech: What is the value of distributed cloud in the current times?
Rohit Singal: The Distributed Cloud concept addresses a fundamental need for hybrid cloud customers. In most hybrid cloud deployments, the customer retains control of one part of the hybrid cloud infrastructure. Thus, the customer has no way to leverage the capabilities of the public cloud service provider. Gartner, says that distributed cloud computing is the first cloud model that incorporates the physical location of cloud-delivered services as part of its definition. This is significant, as historically, location has never been part of any cloud computing contracts.
In the context of the Covid-19 pandemic, this assumes greater significance. Today, remote locations consume more data. Gartner believes that the distributed cloud concept can ensure that infrastructure is physically closer to those who need the capabilities – specifically from a low-latency perspective. Gartner also says that the distributed cloud concept can ensure a consistent control plan to administer the cloud infrastructure from public to private cloud and extend consistently across both environments.
In the current scenario where remote staff need to access applications securely, the distributed cloud concept can help in delivering major improvements in performance due to the elimination of latency issues, as well as reducing the risk of global network-related outages or control plane inefficiencies. This also translates to other advantages. For example, increased compliance with regulatory requirements that mandate storing of data in a certain location. From a redundancy point of view, there is a reduced risk of downtime, as the cloud services can be local.
TimesTech: Why are organizations moving towards serverless technology?
Rohit Singal: Serverless technology is a type of application that phases out infrastructure management and facilitates developer experience by allowing software and application developments with low hardware requirements. With serverless applications, the cloud service provider automatically assists, scales, and manages the infrastructure required to run the code. Though servers are still present, their maintenance is totally taken care of by the service provider. The forecast by Mordor Intelligence suggests that the serverless computing market will rise by 23.17% CAGR during the period 2021-2026. Serverless functions are event-driven, which means that the code is invoked only when requested and the provider charges only for compute time used by that execution and not the monthly maintenance fees.
Some of the benefits of using serverless technology are listed below:
1. Easy to establish: Using serverless technology for your application is an ideal way if you want to build and deploy an app quickly and easily. Instead of spending weeks and months deploying an app, you can do the same in just a few days or maybe in a few hours. The burden of investing in infrastructure, rather than as a developer-only code and then releasing it immediately.
2. No Infrastructure Cost: If you want to scrimp and save, serverless technology is the way. With this technology, you basically outsource the entire management of servers and databases. The serverless computing platform deploys a fleet of servers at just one main location, for which the response time is high, and you only pay for the resource you use. Serverless takes care of the entire infrastructure.
3. Green Hosting: To run their servers all the time, companies will have to build their own physical data centers which require a lot of time, space, and manpower. But with serverless technology, companies can buy on-demand servers according to their needs while incurring no cost.
TimesTech: What are your future plans?
Rohit Singal: During the pandemic, Rahi consolidated its presence in India and spread its presence across the world, Rahi will continue to expand to newer locations and increase its customer base. The work that has been done in the past years has started showing results. There is a lot more work in the pipeline for this year. We have a huge data center project on our way. There are multiple other projects in line for audio-video requirements and we will be setting up a 30-conference room office in the country before the end of this year. Adding to those we have introduced Cloud as a platform in Rahi and the team is rapidly adding clients to our ecosystem. 
Rahi plans to work closely with the technology customers and provide them with world-class solutions. We plan to hire freshers as management trainees, new sales managers and executives and add more technical talent to the team almost every month. We recently announced increasing our workforce by 50% and hiring 500 more people by the end of 2022. The increased workforce will be working towards digitally transforming the technological landscape in multiple global regions. The talent that Rahi is looking to bring in will support and strengthen its B2B presence across distinct IT solutions. These expanded teams will be responsible for building long-term capabilities for Rahi. We are excited for this next phase of growth at Rahi as we continue to scale our offerings across the world.