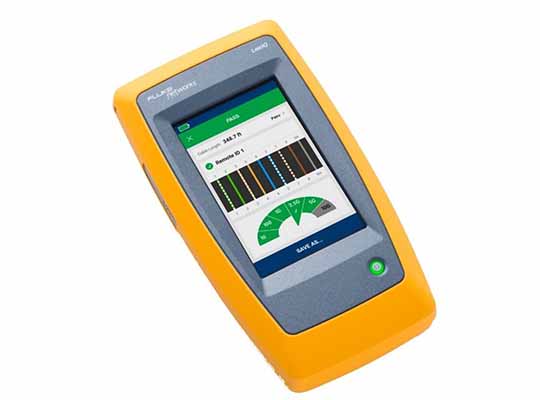 The LinkIQ Cable+Network Tester is the testing solution to verify cable performance up to 10 Gb/s and solve network connectivity problems.
LinkIQ validates cable performance using frequency-based measurements and provides distance to fault information along with a wire map of the cable under test.
The LinkIQ also performs nearest switch diagnostics to identify key network issues and validate switch configuration eliminating the need of using another device.
Cable Testing You Trust
The LinkIQ is capable of measuring lengths up to 1000 feet (305 m) and provides distance to faults such as opens, shorts, and unterminated cable.
Using the remote ID allows for a complete wire map of the cable pairs which helps identify mis- wired and split pairs.
The primary cable testing feature of LinkIQ is the cable performance test which qualifies the cabling bandwidth from 10BASE-T to 10GBASE-T (10 Mb/s up to 10 Gb/s). It performs these tests via frequency-based measurements.
Network Testing You Need
Along with the robust cable testing features, the LinkIQ also provides detailed information on the nearest connected switch. The LinkIQ negotiates with the switch to identify the advertised data rate (up to 10GBASE-T), half/full duplex identification, the switch name, port number, and VLAN info.
In-Depth PoE Testing
While Power over Ethernet makes installation of devices such as security cameras and access points simpler, a survey by the Ethernet Alliance of over 800 installers, integrators and end users found that four of five respondents experienced difficulties in integrating PoE systems.
To simplify PoE installation and troubleshooting, the LinkIQ displays the pairs where power is provided, including the different power levels and pairs for dual-signature implementations. Further, the LinkIQ will place a load on the connection to ensure that the advertised power is actually being delivered by the switch across the cabling infrastructure.
Additional Features
Generates Analog or Digital tones compatible with the IntelliTone Probe or Pro3000 to assist in locating cables in a wall or telecommunications room
Blink Port light on switch to help identify the connected switch port
Compatible with MicroScanner PoE Remote Identifiers for Ethernet outlet identification
Touch Sensitive gesture-based display
Rechargeable Li-Ion battery
Easy Feature and Network Testing Upgrades via USB-C via LinkWare PC
Charging via standard USB-C port
For more information, please visit at: www.flukenetworks.com/content/linkiq-virtual-demo