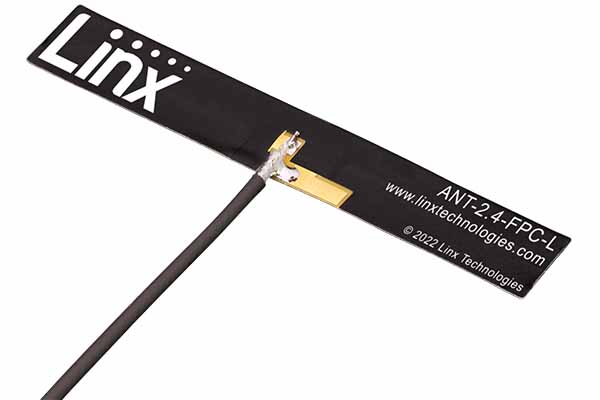 Merlin, Oregon- Linx Technologies, a Merlin, OR based developer and manufacturer of antennas and connectors, has introduced the new 2.4 GHz family of adhesive flexible printed circuit (FPC) antennas for ISM applications including Bluetooth and ZigBee, as well as single-band WiFi.
The 2.4 GHz FPC series antennas provide a ground plane independent dipole internal/embedded antenna solution and feature a compact, low-profile design. Flexibility with an adhesive backing makes the FPC antennas easy to mount in RF transparent (e.g. plastic) enclosures, enabling environmental sealing and protection from antenna damage. Connection is made to the radio via a coaxial cable (of 50 mm, 100 mm, or 200 mm) terminated in an MHF1/U.FL-type plug (female socket), or MHF4 plug (female socket) connector.
"Linx Technologies continues to expand our popular FPC antenna portfolio by adding a range of options in the ever-popular 2.4 GHz frequency band," said Rick Stuby, VP of Product Management. "By providing a wide assortment of different size and orientation options, the 2.4 GHz FPC Series can meet the needs of many different ISM, IoT and WiFi applications."
The new 2.4 GHz FPC antennas are available now via Linx Technologies' distributor and manufacturer representative networks. For larger quotes, please contact Linx Technologies at contact@linxtechnologies.com. For more information about these antennas, please visit: https://linxtechnologies.com/wp/lp/ant-2-4-fpc-series/.