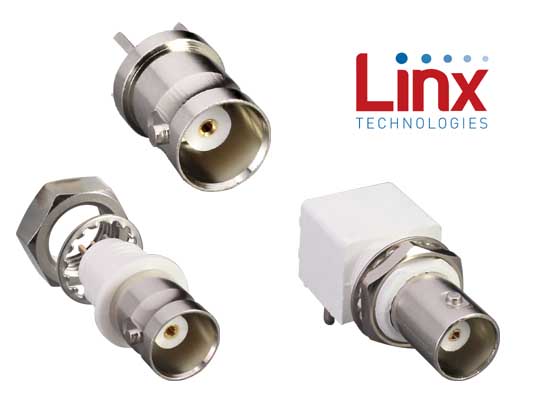 Merlin – Linx Technologies, a Merlin, OR based developer and manufacturer of antennas and connectors, is pleased to introduce a series of BNC RF connectors that deliver superior performance and allow for quick connect and disconnect. Their compact size and convenient bayonet-style (push-twist) mating interface make Linx BNC connectors a reliable, easy-to-use choice for a wide range of applications, including audio/video, broadcasting, test equipment, surveillance, ethernet, and industrial, commercial, and enterprise applications.  
The new Linx BNC connectors are available in a variety of types and configurations, including two PCB through-hole connectors designed for reflow-solder mounting directly to a printed circuit board, and one panel-mount bulkhead connector which includes a washer and hex nut for installation. All Linx connectors meet RoHS lead-free standards, and are tested to meet requirements for corrosion resistance, vibration, mechanical and thermal shock.  Linx BNC connectors are available now via Linx Technologies' distributor and manufacturer representative networks.
For more information visit: https://linxtechnologies.com/.