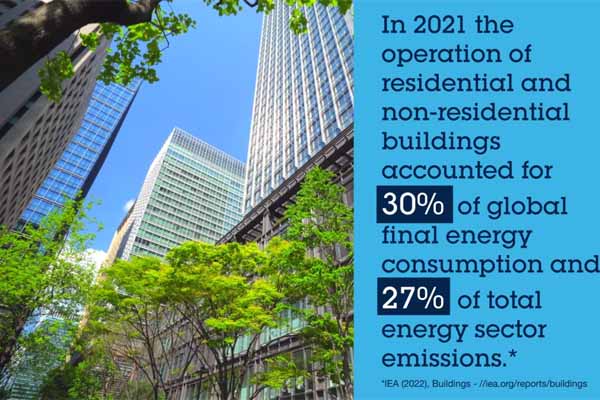 In 2021 the operation of residential and non-residential buildings accounted for 30% of global final energy consumption and 27% of total energy sector emissions. Digitalization is a crucial factor in reducing carbon emissions from buildings and achieving net zero emissions by 2050. It enables buildings to be 'smart' so that the electricity, light, heating, or ventilation systems can be monitored, analyzed, and controlled, to save energy and be more efficient. The emergence of the Internet of Things (IoT) and greater connectivity has helped accelerate the adoption of automation systems and embedded technology in buildings with semiconductors playing a key role.
Technology advancements driving smart buildings
The idea of making buildings more intelligent to reduce energy and maintenance costs has been around for some time. Building management systems of the past were generally only made for very large buildings. Their cost was prohibitively expensive for small and midsize buildings and systems. They were complex and expensive owing to the specialized installation, programming, and maintenance of the building automation infrastructure required for their implementation. Now, thanks to greater connectivity and IoT enabled by low-powered networks and sensors and advancements in automation, more cost-effective approaches are possible. These developments have opened the possibility of building management systems for buildings of all sizes, including individual homes.
Smart buildings and sustainability
Smart buildings are synonymous with sustainability. Greater control over heating, lighting, and ventilation systems, or domestic appliances, makes it easier to save energy and reduce carbon emissions. Digital technology offers consumers great control, flexibility, and transparency to help them lower their energy bills. It is possible for an individual to remotely activate the heating in their apartment shortly before they return from work. This means less gas or electricity is consumed than when it is turned on at the same time every day. Users can also decide to do some activities at off-peak periods when electricity is cheaper and more likely to be sourced from renewable resources.
Semiconductor technologies are essential to digital devices which help users to take control of their energy usage and make lifestyle changes to save energy and money. There is a wide range of techniques to achieve this objective, one of the most well-known being metering systems. Other examples include heat cost allocators, which are small electronic devices that are installed directly onto radiators. They detect the heat output of each radiator. Collecting live data through these smart devices enables users, facilities managers, or the utility company to understand why and where energy performance is poor and to detect failures. With this information, they can make improvements and reduce energy losses.
MATTER, the new communication protocol for home automation and IoT
One major development, which promises to simplify the smart home and greatly accelerate its adoption, is the creation of Matter, a universal connectivity standard for smart home devices and applications. Home automation systems are notoriously incompatible from one brand to another. A product compatible with Alexa Smart Home, Amazon's solution, may not work with HomeKit, Apple's system, or Google Home. This significantly challenges device manufacturers to keep up with all these standards, as well as the consumers who want to use them. To solve this problem, the industry came together to create Matter. The initiative involves Amazon, Apple, Google, Samsung, the Zigbee Alliance, and ST, among others. Matter is an emerging open-sourced communication protocol that leverages existing technologies — Thread, Wi-Fi, Bluetooth, and ethernet — to allow all devices to communicate with each other locally. As a result, consumers no longer have to buy dedicated hubs or routing terminals for each brand, simplifying setups, and reducing costs.
Better matching operations with demand
In non-residential buildings, such as offices, many smart buildings use motion and light sensors to reduce the energy consumption of the buildings lighting. Solutions relying on movement do not work well when people are sitting stationary at their desks. Game-changing proximity sensing devices, such as those that STMicroelectronics has developed, can detect immobile people, as well as ones that are in motion, to avoid the frustration of lights turning off because the people present are not moving.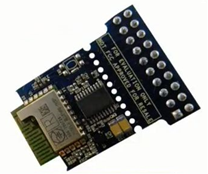 As well as occupancy detection, sensors can gauge the ambient conditions within a building and adjust the system accordingly. With smart sensors, businesses can automate heating, ventilation, and air conditioning controls to maintain ideal conditions and automatically detect failures or faults as they happen. ST has developed a wide product offer to help engineers conceive and design innovative products to make buildings and homes smarter. This includes microcontrollers, MEMS motion, and environmental sensors, as well as a full range of high-efficient power and energy management integrated circuits and wireless connectivity solutions. For example, the STDES-BFTAG01 (shown above) is an IoT solution for use in the home and building automation developed by STMicroelectronics which determines light or environmental conditions so that heating or air conditioning systems can be adjusted to optimal levels. Not only does it help keep system energy consumption down, but does so in a sustainable way. And the integrated solar cell draws energy from the surrounding environment, eliminating the need for battery power, which is better for the environment.
The energy-saving potential of digital twinning
The IoT device market has driven a radical change in smart buildings over the last few years. Through continued innovation in microcontrollers, sensors, and wireless connectivity, developers now have the possibility to build digital twins of homes and buildings in the cloud. Mirroring what is already happening in the industrial domain, this brings the prospect of making homes and buildings more sustainable too. Creating detailed digital representations of offices and buildings makes it possible to assess and better manage their energy efficiency. Once a digital twin has been created, it is possible to find the most energy efficient and sustainable approaches to automation system implementation and application. This reduces the cost of making changes to systems, as well as allows experts from different locations to optimize the process. Such technology could be pivotal in better aligning future building construction with the green agenda.
Making the most of smart technology will ensure buildings become more intelligent, so they can be better optimized to improve use, reduce energy consumption and cut emissions for a more sustainable world.