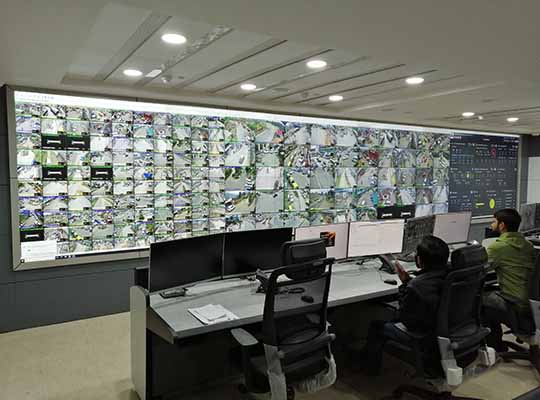 THE SOLUTION
An extensive survey of the city was carried out to find out the key security issues being faced by city administration and identify sensitive places that need surveillance attention.
In its mission to become a smart city, the officials were looking for an intelligent surveillance solution that is intuitive, future-ready and scalable. It was especially critical to choose a solution that could keep up with the city's expansion and growth. The administration was keen to have an open platform that would help them add more capabilities and applications over time.
With these goals in mind, Videonetics designed a bespoke and modular AI powered unified solution based on its Intelligent VMS and Video Analytics for the city.
Automating surveillance of strategic locations
After a thorough analysis, the city decided to deploy 100+ cameras, including PTZ and box cameras, at 90 strategically identified locations, which are being managed by state-of-the-art Videonetics Intelligent VMS. These cameras have been placed at planned and sensitive areas such as important traffic junctions, city roads, outside government offices, exit and entrance of the city, common grounds, near crowded marketplaces, helipad, and more.
Videonetics Intelligent VMS allows administration to ensure comprehensive round-the-clock monitoring of the city infrastructure and proactively detect and address any developing problem.
The smart and user-friendly navigation of Intelligent VMS enables city operators to easily monitor and analyse live and recorded videos simultaneously in the same interface. This feature is particularly helpful while supporting the law enforcement agencies quickly leading to rapid resolution of the problem. With its multi-layer sitemap interface, operators can quickly select cameras from the pool, helps in keeping bird eye view of camera distribution across the city.
Accelerating the response time with AI powered Video Analytics
By deploying Videonetics AI enabled video analytics as part of the solution, the decision makers receive alert on live video feeds, that has drastically reduced the amount of time it takes to understand the potential level of threat and enhanced monitoring of restricted-access areas. Therefore, they selected key analytics for some of the sensitive places, in the first phase of project.
Loitering detection, crowd formation detection and intrusion detection are installed at local markets, roads, government premises and so on. When an alert is triggered, the operators can quickly assess the threat level, monitor it closely and react accordingly.
THE IMPACT
The smart city project is proving to be a great success, delivering tremendous impact in a short amount of time since deployment. Videonetics unified solution quickly became a valuable resource for law enforcement and traffic police. From setup to usability, the solution has made it possible for the city to be proactive about keeping physical security round-the-clock.
With in-depth knowledge of traffic movement and real-time alerts, the traffic police take swift action if there are any reports of congestion or unwanted vehicles. Moreover, citizens are able to travel effortlessly without getting stuck in annoying traffic jams. With AI powered video analytics, operators are keeping person or object of interest in check, diffusing crowd formations in a timely manner, preventing crimes, facilitating faster investigations and much more. It is thus making the city safer for citizens and elevating their sense of security.
The open architecture of the Videonetics AI powered unified solution is making a city future-ready for expansion. As the city grows, it will not only allow the city to continue to add more applications to make its traffic management robust, but also integrate with the city surveillance system in a single unified interface. This way it will help city stakeholders to take a holistic approach to address security concerns.
All in all, the smart city initiative is enabling government and civil service officials to operate efficiently, as well as enriching the lives of citizens. In addition, it is boosting economy of the city, enhancing various aspects of infrastructure, and making it an even more sought-after destination for travel enthusiasts.