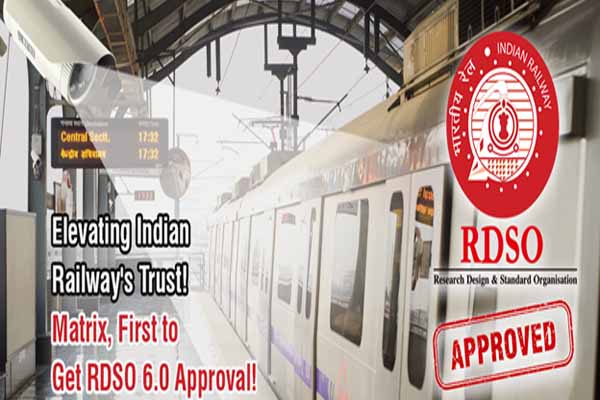 Matrix has achieved a significant milestone by becoming the first company to obtain RDSO 6.0 approval for its video surveillance (CCTV) products. This remarkable achievement showcases Matrix's commitment to delivering innovative and reliable solutions to the security needs of critical national infrastructure, particularly in the railway sector.
With security being a top concern for railways worldwide, the deployment of advanced video surveillance systems plays a crucial role in safeguarding assets, infrastructure, and the safety of passengers. Matrix's achievement of RDSO 6.0 approval further strengthens its position as a trusted video surveillance solution provider tailored to the railway industry.
The RDSO (Research Designs and Standards Organization) approval, a testament to Matrix's superior product quality and performance, signifies that Matrix video surveillance solutions comply with the stringent technical requirements set by the Indian Railways. Matrix products demonstrate their exceptional reliability and efficiency in railway environments by meeting these rigorous standards.
Matrix's comprehensive range of video surveillance solutions includes advanced network cameras, designed to deliver unparalleled image quality, even in challenging lighting conditions. These cameras are built to withstand harsh environments, ensuring they can operate flawlessly in railway stations, metro rails, railway offices, maintenance sheds, warehouses, and railway coach factories.
Cybersecurity is a critical aspect of any modern video surveillance system, especially when it comes to protecting railway infrastructure. Matrix recognizes this crucial need and adheres to the latest industry standards to ensure data security and protect against cyber threats. Matrix video surveillance products are designed in compliance with OWASP ASVS (Open Web Application Security Project Application Security Verification Standard) 4.0 L2, guaranteeing robust security features and protecting against vulnerabilities.
Commenting on this achievement, Mr. Ganesh Jivani, Managing Director of Matrix, said, "We are proud to become the first company to receive RDSO 6.0 approval for our video surveillance solutions. This achievement reflects our commitment to delivering high-quality products that meet the specific requirements of the Indian Railways. With our advanced technology and expertise, we are confident that Matrix video surveillance solutions will play a pivotal role in enhancing security across various railway installations."
Matrix has been at the forefront of providing cutting-edge security solutions to various sectors, and this latest approval marks another significant milestone for the company. With its unparalleled focus on innovation, quality, and customer satisfaction, Matrix is poised to revolutionize the video surveillance industry in the railway sector.
With the RDSO 6.0 approval in place, Matrix is ready to provide state-of-the-art video surveillance solutions to Indian Railways, ensuring enhanced security, improved operational efficiency, and a safer environment for passengers and railway personnel.