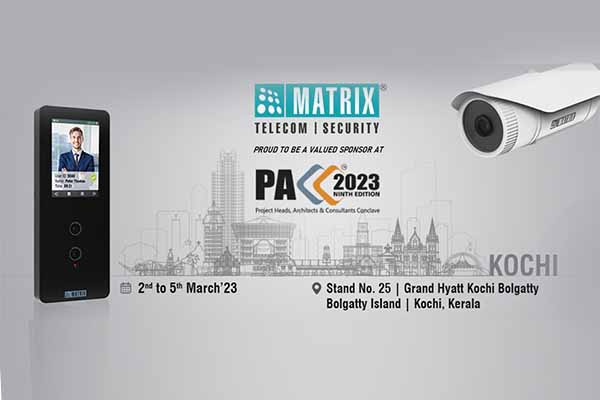 Matrix Comsec a leading manufacturer of telecom and security solutions, has confirmed its participation in PACC 2023. The event is scheduled to take place at Grand Hyatt Kochi Bolgatty, Kerala from 2nd to 5th March 2023. At the event, Matrix will be presenting its access control, video surveillance, and telecom solutions. 
Matrix sets itself apart from other companies in the Access Control and Time-Attendance domain by producing all of its architecture components in-house, including panels, door controllers, software, and readers. During the event, Matrix will display its cutting-edge facial recognition door controller, COSEC ARGO FACE, which boasts high accuracy, a fast identification speed of less than 0.5 seconds, and a user capacity of 50,000. This device can be easily connected through various means, such as PoE, Wi-Fi, and Ethernet. COSEC ARGO FACE is an exceptional device that is suitable for outdoor applications due to its top-class certifications, including IP65 and IK06.
Matrix will showcase COSEC PANEL200P at the event, a site controller that can manage the access operations for an entire building. This device acts as a link between multiple controllers and servers in the network architecture and can function independently without requiring a server in standalone architecture. The user interface of COSEC PANEL200P has the capacity to handle 255 COSEC door controllers and up to 25,000 users.
At the display will also be COSEC VEGA FAX, a Finger Print and RFID-based door controller capable of storing up to 9,600 fingerprint templates and 5,00,000 events. An open system allowing integration with third-party hardware, COSEC VEGA FAX provides full-proof Access Control and Time-Attendance Solutions for manufacturing units, corporate firms, and government organizations.
In the domain of IP Video Surveillance, Matrix will showcase its wide-ranging Bullet, Dome, and Turret IP Cameras. Powered by Intelligent Video Analytics (IVA) like Intrusion Detection, Motion Detection, and Tripwire, these cameras instantly alert you via SMS and E-Mail in case of theft or crime. Ranging from 2MP to 8MP, Matrix Cameras are stamped with UL Certification, a global standard for safety, and NEMA Certification for protection against environmental hazards.
Matrix will also showcase its Network Video Recorder (NVR) with built-in Video Management Software (VMS) at the event. These advanced NVRs are equipped with cascading capabilities, allowing up to 20 NVRs to be connected on a single platform. This feature enables easy and cost-effective centralized monitoring of multiple locations.
To maintain continuous 24x7x356 surveillance with minimal downtime, powerful video recording solutions that provide ample storage capacity and redundancy are essential. Recognizing this need, Matrix has come up with its new line of ENVRs which can accommodate up to 256 channels and have a massive storage capacity of 144 TB.
Matrix is a leading provider in the telecom industry and offers a comprehensive solution for businesses seeking communication products and services. At PACC 2023, Matrix will display SPARSH VP210, a robust desk phone that is compatible with third-party IP systems, which helps organizations to take full advantage of their existing telephony infrastructure. This helps in reducing upgrade costs while transitioning to a modern telephony architecture.
Kaushal Kadakia, Marketing Head at Matrix Comsec says, "PACC 2023 stands as an excellent opportunity to present our innovative security solutions to various industry leaders, project heads, and consultants. We aim to meet some key decision-makers to learn about their specific needs and demonstrate how our products can effectively fulfill their organizational needs."
Matrix will present its innovative security and telecom solutions in PACC 2023 at Stand Number 25, Grand Hyatt Kochi Bolgatty, Bolgatty Island, Kochi, Kerala.