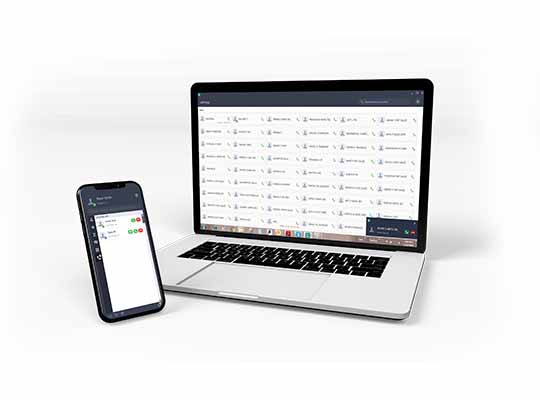 Post the pandemic and global emergencies, the definitions of normal have gone for a toss. In the wake of such chaos, organizations and industries are forced to revisit their norms and navigate the attention of hygiene and fool-proof solutions. Precisely, to focus on having minimal human intervention.
Matrix VARTA is the exact one-stop package any firm wishes to instill to ensure staff safety while not compromising its productivity and efficiency amidst a pandemic. As an embodiment of limitless remote access and through its avant-garde VoIP tech, it literally takes your workflow out of the box(cubicle).
With the rise in work from home, a mobile office is the need of the hour. Matrix VARTA is a UC Client that redefines real-time collaboration, communication, mobility, and corporate messaging irrespective of an employee's geographic location. Its game-changing business communication experience with its variety of collaboration features and intuitive user interface cater to the professional mobility we need.
Powered by MATRIX UCS, VARTA helps you avoid unnecessary equipment investment by supporting BYOD (Bring Your Own Device).
Here's how VARTA elevates communication effectiveness and business productivity to the next level with:
Contact-less virtual communication for mobility
Retaining your existing telephony assets
Cutting your company calling cost significantly
Availability for Windows OS, Android, and IOS (VARTA WIN200/ADR100/AMP100)
Key Features
Call Management – Call, Hold, Transfer, Forward, DND, and Intercom
1000 Direct Station Selection Keys for Streamlined Calling
600 Busy Lamp Field keys for
Global Corporate Directory Integration
Multi-party Audio Conferencing and Drag and Drop Transfer
Presence Sharing and Voice Assistant Calling
Call Screening – ACB, Forced Answer, Global Hold
General Call Park, Call Chaining, Call Recording, IR and Barge-IN
Outlook Facilities Integration
Open COSEC Door Integration
For more information, please visit at: https://www.matrixtelesol.com/