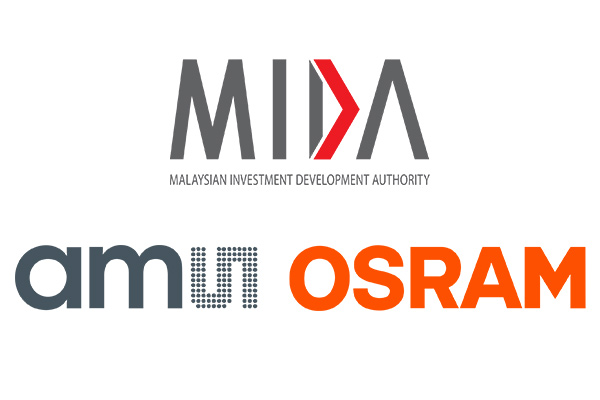 ams OSRAM, a global leader in intelligent sensing and emitting, and the Malaysian Investment Development Authority (MIDA) announce mutual support for the continued investment and expansion in Malaysia. Through a Collaborative Agreement, MIDA demonstrates significant support for ams OSRAM's initiatives in Malaysia.
In 2022 ams OSRAM announced an approximately EUR 1 Bn global investment in manufacturing and R&D facilities and activities for state-of-the-art emitting technology for LED and microLED. As a testament to their commitment to Malaysia, ams OSRAM embarked on the construction of its first state-of-the-art and fully-automated 8-inch micro LED manufacturing facility in Kulim, Malaysia, making the company the world's pioneer in this arena. This facility broke ground in 2022 and the build-out and installation is progressing as planned.
Recently, in August, high level officials from the Ministry of Investment, Trade and Industry (MITI) and MIDA visited CEO Aldo Kamper at the ams OSRAM headquarters in Premstaetten, to understand the technology development approaches and the construction progress on the first fully-automated 8-inch micro LED manufacturing facility for mass production in Kulim, Malaysia. Datuk Seri Isham Ishak, Secretary General, Ministry of Investment, Trade and Industry Malaysia (MITI) and Datuk Wira Arham Abdul Rahman, Chief Executive Officer, Malaysian Investment Development Authority (MIDA) accompanied by government officials visited ams OSRAM.
The Collaborative Agreement between MIDA and ams OSRAM solidifies the investment in Malaysia and a substantial number of additional employment opportunities for Malaysians in the science and technical field for the region. It also facilitates and supports ams OSRAM to carry out innovation programs in the field of technology. With the support of MIDA, ams OSRAM will continue to closely collaborate with local public research institutes, universities, colleges, and vendor development programs to advance technologies and implement use cases for Industry 4.0.
Datuk Seri Isham Ishak, Secretary General of MITI, expressed gratitude to ams OSRAM for its vote of confidence in Malaysia, stating, "ams OSRAM's investment stands as a testament to the excellent economic partnership between Germany and Malaysia. We deeply appreciate the trust investors place in us. Malaysia's aspiration is to become a global hub for business, innovation, and talent in advanced manufacturing aligning with our recently launched New Industrial Master Plan (NIMP2030). Given the rapid pace of change in the electronics industry, we must continuously introduce new initiatives. MITI and MIDA are actively targeting more wafer fabrication players and their supply chains to consider Malaysia as a viable site for production. We will continue collaborating with firms like ams OSRAM to achieve mutually beneficial outcomes."
Echoing these sentiments, Datuk Wira Arham Abdul Rahman, CEO of MIDA, remarked, "MIDA eagerly anticipates collaborating with ams OSRAM to harness Malaysia's capabilities as a strategic supply chain hub, catering to the global market's industrial needs. OSRAM's new facility aligns perfectly with the type of investment Malaysia aims to attract and anchor: highly sophisticated manufacturing at the cutting edge of technology, positioning us at critical nodes in global supply chains. ams OSRAM's investment not only aids us in achieving economic growth and creating quality jobs but also fortifies Malaysia's R&D ecosystem. This translates to more job opportunities for local talents, spanning engineers, managers, technicians, and researchers, benefitting Malaysians across the board. MIDA looks forward to a strengthened partnership with ams OSRAM in the years ahead."
"Enabled by the Collaborative Agreement with MITI and MIDA and our own announced investment, we are able to continue our commitment to Malaysia, a country that offers a highly-skilled workforce, excellent technology understanding and a strong commitment to safety and environmental standards," commented Aldo Kamper, CEO of ams OSRAM. "Together with the Malaysian authorities and the people of Malaysia, we are dedicated to continue the development of cutting-edge technology and the corresponding manufacturing processes to industrialize these technologies at scale."
In 2022, ams OSRAM celebrated 50 years in Malaysia. Over the course of this time, the company has developed a strong manufacturing base, research and development activities, sales and marketing functions, a global business center and IT service centers.