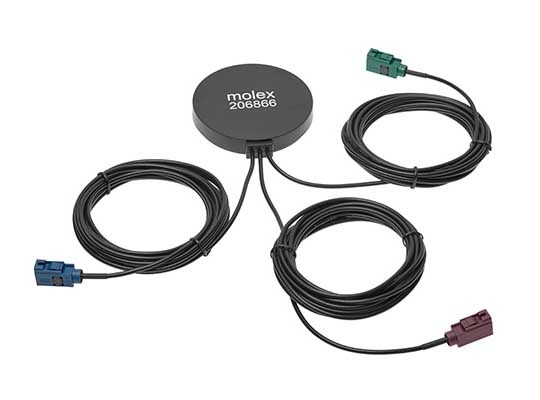 LISLE, IL – Nov 29, 2018 : Molex adds new antennas to its product line with the release of 3-in-1 (4G/Wi-Fi/GPS) External Antennas. The product is ideal for consumers in the automotive and non-automotive transportation industries that need a waterproof 4G, Wi-Fi, and GPS solution for telematics, remote monitoring, tracking and other wireless applications.
The antennas are fully balanced, dipole and IP66-rated. The antennas have circular housings that have a 77mm diameter width and are 15mm tall. This solution is especially useful for applications needing extended connections, about 3m from the antenna housing. The cable can be fully customized with various connectors.
Molex 3-in-1 External Antennas are compact, fully waterproof, and peel-and-stick for easy installation and removal. Thanks to three cords coming from the housing, the antenna can link to multiple radio device applications at once.
"This is Molex's first waterproof external antenna with wired, customizable connector-terminations," said Bob Wang, Global Product Manager, Molex. "We are excited to be able to offer this new product at a more competitive price point than others in the market."
Compared to similar products in the market, these antennas are more compact and feature lower noise values in the GPS in the 1575 MHz band with 28±3dB Gain.
For more information, please visit at molex.