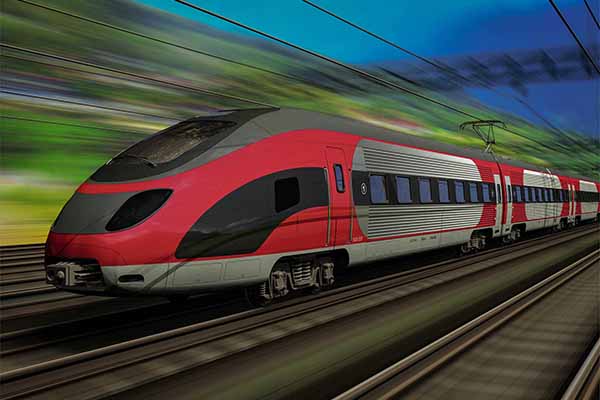 The development of railway systems has spanned over more than a hundred years of history. Besides having fully developed driving capabilities and safety, modern trains also tend to add new functions for providing passengers with higher convenience and more entertainment options. Nowadays, it is relatively common to see information display screens and charging sockets on most high-speed trains.
More additional equipment translates to higher requirements for the power supplies of current railway systems. The limited space of the train means that power supplies need to be more high-performing while also maintaining the same volume or becoming even smaller. This trend leads the way for railway power supplies with higher power density and smaller dimensions.
Designers need to deal with the growing demand for high-security and high-performing trains when designing the circuit of their railway stations or railway systems. Below we will shed some light on some main requirements of railway power supplies.

Power Supplies for Railway Applications
Railway trackside: Power supplies can be used on a railway trackside to power the signals and systems coordinating the railway traffic and railroad directions. For example, they can be used to power a centralized signal monitoring system. Any power outage or disruption to this equipment can cause fatal accidents and impact the lives of many passengers;
Railway stations: In railway stations, power supplies are often employed to power the environmental monitoring system. This system enables constant checking of the equipment status for preventing and acting immediately on any anomalies due to environmental conditions. Some of the monitored elements include but are not limited to wide temperature range, adverse weather conditions, high moisture levels, and more;
Railway trains: When used on-board, power supplies support the passenger's convenience for a more pleasurable traveling experience. Some examples of uses aimed at higher comfort include powering vacuum toilets systems and air-conditioning controllers. Frequently, power supplies are used to power the systems that facilitate the communication with each station and monitor the on-board train performance. Some examples include the equipment used for LED control, train-to-wayside communication, emergency communication, data protection (black box), and train batteries. Other on-board applications comprise uses that enable passengers to monitor the current stage of their journeys, including door control systems and radio broadcast systems.
Factors to Consider for Railway Power Supplies
Power supplies for railway applications need to guarantee reliable and stable power under all circumstances. Off-board power supplies need to perform even under the harshest environment, while on-board power supplies often closely impact the passengers' convenience. Whatever their exact application, the performance requirements for railway power solutions are challenging on several fronts. Failures can not be tolerated, even under extreme mechanical stress over an extended temperature range. For this reason, there are several factors to consider when designing the circuitry for railway power supply systems:

1. Wide operating temperature range:
In railway systems, power supplies often need to operate under harsh railway conditions. Electronic equipment for railway applications is exposed to heat, frost, and wide humidity gaps. It is also subjected to the effects of extreme temperature changes both from day to night and across seasons. All these elements can cause serious damage to the electronic assemblies of the railway equipment.
2. Reinforced insulation
Reinforced insulation in power supplies for railway applications ensures the same degree of protection against electrical shock as double insulation. This enhanced layer of protection and insulation can meet higher requirements for safety. For example, reinforced insulation properties can be particularly useful in trains traveling to high-altitude areas where air is thin and temperatures are tendentially low.
3. Shock & vibration resistance
The components installed in rail cars and locomotives are exposed to considerable vibration and other mechanical stress. Converters operating in rolling stock need to guarantee reliable power even despite being affected by heavy vibration. The constant vibration stress during travel can cause mechanical fatigue and result in module failure. To prevent such failures, manufacturers often design power supplies in line with the EN 61373 standards, which specify the minimum vibration and shock strengths for power supplies in railway applications.
4. Wide input voltage range
A large number of different supply voltages are used in railway applications. The most common nominal battery voltages include 24V, 28V, 36V, 48V, 72V, 96V, and 110V, depending on the class of the vehicle. All electronic equipment should be designed to operate consistently in the range 0.7Vn to 1.25Vn. It should also be able to withstand temporary fluctuations in the range 0.6Vn to 1.4Vn.
5. Low inrush current design
Designers usually need to consider EMC design and hold-up time for their railway circuitry projects. For this reason, engineers might connect many large-capacitance capacitors in parallel at the input. However, this will result in a large inrush current at the system startup. Some possible consequences include the tripping of the front-end circuit breaker and the blowing of the fuse due to a false trigger at power-on.
6. Anti-reverse protection
To prevent any damages to the railway equipment, some electrical or mechanical measures should be adopted to guarantee the input reverse polarity protection. Engineers should design their electrical projects to ensure the reverse electrical and mechanical protection of the power polarity in their power supply systems.
7. Excellent EMC performance
Railway equipment and electronics must work properly even in extremely unfavorable electromagnetic environments. They are exposed to strong magnetic fields generated by electric motors and transformers. They must also be able to withstand interference emitted by numerous sources, including those brought on board by passengers carrying mobile phones and laptops. None of these sources of interference must in any way impair the function of highly sensitive components both on-board and off-board.
MORNSUN's Power Supply Solutions
Reliable power supplies are indispensable for guaranteeing the safety of all the passengers and staff both on trains and in railway stations.
Engineers should research carefully to select only the most reliable power supply manufacturers for their railway electrical projects. For example, MORNSUN has over 23 years of experience providing reliable power supplies that meet the main industry quality standards. Over the years, MORNSUN has expanded its portfolio to include a series of DC/DC converters for railway applications. Our recommended railway power supplies include the input 6-400W URx1D series for 4:1 input DC/DC railway power and the 50-200W UWTH1D series for 12:1 input DC/DC railway power.

MORNSUN's power supply solutions extend more broadly and include more than just DC/DC converters. We can provide a wide range of other electrical components, including 0.5-40A components for common-mode filters in railway applications.
The MORNSUN railway power supplies are EN50155 certified and designed for use even in the harshest environments. We can offer reliable and cost-efficient power supply solutions to meet different customer needs.
Contact us to request a sample or discuss with our electrical engineering team about your exact power supply requirements for a railway electrical project.
For more information, please visit www.mornsun-power.com