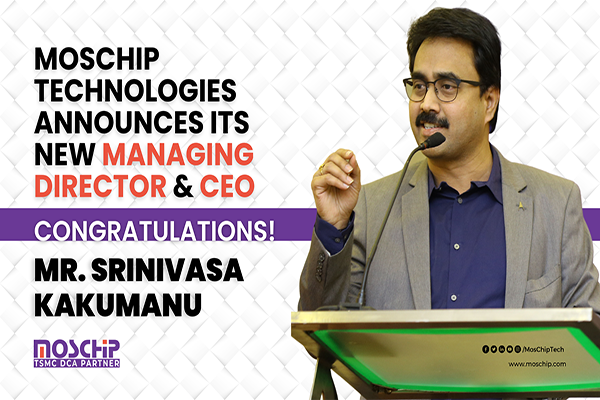 MosChip Technologies Limited is pleased to announce the appointment of Mr. Srinivasa Rao Kakumanu, commonly referred to as "KS," as the new Chief Executive Officer (CEO) and Managing Director (MD). KS, with an extensive background in the Semiconductor and Embedded industry spanning nearly 30 years, brings a wealth of experience and expertise to the company. He has been promoted from his previous role as the Executive Vice President of the semiconductor business unit to the position of MD & CEO.
Under KS's leadership, the Semiconductor business unit has achieved remarkable milestones, expanding from a team of 200+ engineers with a revenue of approximately 25+ crores in FY19 to a formidable force of 800+ engineers, generating a revenue of more than 200 crores.
The Board of Directors expresses confidence that KS will provide strong leadership and drive innovation, enabling the company to maintain and expand its position as an industry leader.
We would like to extend our gratitude to Mr. Venkata Sudhakar Simhadri for his valuable contribution during his tenure as CEO & MD of the Company. Mr. Simhadri's dedication and leadership have played an instrumental role in the growth and success of the company in recent years, and he will continue to be part of MosChip as an advisor.
MosChip Technologies Limited looks forward to the exciting journey ahead under the leadership and guidance of KS, and we are optimistic about the opportunities and prospects that lie ahead. The company remains committed to creating value for its shareholders and stakeholders and appreciates their continued support and trust.